We have published three reports analyzing and evaluating Duke Energy (NYSE:DUK). Our first report compared Duke Energy against Wisconsin Energy (NYSE:WEC) and we concluded that Wisconsin Energy was a better performing utility and it didn't have to offer nearly $1B in concessions to the utility regulators in order to acquire Progress Energy. Our next two reports compared Duke Energy against utility powerhouse Southern Company (NYSE:SO) and we concluded that even though Duke Energy performed better in H1 2012 than Southern, Southern had brighter investment prospects going forward because it hasn't been involved in any large-scale mergers and it didn't have any issues involving its executive management. Our thesis saw early validation in Q3 2012 when Southern's non-regulated power subsidiaries generated stronger performance momentum than Duke's and Southern's regulated utility operations generated net income growth that was only a few percentage points behind Duke's even though Duke had the benefit of a favorable rate increase during the period. We were overjoyed that Duke Energy's CEO James Rogers announced that he would be retiring from Duke Energy as of the end of 2013. We believe that Rogers retired due to ill health as we were sick and tired of Duke Energy's second-rate performance under his leadership and the North Carolina Utilities Commission was sick and tired of the bad publicity generated by Rogers sacking Progress Energy CEO Bill Johnson hours after naming him CEO of Duke Energy.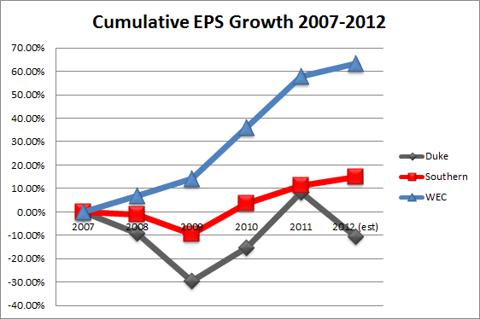 Source: Morningstar Direct
James Rogers's Record of Rent-Seeking
We were disappointed to see that Paul Chesser of the National Legal and Policy Center referred to Duke Energy CEO James Rogers's tenure as a "long, crony-capitalizing, rent-seeking reign" because he went and took the words right out of our mouths. We think this description of Rogers's reign as Duke Energy's CEO is apropos considering its willingness to pay big bucks for white-elephant wind farms. Rogers was an early supporter of cap-and-trade energy policies that would have jacked up the cost of energy to American households. We were amused to see that Jim Rogers was running neck-and-neck with Exelon's (NYSE:EXC) retired CEO John W. Rowe in the race to see which utility industry CEO can generate the most media live shots. At least Rogers can say that Duke's share price performance was better than Exelon's during this period because Duke generates the bulk of its revenue from its less volatile regulated utility operations while Exelon generates the bulk of its revenue from its non-regulated wholesale power generation subsidiary Exelon Generation LLC, though it underperformed Southern and Wisconsin Energy.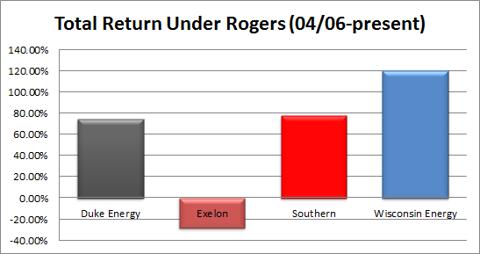 Source: Morningstar Direct
James Rogers's Record of Mediocrity as a Utility CEO
James Rogers became Duke Energy's CEO on April 3, 2006 when Duke completed its acquisition of the Cincinnati-based multi-utility holding company Cinergy. James Rogers was previously the Chairman and CEO of Cinergy for nearly 11.5 years before selling it to Duke in 2006. Prior to serving as Cinergy's Chairman and CEO, Rogers was CEO of PSI Energy in Indiana from 1988-1994 before selling it to Cincinnati Gas & Electric to form Cinergy. James Rogers has been Duke's CEO since its 2006 purchase of Cinergy and executed the spin-off of its gas business as Spectra Energy (NYSE:SE) in 2007. Rogers also worked with Enron's Gas Pipeline Group, the law office of Akin, Gump, Strauss, Hauer & Feld, the FERC, Assistant Attorney General for the Commonwealth of Kentucky, a law clerk for the Supreme Court of Kentucky and as a reporter for the Lexington Herald-Leader.
PSI Energy: James Rogers was CEO of PSI Energy from 1988 to 1994. During Rogers's reign as CEO of PSI Energy, he changed the name of the company from Public Service Company of Indiana to PSI Energy Inc. Despite the fact that PSI Energy's revenue and profits were flat from 1989 to 1994, Rogers was able to strike a deal with Cincinnati Gas & Electric to merge the two companies into one combined company (Cinergy) and let Rogers run the combined company as CEO upon Jackson H Randolph's retirement in 1995 after serving as Cinergy's President and COO from 1994-1995. Despite Rogers serving as CEO of Cinergy, he was also CEO of PSI Energy as well and with the exception of PSI Energy's results in 2004 and 2005, his leadership of PSI was absolutely mediocre as its net income was inconsistent from 1989 to 2003 and its 2003 net income was $7M below its 1989 net income levels. PSI Energy kept its name until 2006, when it was rebranded as Duke Energy Indiana along with Cinergy's other subsidiaries.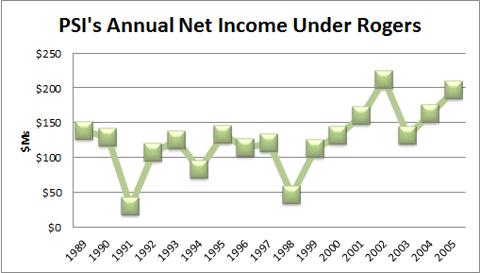 Source: PSI Energy's 1993-2005 10-K Reports
Cinergy: James Rogers was President and COO of Cinergy from 1994 to 1995 and President and CEO from 1995-2006. The most memorable achievement by Cinergy under Jimmy Rogers (other than Rogers selling Cinergy to Duke Energy) was Cinergy's September 1996 purchase of the naming rights for the Riverfront Stadium in Cincinnati, which was the home field for the Cincinnati Reds major league baseball team and the Cincinnati Bengals professional football team. We think that was remarkable timing considering that the Bengals ended up breaking ground on a new stadium less than two years after the naming rights deal was signed and the Reds broke ground on a new stadium two years after the Bengals broke ground on their new stadium. After the Reds vacated Cinergy Field after the end of 2002, the stadium was demolished. The naming rights deal cost Cinergy $6.5M over 6 years and represented more than one-third of Cinergy's advertising budget. Cinergy then agreed to a $9M naming rights deal for Cincinnati's Albert B. Sabin Convention Center and Duke Energy inherited Cinergy's convention center naming rights deal for another $9M.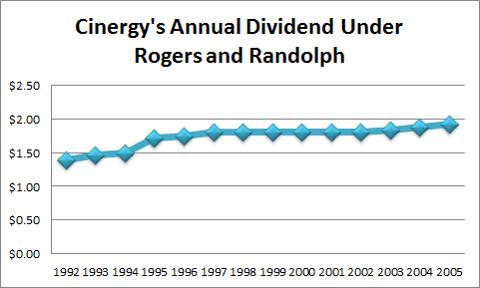 Source: Cincinnati Gas & Electric's 1993-2005 10-K Reports
It is worth discussing Cinergy's naming rights deals in our research report because we believe that it was emblematic of the style over substance that investors have gotten from the leadership of Jimmy Rogers. The good news is that Cinergy's adjusted operating income increased from $592.6M in 1994 to $787M in 2005 and that Cinergy avoided a dividend cut unlike Wisconsin Energy, PECO and BGE's parent Constellation Energy (NYSE:CEG). The bad news was that Cinergy's dividend was frozen from 1998 to 2002 and it only increased by 10% cumulative from 1995 to 2005. The worse news was that Cinergy was issuing capital constantly under Rogers's leadership. We're trying to figure out how Cinergy's operating income only increased by ~33% under Rogers's leadership yet its stockholders' equity increased from $2.4B in 1994 to $4.6B in 2005 (90%) and its outstanding debt and preferred stock increased from $3.54B in 1994 to $5.73B in 2005 (62%). As part of the merger, Cinergy's Cincinnati Gas & Electric subsidiary was rebranded as Duke Energy Ohio and CG&E's Union Light, Heat & Power Subsidiary which served the Northern Kentucky suburbs of Cincinnati was rebranded as Duke Energy Kentucky.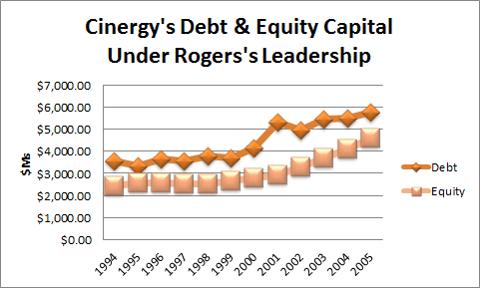 Source: Cinergy Corp's 1993-2005 10-K Reports
Duke Energy: We have no idea how James Rogers was able to convince Paul M. Anderson of Duke Energy to buy Cinergy in 2005 despite its mediocre performance under Rogers's leadership. We were even more surprised that Duke Energy paid a 13.4% premium to Cinergy's closing price the day before the announcement was made as well as the ability of Rogers to become CEO of the combined enterprise considering Cinergy's mediocre financial performance and the fact that legacy Duke Energy represented 76% of the market cap of the combined enterprise. The merger deal closed on April 3rd, 2006 and Duke also acquired Union Gas of Ontario in 2006. In 2007, Duke spun-off its natural gas business operations (which included the recently acquired Union Gas business) into Spectra Energy. Although Duke's total return since its merger with Cinergy has exceeded the Utilities Select Sector SPDR ETF (NYSEARCA:XLU), its shares have been relatively flat (up 4% cumulative) since the end of 2007 and investors would have had to satisfy themselves with Duke's dividends. Duke's cumulative dividend growth since 2007 of 16% was slightly below Southern's 22% growth and below the 32% of the XLU. At least Duke's dividend yield is now close to 4.9%.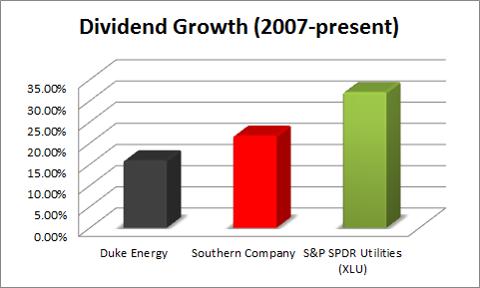 Source: Morningstar Direct
We think investors have now realized that Duke Energy shouldn't have bought what Jimmy Rogers was selling. Duke Energy issued $9B of stock for Cinergy and Duke Energy has already suffered nearly $1.2B in cost overruns ($900M from Edwardsport) and asset impairments ($278M) from the legacy PSI Energy (Duke Energy Indiana) operations. Duke Energy also incurred $1.8B in impairments from the legacy Cincinnati Gas & Electric (Duke Energy Ohio) business from 2008 to 2011. But we at Saibus Research can see two good things that have come out of the Duke Energy-Cinergy deal:
Exelon and its affiliate Constellation Energy no longer has to feel ashamed of racking up $3B+ in merger impairment charges ($3B for Exelon, $4.2B for Constellation) over the last 10 years because Duke Energy has racked up about $3B in impairments on the Cinergy deal.
In addition to continuing Cinergy's sponsorship of the Cincinnati Convention Center, Duke Energy also continued Cinergy's sponsorship of the Cincinnati Holiday Model Train Display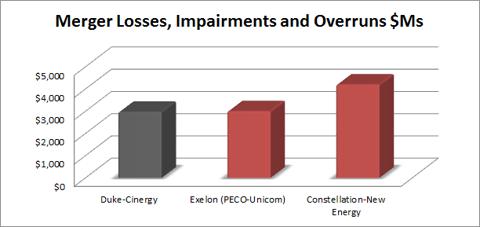 Source: Duke Energy's 2008 and 2011 10-K Reports, Exelon's 2004 and 2006 10-K Reports and Constellation's 2008 and 2011 10-K Reports
Progress Energy and Aftermath was the last straw for Rogers: On January 9th, 2011, Duke Energy and Progress Energy announced that the two firms would merge together in a deal that would create the most valuable investor-owned utility in the U.S. The deal required $875M in concessions to the utility regulators plus the two companies made a slew of secret deals for its largest customers in order to ward off any opposition to the deal. Duke's CEO James Rogers was supposed to be Chairman of the combined company and Progress Energy's CEO Bill Johnson was supposed to be CEO of the combined company. However, in a surprise boardroom coup, Johnson was fired within minutes of his election as CEO of the new Duke Energy. At a hearing before North Carolina's utilities commission, Progress Energy's CEO Bill Johnson indicated that the relationship between the companies soured during the merger due diligence period and this doomed his tenure as chief of the newly merged utility. Johnson said that Duke was in favor of the merger, before it was against it. There was also finger pointing between the two parties about issues surrounding Progress Energy's Crystal River power plant.
James Rogers's "CEO Statesman" Reputation
James Rogers previously had a reputation as a "CEO Statesman," however, we think that reputation is irrevocably sullied due to shenanigans surrounding the Progress Energy merger and we based this on the terms of the settlement between Duke Energy and the regulators. As part of a settlement between Duke Energy and the North Carolina Utilities Commission that resolves all outstanding issues in the Commission's investigation of the Duke Energy-Progress Energy merger, James Rogers is barred from running Duke Energy after December 31st, 2013 as well as serving on Duke Energy's board. We think that Rogers shouldn't feel too bad as he was able to serve as CEO of the U.S. utility industry's largest firm for nearly eight years despite generating a track record of mediocre performance at two lower-tier utility firms.
Conclusion
In conclusion, we believe that the retirement of Duke Energy's CEO James Rogers will be a classic case of addition by subtraction. Rogers is retiring due to ill health as the NC Utilities Commission was sick and tired of the bad publicity that Rogers generated due to the contretemps surrounding the Progress Energy deal. Based on the performance of PSI Energy, Cinergy and Duke Power from 1988-2012 that those utilities were not performing to its potential when Rogers ran the show, we believe that Duke may want to hire a well-respected outside to right the ship once Rogers retires at the end of 2013. We would suggest that Duke hire someone from either Southern Company or Wisconsin Energy. While we would be disappointed to see Wisconsin Energy lose a talented executive to Duke Energy, we believe that WEC's loss would be Duke Energy's gain because WEC is by far and away the most reliable utility in the Midwestern region and in addition to Duke's potential problems in Florida, Duke's problems at its Indiana and Cincinnati operations are in need of attention. In our October interview with Wisconsin Energy's CEO Gale Klappa and CFO Pat Keyes, Klappa stressed the importance of having a strong construction management team. The reason why WEC's Power the Future power generation program was completed on time and on budget was because Klappa recruited a high quality construction management team. We compare that with Duke Energy's $3B in write-downs and overruns from Cinergy and issues with Crystal River.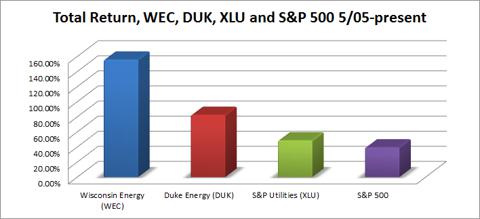 Source: Morningstar Direct
Disclosure: I am long WEC. I wrote this article myself, and it expresses my own opinions. I am not receiving compensation for it (other than from Seeking Alpha). I have no business relationship with any company whose stock is mentioned in this article.
Additional disclosure: This article was written by an analyst at Saibus Research. Saibus Research has not received compensation directly or indirectly for expressing the recommendation in this article. We have no commercial or pecuniary relationship with any company whose stock is mentioned in this article. Under no circumstances must this report be considered an offer to buy, sell, subscribe for or trade securities or other instruments.