This article is about Uni-Pixel (NASDAQ:UNXL), which is currently trading at $10.60 and has the potential to break $100 within the next 12 months based on expected growth. In order to educate unfamiliar and experienced investors, it is broken into three sections: Background, Opportunity, and Risk. My goal is to lay out the facts as plainly as possible as I have done a significant amount of due diligence in this stock. I have attempted to source all information whenever possible, and am open to questions/comments/concerns in the section below.
Background (largely sourced from: MDB Unipixel)
Unipixel, founded in 1998 and based in Woodlands Texas, has developed award winning patented technologies in performance engineering films. They specialize in micro/nano printing onto (PET Film) screens for electronics (touch screens), optics (LCD backlighting) and they also create protective films (similar to the well-known Gorilla Glass). They have created two main products so far: A protective film known as Diamond Guard and a touch screen sensor known as UniBoss. Until recently, they were pre-revenue (more on that later). I will focus 100% on UniBoss, as I treat the rest of their business as, essentially, a free call option. The company currently has about 9 million shares outstanding, 13 million fully diluted with options/warrants. This tiny float adds to the volatility, but causes the upside to be huge.
In order to fully understand Unipixel's opportunity, one must first understand the market - touch screens. A touch module is comprised of several different components: a cover lens, a conductive layer, the display, and a touch controller (this is the chipset inside the device). UniBoss belongs to the conductive layer.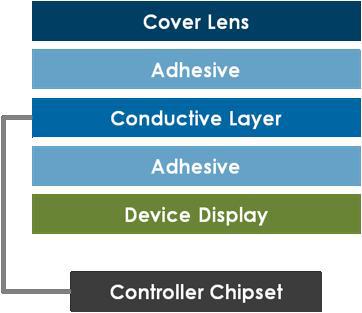 The current touch screen market is estimated to be about $10B and it is expected to grow to nearly $32B by 2018. Of this, the conductive layer is approximately $27 billion. This is the potential market for UniBoss. (Touch Market Size). This growth is through smart phones, tablets, laptops, and essentially every other screen input device.
Current 'conductive layers' are made from ITO (Indium Tin Oxide) which is horribly flawed. Firstly, Indium is expensive, increasing from $300/kg to $800/kg in the past 3 years. Indium is a rare earth metal, mostly found in China, and it is expected to be near depleted by 2020. ITO is also very difficult to work with as it is very brittle and expensive to manipulate. All of this causes ITO conductive layers to cost about $4.05 for an iPhone, which is about ¼ of the total cost of the touch unit. Due to the brittleness of ITO, this cost gets exponentially more expensive for larger screens (such as tablets or laptops, or larger smart phones).
This is where Unipixel steps in with the UniBoss product. UniBoss utilizes metal-mesh technology by creating a 'net' of extremely thin copper wires (5 microns thick). This net is so thin, that it is invisible to the naked eye. One of the biggest advantages of UniBoss over ITO is that it uses copper, which costs a mere $8/kg, thus lowering the cost per smartphone from $4.05 to $2.50. This is a savings of over 35% at the smartphone size. Unlike ITO, UniBoss scales very well into larger screens, allowing for significantly higher savings for tablets and laptops.
But price isn't the only benefit of UniBoss. It also uses 75% less power, reduces resistance by 2000x, increases scan rates by 10000x and reduces latency to less than 1 millisecond (UniPixel Brochure)
Another advantage of UniBoss is that it is an additive process as opposed to subtractive. Most performance printing manufacturing will cover the entire film with substrate and then scrape off the parts they don't need. This creates a huge amount of waste (cost inefficient). UniBoss is a roll-to-roll additive process which is much more cost efficient.
Finally, there is a labor reduction advantage. Current manufacturing techniques take about 40 steps to complete, whereas UniBoss' manufacturing takes 8 steps.
Opportunity
It should be clear that UniBoss is definitely better than ITO based touch screens. They have a cost and performance advantage. It is win-win vs. ITO. But what have they done so far?
So far Unipixel has achieved four design wins with customers in the tablet/notebook space. One of these signed a deal in early December (rumored to be Dell (NASDAQ:DELL)). They also have strong partnerships with N-Trig, a leading touch module manufacturer, Texas Instruments (NYSE:TXN) (yes, the huge company), two additional unnamed controller manufacturers, and Carestream (this is mostly for DiamondGuard). Unipixel is fully qualified with Texas Instruments' touch controller module and the company has repeatedly mentioned that they will be making an announcement 'soon'. It is theorized that they are waiting for TI's contract with Apple to expire in January. It is expected that Unipixel's products would be seen on products hitting shelves in 2H 2013.
The following quote from CEO Reed Killion summarizes the benefits of the Texas Instruments deal:
With Texas Instruments it is basically a working collaboration with their controllers… They have an exclusive deal with [Apple] that ends at the end of 2012… they are introducing stand alone controllers that should be one of the better performing controllers out there. It is a unique opportunity to work with them and we have a very good relationship with them. It will be a joint sales and marketing relationship and we may utilize it to expand into some of our other areas of expertise as well.
Unipixel is in discussions with many other companies as well for more design wins, and I believe it is safe to assume they will receive another 1-3 wins per quarter in 2013. But what does all of this mean for profits? Two days before the announcement with their first purchaser (possibly Dell), the company announced in an analyst call that they expect to produce 60,000 units/month by the end of Q1 2013, 175,000 units/month by the end of Q2, 700,000 units/month by the end of Q3, and 1.3 million units/month by the end of 2013. They have a preferred pricing program at $20 per unit, and expect to have "greater than 50% margins" on this preferred pricing.
They have no debt, $15 million in cash, and $500k / month in operating expenses. This can be put together in a simple chart as follows:
| | | | | |
| --- | --- | --- | --- | --- |
| | | Low | Med | High |
| 2013 | Units Sold | 400,000 | 800,000 | 1,200,000 |
| 2014 | Per Month | 800,000 | 1,500,000 | 2,000,000 |
| 2015 | | 1,500,000 | 2,000,000 | 3,000,000 |
| 2013 | Preferred | $20 | $20 | $20 |
| 2014 | Pricing | $20 | $20 | $20 |
| 2015 | | $20 | $20 | $20 |
| 2013 | Sales | 96,000,000 | 192,000,000 | 288,000,000 |
| 2014 | | 192,000,000 | 360,000,000 | 480,000,000 |
| 2015 | | 360,000,000 | 480,000,000 | 720,000,000 |
| | | | | |
| 2013 | Margins | 48,000,000 | 96,000,000 | 144,000,000 |
| 2014 | 50.0% | 96,000,000 | 180,000,000 | 240,000,000 |
| 2015 | | 180,000,000 | 240,000,000 | 360,000,000 |
| | | | | |
| 2013 | Oper | 20,000,000 | 15,000,000 | 12,000,000 |
| 2014 | Exp | 23,000,000 | 17,250,000 | 13,800,000 |
| 2015 | | 26,450,000 | 19,837,500 | 15,870,000 |
| | | | | |
| 2013 | profit | 28,000,000 | 81,000,000 | 132,000,000 |
| 2014 | | 73,000,000 | 162,750,000 | 226,200,000 |
| 2015 | | 153,550,000 | 220,162,500 | 344,130,000 |
| | | | | |
| 2013 | Tax | 7,000,000 | 20,250,000 | 33,000,000 |
| 2014 | 25% | 18,250,000 | 40,687,500 | 56,550,000 |
| 2015 | | 38,387,500 | 55,040,625 | 86,032,500 |
| | | | | |
| 2013 | Net income | 21,000,000 | 60,750,000 | 99,000,000 |
| 2014 | After Tax | 54,750,000 | 122,062,500 | 169,650,000 |
| 2015 | | 115,162,500 | 165,121,875 | 258,097,500 |
| | | | | |
| Shares | | 13,500,000 | 13,500,000 | 13,500,000 |
| | | | | |
| 2013 | EPS | 1.56 | 4.50 | 7.33 |
| 2014 | | 4.06 | 9.04 | 12.57 |
| 2015 | | 8.53 | 12.23 | 19.12 |
| | | Low | Medium | High |
| 2013 | | 31 | 90 | 147 |
| 2014 | | 81 | 181 | 251 |
| 2015 | | 171 | 245 | 382 |
The company has detailed during conference calls that they expect operating expenses will increase to $1 million per month at full capacity, which I have used for the 'high' scenario. I am also assuming 25% tax rate even though the company probably won't have to pay taxes for the first year. I have assumed a relatively conservative PE of 20, although companies with this sort of growth usually carry significantly higher PEs. If they are able to do just 400k units per month in 2013, that should equate to about $30/share, whereas if they fully utilize at 1.3 million units per month it could get into the triple digits ($147/share). This enormous difference between $30 and $147 is due to the small number of shares outstanding - fully diluted at 13.5 million. However, keep in mind that even on the high end we are discussing sales of only $288 million by the end of 2013, which is a tiny fraction of the $32B touch screen market.
It would be tough to argue that the sky isn't the limit for Unipixel. And with the first deal already under their belt, the downside seems miniscule. The first deal alone, with zero future growth, should easily be able to maintain a $15-$20 share price, potentially much more.
Risks
As with all companies, the risks do exist. There are many other companies creating other alternatives to ITO. Here is a brief list of other technologies and why I do not believe they will be as successful as copper metal mesh:
Optical: Optical technologies use an array of led lights to detect movement. This is similar to Neonode (NASDAQ:NEON), NextWindow, and Flatfrog. This technology tends to have great latency, and doesn't require the electric touch of a finger, and can therefore be used with gloves, a pencil, or any other tool. However, it also requires a small bezel around the screen to house the led lights which is very difficult on smart phones and unattractive on tablets. Because of this cosmetic issue, I do not believe it will be a major competitor.
Silver Nanowire: This is similar to UniBoss' copper metal mesh, but it utilizes silver instead. Silver is actually more conductive than copper, giving it outperformance. However, silver is more expensive and difficult to work with, and researchers have not yet been able to make use of its full ability. Two companies in this field are Cambrios and Carestream.
PEDOT Films: PEDOT PSS is a polymer that has electrical conductivity, which is rolled onto the substrates. However, it is not as conductive as copper, it isn't very stable, and it tends to break down even more easily than ITO. The market leader is Heraeus, along with Agfa and Plextronics.
Graphene: Graphene has tremendous capabilities, but it is essentially in the 'alpha' stage of research. However it is very sensitive to defects, so it would most likely need to be used in conjunction with another material. While graphene may be the eventual replacement to copper metal mesh, it won't happen for at least 5-10 more years (conservatively).
This brings us to other Copper metal mesh companies. There is really only one direct competitor to Unipixel, and that is Carclo (OTCPK:CCEGF), through its CIT (Conductive Inkjet Technology) division. Carclo has a deal with Atmel, the $2.5 billion company which currently has a deal with Samsung. It is well understood that Unipixel has developed a better product than Carclo that is easier to manufacture, cheaper and slightly more efficient. Also, the market is plenty big for both of them. However, Carclo is clearly threatened as they recently sued Unipixel (Suit and Counter), specifically mentioning: "CIT is seeking injunctive relief against Uni-Pixel to deprive it of the unfair head-start in its development efforts which CIT believes it to have gained from unauthorized use of CIT know-how, plus damages" (emphasis added).
This is the major threat to Unipixel, and it is what (I believe) is keeping a few buyers away. However, Unipixel argues that there is no substance to this suit whatsoever, and based on my research, Unipixel is correct. From what I have been able to dig up, the facts are these:
About 5 years ago Carclo and Unipixel worked on a project together involving optics and metallization. Nothing really amounted of their work together and they sold some of their results to Rambus (NASDAQ:RMBS). Now, Carclo is suing Unipixel because they believe that Unipixel is using technology that they worked on together and Carclo therefore owns. However, the optics part is unrelated to UniBoss, and Unipixel actually outsourced the metallization part (page 18 from very first link sourced above). Unipixel is happy to go to court over this matter and has hired Fish & Richardson, the #1 IP firm in the US for 9 years in a row, to defend them. Also, Unipixel currently holds numerous patents for their UniBoss technology and are in the process of applying for other patents.
While both touch screen processes are additive, the steps are very different as Carclo uses Inkjet printing and UniBoss doesn't. For example, one of the advantages of UniBoss is that they are able to print 50 feet per minute, whereas Carclo only prints 20 feet /minute, a 60% difference.
Conclusion
In conclusion, I believe that Unipixel has created a better mousetrap in a growing market. If they are able to make the correct relationships, which they are in the process of doing with N-Trig, Carestream, and Texas Instruments, the sky is the limit for their growth. Most importantly, they have already received their first major win in early December, validating their technology, their company, and putting a floor beneath their stock price. Major investors include institutions such as Bank of America, Fidelity (through Pyramis), and Wellington Management, as well as 'legendary' investor Kevin Douglas. Only two analysts cover the stock so far, (both with $20+ price targets), but I expect many more to jump in as the company becomes more well known throughout 2013. I highly recommend buying UNXL.
Disclosure: I am long UNXL. I wrote this article myself, and it expresses my own opinions. I am not receiving compensation for it (other than from Seeking Alpha). I have no business relationship with any company whose stock is mentioned in this article.