I'm searching for good investments to make in 2013. In this article, we'll take a look at Chevron (NYSE:CVX). The firm may outperform the 2013 consensus sales and earnings estimates. We'll take a look at Chevron's valuation, financial performance and financial position. Also, we'll evaluate Chevron from the perspective of a technical analyst.
Chevron Corporation is trading at 9 times earnings and 9 times forward earnings. Also, the Company is trading at 0.89 times sales.
Part of the reason Chevron is trading at 9 times earnings is because of the cyclical nature of the Company's operations. When the economy is booming, investors are typically willing to pay less for the earnings of cyclical companies. When the economy deteriorates, investors are willing to pay more for the Company's earnings because the outlook for earnings is improved during a recession.
Currently, Chevron is trading at a market capitalization of $214.72B. Also, the firm isn't carrying much debt on its books. Thus, I'm going to exclude the debt when calculating the value of the firm. The most recent financial statements released by the firm reported a cash balance of $21.6B.
In 2011, Chevron reported sales of $253.7B. The firm is trading, net of cash, at 0.76 times 2011 sales. Chevron is on pace to report about $240B of sales in 2012.
Exxon Mobil is valued similarly to Chevron: Exxon is trading at 9.21 times earnings and 0.81 times sales. BP is trading at the cheapest multiple of the three firms: BP is trading at 7.64 times earnings and 0.35 times sales.
The return on capital reported in the third quarter of 2012 was 17.4 percent; that is well above the firm's cost of capital. In other words, Chevron is creating wealth.
There are potential projects in Asia with returns in the 20 percent range.
One of the key factors that I think will drive the value of Chevron over the next year or two is the decline in unemployment in the U.S. As the unemployment rate continues to decline and resource utilization continues to increase, inflation and inflation expectations should increase. As inflation increases, mainly driven by higher energy price, Chevron's revenue and net income should increase.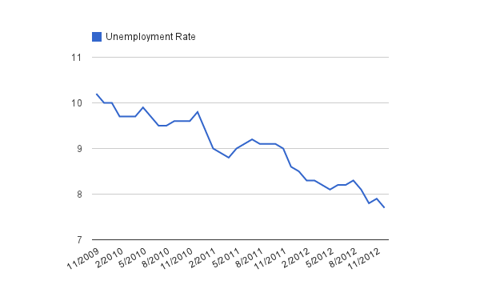 Without a macroeconomic shock, I forecast the U.S. unemployment rate to drop to 7.1 percent by the end of 2013. Further, the U.S. unemployment rate should drop to 6.4 percent by the end of 2014 and 5.7 percent by the end of 2015. Basically, I expect inflation to pick up over the next few years as the unemployment rate declines. Thus, Chevron should benefit from higher energy prices.
Currently, the price of light sweet crude oil is in a corrective wave of primary degree. I expect the wave to complete within the next six months. Thus, I think we see higher crude oil prices in 2013, relative to 2011 and 2012. Further, a sustained break below $70-bbl would negate my view.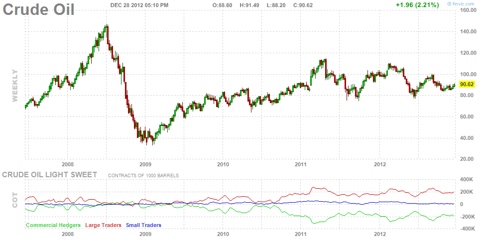 Natural gas was in a bull market for most of 2012. That said, the energy-related commodity is in a secular bear market. Currently, we are seeing a decline in the price of natural gas; the decline may be of primary-trend degree. Thus, the price of natural gas may re-test the $2 level in 2013.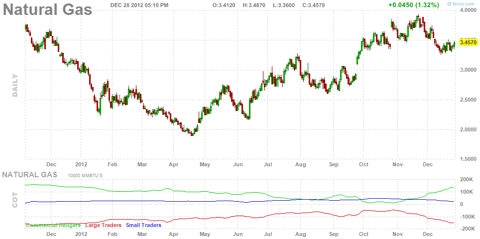 Overall, I'm bullish on the price of crude oil in 2013. Also, I'm not overly bearish on natural gas in 2013 as the $2-$2.50 zone should prove to be strong support.
That said, the outlook for Chevron in 2013 is favorable. Given the forward p/e ratio of 9, I think there is considerable room for earnings estimates to be revised upward. Better said, for the company to beat current earnings and sales expectations.
Relative to 2011, sales and earnings declined. That said, Chevron has plenty of cash. The firm is liquid and doesn't have a high debt to assets ratio. Earnings are high quality and the dividend is growing.
Beyond that, the key task is to accurately forecast energy prices over the next 12 to 24 months. Energy prices are the key determinant of revenue and earnings. I'm bullish on crude oil and cautiously optimistic on natural gas. Thus, I strongly believe 2013's sales and earnings will be much better than 2012's sales and earnings.
Technical Analysis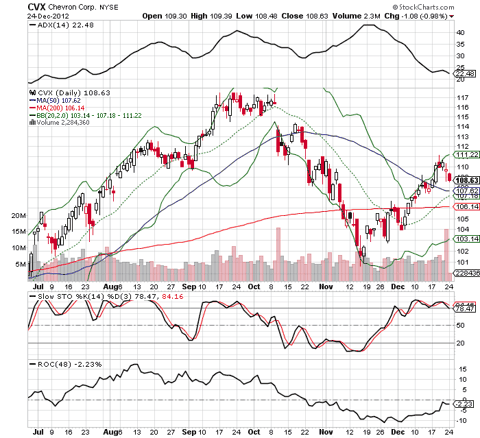 Shares of Chevron are trading above the declining 50-day simple moving average: the intermediate-term trend is towards higher prices, however, the signal isn't reliable. Also, shares are trading above the rising 200-day simple moving average: the primary trend is towards higher prices and the signal is reliable. That said, the market for shares of Chevron is entering consolidation mode as the 14-day slow stochastic is in the overbought zone. Further, the middle Bollinger Band may act as support during this minor reaction. That said, the 48-day rate of change indicator suggests the market remains bearish.
In other words, we are in the middle of an intermediate advance following an intermediate decline. A minor high formed recently. However, I'm worried that we may see another intermediate-term decline in the next 3-6 months.
Disclaimer: This article is not meant to establish or continue an investment advisory relationship. Before investing, readers should consult their financial advisor. Christopher Grosvenor does not know your financial situation and ability to bear risk and thus his opinions may not be suitable for all investors.
Disclosure: I have no positions in any stocks mentioned, and no plans to initiate any positions within the next 72 hours. I wrote this article myself, and it expresses my own opinions. I am not receiving compensation for it (other than from Seeking Alpha). I have no business relationship with any company whose stock is mentioned in this article.