Bye, bye Miss American Pie/Drove my Chevy to the levee but the levee was dry/Them good ole boys were drinking whiskey and rye/Singin' this'll be the day that I die/This'll be the day that I die -- Don McLean, 'American Pie,' 1971
For about a decade now, gold (NYSEARCA:GLD) has been shining. But just like ordinary people, investors often neglect history. And when someone doesn't study history, he or she is apt to repeat mistakes of the past.
As far as gold as an investment, investors have forgotten that all those who invested in gold three decades ago lost their shirts. And when I say they lost their shirts, I really mean it.
Click to enlarge images.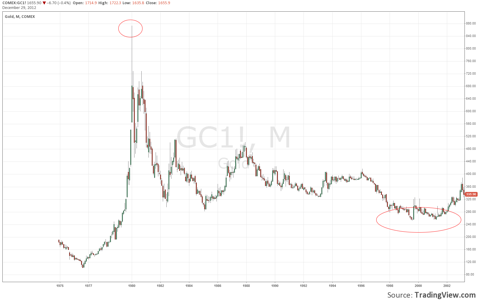 Click to enlarge
If you look at the chart above, you will see that gold went from about $870 all the way to about $250 over a 20-year period. That is about a 70% nominal correction. However, in real terms, the actual loss is higher. If we go over to the BLS site and play around with the numbers a little, we will find that the equivalent buying power of $870 in 1980 is about $1,870 in 2001 terms. So if we run the numbers, we find out that the total loss in real terms is 87%.
So those who held on to gold all those years, thinking gold was money, lost their "gold money." Of course, all those who held on have recovered today, but not by much. Also, those who bought gold all those years lost out on the biggest bull market in history, both in equities and in fixed income. So the total loss was even higher in more ways than one.
Many say gold is a store of value. Gold can indeed be a store of money, but so can vintage Fender guitars, 100-year-old wine, art, and land. And just as the price for a vintage Fender guitar goes up and down (as with land and wine), so does the value of gold go up and down.
Given that the value of gold goes up and down like anything else and is not a constant, then it should be treated like everything else. In other words, it should be considered an asset that you can buy and sell from time to time and record capital gains.
How Much Is Gold Worth?
Gold is worth whatever those who pay for it say it's worth. There is no way to place a value on gold based on a stream of profits or cash flows or via some other known means. Whatever the market thinks it's worth is what it's worth -- similar to a vintage Fender guitar. And, yes, gold does not owe anyone anything when it is paid for in cash, but neither does a Fender guitar.
But on a more serious note, gold being a commodity is really only worth the cost of digging it out of the ground, plus a markup for the mining company that did the hard work. So the question is: What does it cost to get gold from the ground?
That varies for every company, but in 2011, Barrick's (NYSE:ABX) CEO said in a note to shareholders:
In 2011, the company performed well against this strategy. Barrick met its operating guidance for the ninth consecutive year, producing 7.7 million ounces of gold at total cash costs of $460 per ounce, positioning Barrick as one of the lowest-cost senior gold producers. (emphasis added)
To that cost you have to add a markup for SG&A, and shareholders have to get something as well. If we dig around the web, we will find different charts that more or less confirm what the CEO of Barrick said -- the chart below offers more evidence.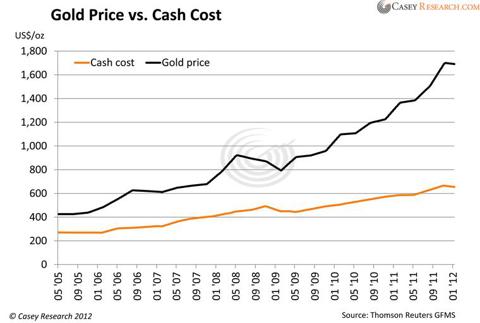 Click to enlarge
That is, the cash cost to dig gold out of the ground for 2012 is about $600-$650 per ounce for the industry on average. If we add a 20% markup to the cash cost, then gold should only be worth about $750-$800 per ounce. So why is gold trading about $1,000 higher?
Well, there are three competing sources for the gold that the mining companies extract from the ground. There are those who make jewelery, the industry, and investors.
The biggest reason for gold's jump over the years has been investment demand. Remember, prior to 2003 (if memory serves me well), there were no gold bullion funds and no gold ETFs. Once those began rolling out, demand for gold jumped. There has always been investment demand for gold, just not as much. These new investment vehicles, however, made it possible for even the average investor to own gold.
So back to our original question: Why is gold worth about $1,000 more than it should be worth? The answer is investors and investment demand.
The next question is: What will happen to the price of gold if, for some odd reason, investors decide to dump their holdings?
Remember, investors are a finicky bunch. They could change their minds about anything for just about any reason. Look at what's happened to Apple (NASDAQ:AAPL) -- it has a ton of cash, great earnings, and is probably the best-run company on earth, yet investors still dumped it. It will not take much for investors to do the same with any asset, even if it shines like gold.
The authority on gold demand and usage is none other than the World Gold Council. It is probably the official lobby for all things gold worldwide. According to its latest demand and supply statistics, it seems as if there may be a dent in gold demand across the board.

Click to enlarge
Let's start with gold usage for the 2011 vs. 2010 calendar year. According to the data above, jewelry, industrial, dental, and electronics usage recorded negative growth. Overall gold demand was up for 2011 vs. 2010, but demand growth was exclusive to the investment crowd. If we look at the data on a quarter-to-quarter basis, we see that gold demand for 2011 and 2012 for the sectors mentioned continued to decline.
But there is something interesting when we look at the investment demand data. Physical bar demand, for example, has been declining ever since Q1 2011. The same goes for coins. The big surprise, however, is ETF demand for gold. There has been a steady decline ever since 2009.
In fact, as of Q3 2012, year-over-year demand for gold is down across the board by -11% overall.
Herd Investment Mentality
There is a herd mentality to just about everything in life. In the beginning, a small group of people discover something, then others copy them, and soon enough that particular thing is in style. Whether that is a smartphone (can you say iPhone?), a soft-drink brand, or a type of music style, people catch on to the new wave in droves -- until everyone does it and then it goes out of style, or something new comes along and whatever was in style loses its appeal.
The same applies to a sector or an asset class. Many years ago, everyone paid an arm and a leg to buy Microsoft (NASDAQ:MSFT) and Cisco (NASDAQ:CSCO), and today they are practically giving these stocks away.
Also many years ago, some people started making money in gold. These people talked to their friends about gold and they made money as well. Before you knew it, it was a daily topic of discussion on CNBC and, in the end, there was not a newsletter, financial analyst, brokerage house, or pundit who did not have an opinion about gold and the whole commodities space.
The way it always ends is like this: A few will leave and then some others will copy them and they will leave as well. After that, people stop making money. When the correction comes, some buy the dip, but not enough to compensate for the sellers. Very soon you have a mass exodus, and when the big correction comes, many more wonder what happened as they were left holding the bag.
Is Gold Going to Correct Aggressively in 2013?
Well, we don't know the answer to that question yet, but please note we have some red flags. The first issue is that we have evidence of lower gold demand from the industry and from investors. Obviously, we need more data. However, we do see signs of people getting out of physical gold as an asset class.
Physical gold is a lazy investors choice. That is, people buy physical gold because they don't want to bother thinking about their investments -- either because they think it will never go down or they will never lose.
Stocks, on the other hand, are much smarter and more complex than physical gold itself. When you buy a stock, you have to take into consideration what the profit picture will look like in the future. Among other things, that means you have to make a guess where gold prices will be. So gold stocks are almost always a proxy for the physical metal itself.
One such proxy is the junior gold miners. That's because they don't actually make money, but people buy them based on the value of deposits they have.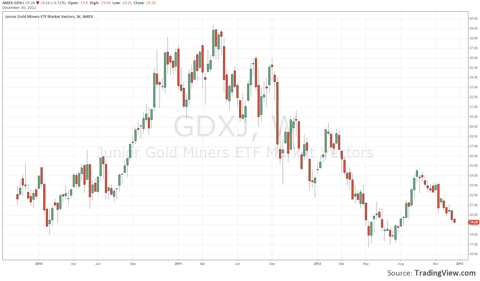 Click to enlarge
The chart above shows the Junior Gold Miners EFT (NYSEARCA:GDXJ). If stocks are indeed smarter than the physical metal, then junior stocks are telling us that their gold reserves are not worth what they once were. In fact, if the juniors are a proxy for the metal itself, then physical gold has a big correction ahead of it.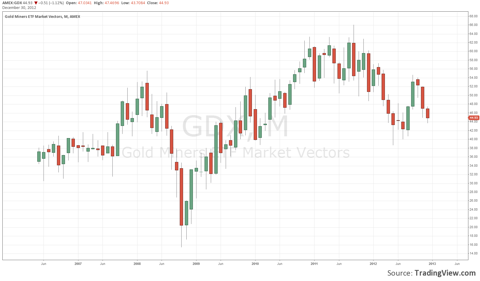 Click to enlarge
But it's not only the juniors. The Gold Miners ETF (NYSEARCA:GDX), which includes the biggest names in the space -- such as Goldcorp (NYSE:GG), Newmont Mining (NYSE:NEM), Kinross Gold (NYSE:KGC), Yamana Gold (NYSE:AUY) and Eldorado Gold Corp. (NYSE:EGO), among others -- is also telling us the same thing. And that is, in the future they will not be worth what they were several years ago -- probably because gold will correct.
Let's Look at Gold Itself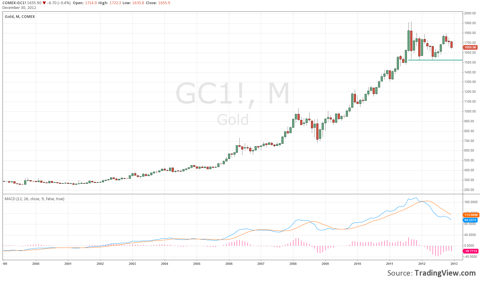 Click to enlarge
Please note that the above chart's time frame is monthly. So a few days or weeks of price action in any direction will not really affect it. Having said that, the chart will have to become extremely bullish -- and soon -- in order to reverse what I see coming from the MACD indicator.
Also, if spot gold breaks down below $1,520, then there will be a host of technical selling from a wide variety of players. If that happens, technically speaking again, resistance levels are very far below.
Final Note
If we do see gold trending below $1,520, then it is probably wise to sell anything that has to do with gold and silver and probably every precious commodity there is. That's because the era of precious metals, as an asset class to make money in, will probably be over.
Disclosure: I have no positions in any stocks mentioned, and no plans to initiate any positions within the next 72 hours. I wrote this article myself, and it expresses my own opinions. I am not receiving compensation for it (other than from Seeking Alpha). I have no business relationship with any company whose stock is mentioned in this article.