When searching for investment opportunities, there are two things that I look for in a company: deep value and strong growth. Unfortunately, finding a company that adequately fulfills these criteria has been difficult of late, considering the major indices remain near their all-time highs while macroeconomic growth continues to be sluggish. However, that doesn't mean that attractive investment opportunities don't exist. In fact, the most well-known investors have continued to buy stocks regardless of the fact that they're facing identical conditions. And for the most part, the newest holdings of these big shot investors seem to consist of successful companies that have been overlooked by the market.
So in the spirit of not overlooking any company, I'd like to identify a small cap penny stock that has the characteristics of both value and growth - and possesses these characteristics because it has been overlooked. The company is Manitex International, Inc. (NASDAQ:MNTX), a provider of engineered lifting solutions. More commonly known as a growth play, MNTX - which now trades at $7.14 - has snuck into value territory in recent months.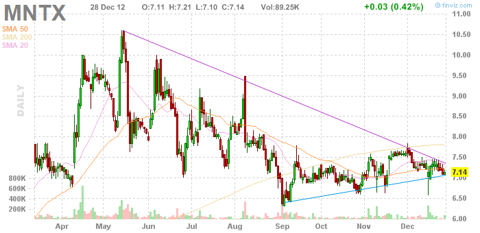 10-month chart for Manitex Intl, Inc. from FinViz
As you can see in the chart above, MNTX hit a 52-week high at $10.60 in May following the announcement of strong first quarter earnings. The following two quarters, earnings were even stronger as TTM EPS increased by a whopping 77% over that time frame. However, MNTX's price has dropped by 33% since hitting its high point. Market inefficiency has put Manitex into "deeply undervalued" territory, and it presents an opportunity for investors. Below are some of the metrics that have resulted from the combination of Manitex's price drop and earnings increase, as well as some other reasons why I believe the stock is attractive.
Sound Fundamentals
Using a simple fundamental analysis, Manitex fits my criteria for being undervalued and boasting a strong financial condition. These criteria are derived from, although not identical to, a Graham-based approach.
Criteria for undervaluation:
TTM P/E is below 15
P/E is below its 5-year average
Price/Book is below 2
Price/Book multiplied by P/E is below 22.5
Results:
At 13.47, MNTX's P/E is below 15 and well below its 5-year average P/E of 25.30. Additionally, it is near its 52-week low of 12.45.
Price/Book is 1.53
Price/Book X P/E = 20.6
*Note: TTM EPS is expected to increase considerably with the upcoming announcement of 4th Quarter earnings. If MNTX meets expectations ($0.16/share), then EPS will increase from $0.53 to $0.66. That's a 25% increase, which would cause P/E ratio to drop to 10.82. This would be a new 52-week low (assuming price remains constant), which proves just how cheap this company has become.
Criteria for strong financial condition:
Current ratio > 2
Long-term debt < Net current assets
Results:
Current ratio is 2.32, an indication that the company is financially secure and more than able to pay its short-term obligations.
Long-term debt ($39.9 million) < Net current assets ($58.8 million)
Strong Earnings Growth
EPS for the first 3 quarters of FY2012 have already doubled that of FY2011 (100% growth)
For the full year, earnings growth is expected to be 164%
Analysts are bullish on MNTX, as they predict FY2013 EPS to grow another 40%. This gives us a forward P/E of 7.76.
Which brings us to...
Analyst Optimism
Mean analyst recommendation is 1.3 out of 5 (where 1 is a "strong buy")
Analysts currently have a price target of $12, which is 68% above the current price
Conclusion
Many growth plays have future earnings already priced into the stock, but MNTX is trading at a discount even when looking at current earnings. Considering the company's rapid growth rate is expected to continue, I believe there is a lot of upside here.
Disclosure: I am long MNTX. I wrote this article myself, and it expresses my own opinions. I am not receiving compensation for it (other than from Seeking Alpha). I have no business relationship with any company whose stock is mentioned in this article.