Cliffs Natural Resources (NYSE:CLF) shares recovered from a low of $28.05 reached at the start of December 2012. Shares were on the decline because of weak quarterly earnings, a lowered outlook in sales volumes, and cuts in capital expenditures. Since then, pricing in iron ore changed dramatically, which could support higher prices for shares of Cliffs Natural Resources.
1. HSBC PMI rose to 50.9 in December, suggesting growth, driven by domestic demand, was improving in China.
2. Shanghai's rebar prices rose nearly 9% in the fourth quarter. A monthly snapshot shows some improvement in the 25 mm spot average prices: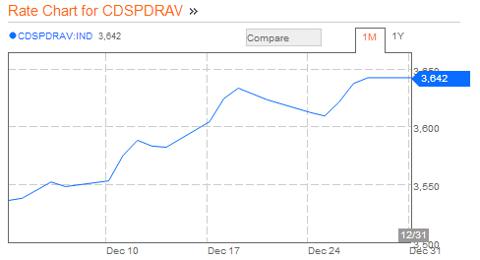 Click to enlarge
(Chart Source: Bloomberg)
3. Iron ore prices rose 56% in the fourth quarter. The rebound will also help Vale SA (NYSE:VALE), a big player in exports for the seaborne iron ore market. In the past month, Vale shares are up nearly 19%, while Rio Tinto (NYSE:RIO) is up 20.3%. Cliffs shares rose 20.2% in the last month.
4. The price of iron ore delivered to China rose 3.9% recently, adding to the 25% gain for the month. The daily rise is the highest since October 2012. Ore containing 62% iron was recently priced at $144.90 per dry metric ton at the port of Tianjin. The sharp increase suggests that the bear phase for the metal may have ended on September 5, 2012.
Cliffs shares are the most appealing to investors most interested in dividend payments. Its shares offer the highest yield, when compared to Vale, BHP (NYSE:BHP), and Rio Tinto: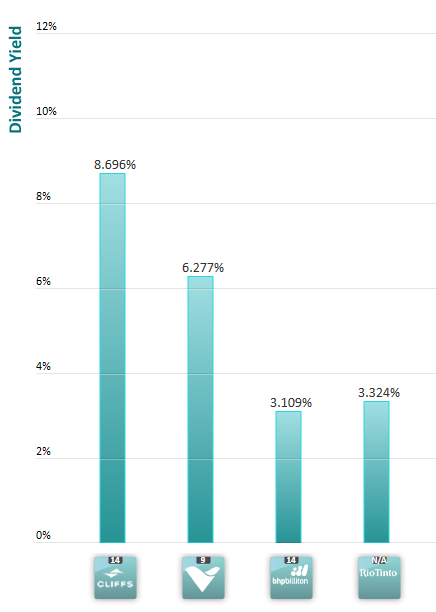 (Chart Source: Kapitall.com)
Risks:
Cliffs valuation will be led by swings in iron ore prices in the near-term. The price of the metal will be driven by demand expectations in China. This is not without risk. Last month, there were reports that China wants to cut the tax rate paid by its domestic iron ore producers by 50%. This would support supply levels in China, while lowering prices of imports. Miners like Rio Tinto and BHP Billiton would be hurt most by this move. Second, despite a drop in inventories, China is still burdened by oversupply. In early December, CISA reported increases in pig iron ore output between January and October 2012 to 447.65 million mt, up 2.9% year-over-year. Imports also increased by 45.41 million mt.
Disclosure: I have no positions in any stocks mentioned, but may initiate a long position in CLF over the next 72 hours. I wrote this article myself, and it expresses my own opinions. I am not receiving compensation for it (other than from Seeking Alpha). I have no business relationship with any company whose stock is mentioned in this article.