On Dec. 12, the Federal Reserve announced that it will expand its pre-existing asset purchase program by buying $45 billion a month of Treasury securities, bringing its total to $85 billion per month. Given the fact many of the agency-based mortgage REITs will be pressured by the Fed's enhanced spending behavior, I wanted to examine one of the more well-known non-agency-based REITs. Below I will highlight some of its positive catalysts and discuss why it could be a primary candidate for an acquisition.
The REIT I want to talk about is Chimera Investment (NYSE:CIM). According to the company's website, "Chimera Investment Corporation invests in residential mortgage loans, real estate-related securities and various other asset classes. CIM is externally managed by Fixed Income Discount Advisory Company (FIDAC), a wholly owned subsidiary of Annaly Capital Management, Inc. (NYSE:NLY)."
In the past 18 months, one thing Chimera has been doing is cutting its dividend a total of three times from its high of $0.13/share (June 2011) to its current low of $0.09/share (December 2012). That equates to a decrease of 30.76%, or $0.04/share. Although a 30.76% cut in its dividend is significant, shares of Chimera still provide investors with a yield of 13.60% ($0.36). Although Chimera's yield is still very attractive, there are a few other things long-term investors need to consider.
Fundamentals: As of the close trading Dec. 28, shares of CIM currently carry a market cap of $2.66 billion, have traded relatively flat since Jan. 1, 2012, and are trading at a 3.08% discount to their 50-DMA and at a 0.77% discount to their 200-DMA. Although the company's discount to its 50-DMA and 200-DMA may look like a potential value proposition, most investors should still proceed with a slight bit of caution.
Click to enlarge image.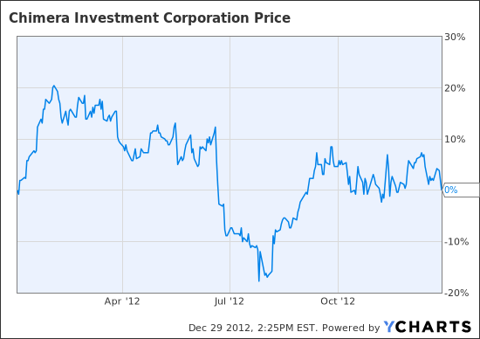 Recent Insider Transactions: On Dec. 29, it was announced that each of the six independent directors of Chimera Investment purchased 18,588 shares of company stock the day after Christmas at a price of $2.69/each. That brought the combined transaction total to about $300,000. Comparatively speaking, the company's board of directors for 2012 totaled just six transactions, whereas 2011 Form 4 filings totaled just over five times that number, coming in at 31 transactions. As of Dec. 28, shares of Chimera are down $0.10/share since the insider transactions were executed.
Acquisition Target: Although no official plans to acquire Chimera have been announced, there is one agency-based mortgage REIT that could be in the market to continue its diversification efforts as result of enhanced spending by the Fed. On Nov. 12, Annaly Capital took the first steps toward diversifying its holdings by making a bid of $12.50/share for all the outstanding shares of Crexus (NYSE:CXS), which operates a portfolio consisting of commercial paper. The move to acquire Crexus could be quite beneficial for Annaly, especially since it recently noted with regard to commercial mortgage-backed securities, better known as CMBS, that "commercial mortgages, even at current historically low rates, still exhibit good relative value against other fixed income alternatives."
That said, a move to acquire Chimera could also expose Annaly to a portfolio containing both consumer and non-consumer asset-based securities, better known as ABS. In Annaly's third-quarter "Market Commentary" report, it also noted that "the consumer asset-backed sector is perceived to be a safe haven for investors and spreads will likely remain tight absent severe economic weakness or a recession." Although spreads will likely remain tight in the near term, an acquisition of this size could ease some of the pain caused by the Fed for Annaly.
Disclosure: I am long CIM, NLY. I wrote this article myself, and it expresses my own opinions. I am not receiving compensation for it (other than from Seeking Alpha). I have no business relationship with any company whose stock is mentioned in this article.