Background
Thoratec (NASDAQ:THOR) is, without a doubt, the global market leader in the mechanical circulatory support industry and owes that title primarily to the success of its Heartmate II Left Ventricular Assist Device ("LVAD") product. Until recently, the Heartmate II stood largely unopposed in the United States in the bridge-to-transplant market, and it still stands unopposed in the emerging U.S. destination therapy market. Even though I am bullish on the LVAD industry as a whole, I believe Thoratec will continue to be one step ahead of its competitors for reasons to be explored in this report.
Current Products
Thoratec has been around for 35 years and continues to be a pioneer in the field of mechanical circulatory support. It revolutionized cardiovascular surgery with the invention of the Heartmate XVE and has continued to build on that legacy with its current offerings. Thoratec's current product line is as follows: (1) the Heartmate II LVAD, (2) the Thoratec CentriMag and PediMag, (3) the Thoratec PVAD, and (4) the Thoratec IVAD. Due to changes in the industry and growing competitors in their respective markets, the PVAD and IVAD are relatively unimportant to earnings (around 3% of the total product line and declining), so for simplicity's sake I will omit them from the rest of this report.
Heartmate II
The Heartmate II is the flagship product and was originally intended to support a failing left ventricle as a "bridge" therapy until a heart became available for transplant. It received CE Mark in 2005 and FDA approval in 2008 for this bridge-to-transplant ("BTT") indication. While business has thrived for that indication, the number of patients in need of a heart transplant has grown faster than the number of available heart transplants. This resulted in the elongation of the "bridge" for which the LVAD was intended and led to a new indication for such devices: destination therapy ("DT"). On January 20, 2010, Thoratec became the first FDA-approved LVAD for DT, and the DT market has proven to grow at a much faster rate than BTT since that time. Thoratec's early lead and sterling reputation have enabled it to maintain (and grow) a high market share for years.
Let's illustrate with some numbers. Currently, there are around 250,000 patients in the U.S. who have Class IV Heart Failure (the most severe NYHA heart failure categorization and the one for which the Heartmate II is indicated), and Thoratec estimates that 50,000-100,000 of those are eligible for long-term mechanical support. (My own estimates are on the lower end of this range.) With only 2,200-2,300 hearts available for transplant every year, there is a large gap for Thoratec to fill. Some of these patients will use an LVAD for BTT until an eventual transplant, while an increasing percentage of them will rely on the Heartmate II for the rest of their lives. According to the company in its Q3 2012 conference call, in just a couple of years since FDA approval of the Heartmate II for DT, DT has become 50% of the entire U.S. Heartmate II franchise.
The LVAD market is set to grow; four thousand LVADs were implanted in 2010, and Thoratec predicts that 10,000 will be implanted in the year 2015. With only approximately 10% penetration at this time, there is sufficient runway before any deceleration in growth to make me very bullish on the LVAD industry for the next several years.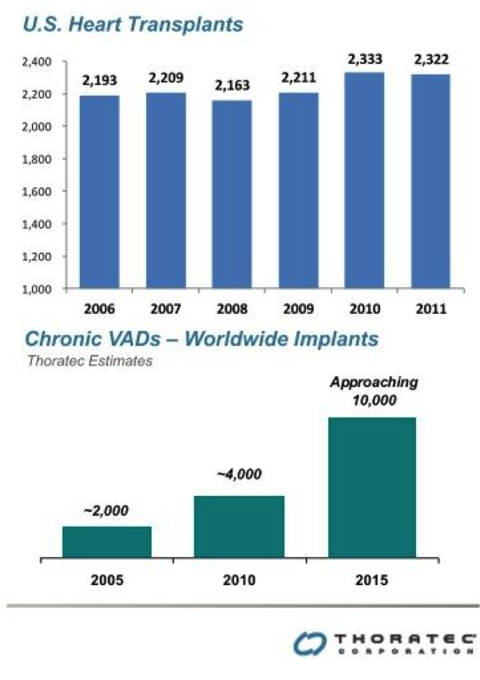 CentriMag and PediMag
After partnering with Levitronix Medical for years in the distribution of its CentriMag product, Thoratec finally acquired Levitronix Medical in August of 2011. This expanded its product line from long-term, implantable LVADs into acute, less invasive solutions. CentriMag (and PediMag, the equivalent product for pediatric patients) is an extracorporeal, centrifugal flow pump approved for cardiopulmonary support of up to six hours and is also approved for use as an RVAD for up to 30 days. Last quarter, revenue from the CentriMag and PediMag lines grew 7% compared with Q3 2011 excluding the impact of the Levitronix Medical acquisition, with growth coming primarily from outside the U.S.
This acute surgical product line historically makes up less than 10% of revenue, but it was a very important strategic acquisition for Thoratec for two reasons. First, these products use a magnetically levitated impeller that Thoratec altered to form the basis for its next generation LVAD, the Heartmate III. Second, Thoratec sees the acute surgical product line as a way to expand from chronic therapies and form relationships with potential future LVAD customers.
Competition
Because the potential LVAD market is so huge, Thoratec is not alone in the space. Without question, the primary competitor to the Heartmate II is Heartware's (NASDAQ:HTWR) HVAD, but there are also a number of small, private companies with competing products including the Jarvik 2000, the MicroMed HeartAssist 5, the CircuLite Synergy, and the Syncardia Total Artificial Heart. However, for all intents and purposes, the LVAD industry is a two-horse race between Heartware and Thoratec - a fact recognized by most industry experts - so I will focus only on Heartware as a competitor for the purposes of this report.
Product Progression
Before understanding how these competing products compare with the Heartmate II, one must first know the basic progression of these products over time. When describing the product landscape, different companies may separate it into as many as six generations, but for simplicity's sake I will only separate it into three.
As I mentioned in the introduction, the first generation of pumps was the Heartmate XVE and other similar pumps. These pumps were very large and were similar to the human heart in that they pumped blood in a pulsatile fashion.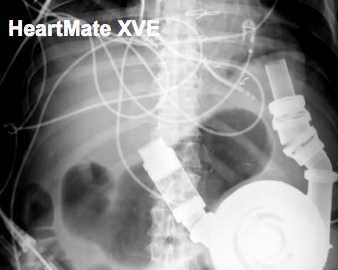 The second generation, which is currently the market leader, is led by the Heartmate II. This pump is much smaller than the Heartmate XVE and pumps blood continuously; interestingly, researchers confirmed by testing this device (and others) that the body does not require pulsatile blood flow physiologically, so these pumps became very successful, and pulsatile pumps became obsolete.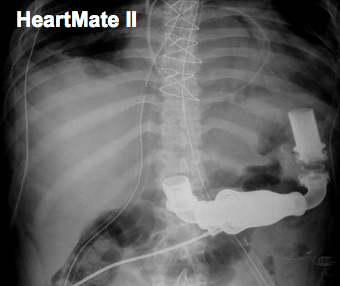 As you can see from the above radiograph, the Heartmate II is still relatively large; so large, in fact, that it requires installation below the diaphragm in a "peritoneal pocket" and must be "plumbed" back across the diaphragm to the heart. This requires an abdominal component to the surgery and is more invasive than would be ideal, which brings us to the third generation pumps, led by Heartware's HVAD.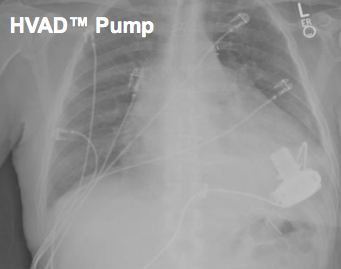 The HVAD and others in its generation do not require a peritoneal pocket and are instead capable of intrapericardial placement, as you can see in the above radiograph. This provides for a less invasive approach (usually a thoracotomy) and is thus very appealing to cardiovascular surgeons and patients.
Additional features being added to second- and third-generation pumps are built-in flow monitoring (enabling wireless monitoring), fully implantable pumps (making the drive line unnecessary by using wireless power through TET coils or similar technology), etc. For the purposes of this report, I will not make a separate "generation" for those pending improvements.
Heartware's HVAD
Heartware's flagship product, the HVAD, has led the third generation of LVADs and is a real threat to Thoratec's worldwide market share. It is a much smaller pump owing to its hybrid magnetic/hydrodynamic impeller suspension design. The HVAD received CE Mark approval in January 2009 for BTT, a CE Mark addendum for long-term use (including DT) in May 2012, and, most notably, FDA approval for BTT in November 2012. Some surgeons and analysts have predicted that the HVAD will command a majority of the U.S. LVAD market share in the next five years, with most estimates ranging from market share of 20%-50% by 2015.
However, clinical findings associated with HVAD use have been cause for concern. Data released in April showed a 9.2% incidence of thrombosis compared with a 3%-6% expected rate (and an approximate rate of 3% associated with the Heartmate II). Those concerns, which were reflected in the April FDA panel recommendation for approval (which got only an 8-3 vote for safety), have been alleviated by Heartware's recommendation for a more rigorous anti-coagulation regimen; although the sample size is still relatively small, that approach appears to be promising. However, what was surprising (and much more concerning) is that the FDA released partial data from Heartware's pending ENDURANCE trial for DT in the instructions for use ("IFU") that showed some incidence of hemorrhagic stroke while on the HVAD, with no such events in the control group. In response, Heartware has isolated mean arterial pressure ("MAP") management as the metric with the highest correlation to hemorrhagic stroke (~6x odds ratio) and has suggested more rigorous management of MAP and pump speed to combat that complication.
The extra data (and thus the extra concern) has dampened Heartware's otherwise exciting FDA approval news; although the stock popped significantly on the day of the FDA announcement, it dropped very soon thereafter and has been rangebound since that time.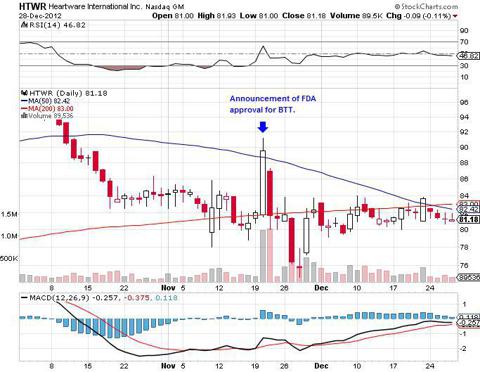 In addition, several analysts moderated their earnings outlook on Heartware after the announcement not only because of a potential slowdown in U.S. HVAD adoption for BTT as a result of the stroke concerns, but also because of danger to the ENDURANCE trial. One analyst estimates that Heartware has already used up half of its inferiority margin and must improve HCVA numbers to ensure its approval for DT after completion of the ENDURANCE trial.
Product Pipelines
As is almost always the case in medical devices, the market opportunity and continuous LVAD progression makes product pipelines incredibly important, especially for Thoratec since their flagship device is a generation behind Heartware. Realizing that acquiring a third-generation device would be much cheaper than creating one, Thoratec entered into a merger agreement to acquire Heartware for $282 million in February 2009, which, in retrospect, would have been a steal given Heartware's current market cap of $1.17 billion. However, in July 2009, in response to an FTC challenge on antitrust grounds, Thoratec and Heartware announced that they were terminating their agreement.
The Heartmate III
Tasked with building a competing technology after the termination of their merger agreement with Heartware, Thoratec committed to developing the Heartmate III using the magnetic levitation technology developed with (and later acquired from) Levitronix. The Heartmate III, which is much smaller than the Heartmate II (and is comparable to the HVAD), is expected to enter pivotal CE Mark trials in mid-2013 and U.S. trials at the end of 2013; Thoratec expects U.S. approval of the device at the end of 2015.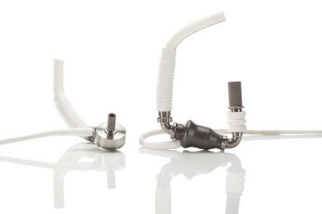 The Heartmate PHP
Thoratec is simultaneously developing the Heartmate PHP, a catheter-based, percutaneous pump intended to treat acute heart failure - specifically, acute myocardial infarction ("AMI") shock, high-risk percutaneous coronary intervention ("PCI") procedures, post cardiotomy failure, and other indications. Thoratec expected first-in-man in early 2013 with CE Mark trials in mid-2013.

The Heartmate X
The Heartmate X is a dramatic size decrease compared with the Heartmate II and a significant decrease even to the Heartmate III, but Thoratec has not released very much information about this product yet as it has not yet entered human trials.
The MVAD
Meanwhile, Heartware is developing a next-generation device of its own: the MVAD. This device is roughly 1/3 the size of the HVAD, boasts similar power and function, and will be implantable via thoracotomy rather than a median sternotomy (as is the usual practice with the HVAD). As of the Oppenheimer Healthcare Conference, Heartware expects first-in-man studies in early 2013.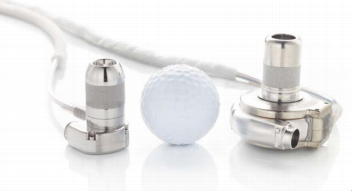 Outlook & Valuation
3Q Earnings & 2012 Guidance
Thoratec handily beat analyst expectations in the third quarter of 2012, reporting sales of $117 million on 27% unit growth and raking in profits of $24.3 million or $0.41/share. In the first nine months of 2012, the company had 23% unit growth worldwide (21% in the U.S. and 33% O.U.S.) led by growth in the DT segment, which now represents 50% of the Heartmate II franchise. Additionally, it raised revenue projections for FY 2012 from $460-$470 million to $477-$483 million and raised adjusted EPS projections from $1.67-$1.73 to $1.79-$1.83. During the Q&A session, the company estimated that the cause of the projected increase in guidance ($15 million midpoint to midpoint) was roughly 50/50 between surprisingly good growth in Eastern Europe and the delay in U.S. approval of the HVAD. (I used this number to inform my estimate of U.S. market share loss to the HVAD in my own revenue projections.)
Center Growth
Thoratec has a lot of momentum in acquiring new centers that offer the Heartmate II. In the first nine months of 2012, Thoratec reported 23 new implant centers worldwide (11 in the U.S. and 12 O.U.S), which brings the total worldwide to 316 (~160 in the U.S.). Almost all of Thoratec's new centers in the U.S. are "group 3" centers, which are comprised primarily of open heart centers with a very small number of transplant centers. (This group 3 categorization is as opposed to tier one and tier two centers that are almost all academic centers rather than commercial centers.) In the Q&A session, Thoratec estimated that it has around 100 transplant centers in the U.S., and that number is not expected to grow given the current high penetration; however, the group 3 centers (i.e. the remaining 50-60 centers in the U.S.) - which grew 70% in the first nine months of 2012 and now represent 20% of Thoratec's total U.S. Heartmate II volume - are expected to continue to grow at a high rate. At the Oppenheimer Healthcare Conference, the company projected annual center growth of ~15 centers per year in the U.S. going forward and estimated that each new center would start off performing five implants per year.
Outside the U.S., Thoratec reported impressive revenue thus far in 2012, especially in Eastern European markets (e.g. Turkey) due to center growth and an improvement in reimbursement rates. It also noted solid same-store sales growth in Germany and France and denied any material impact to top-line numbers from the financial crisis in Europe. Thoratec did warn, however, that such high rates of Eastern European growth is not likely sustainable going forward.
Additionally, on December 11, Thoratec announced the approval of the Heartmate II in Japan, which it identified as an underpenetrated heart failure market. Early on, it foresees Japan producing 40-50 implants per year with slow and steady growth thereafter.
Market Share
Commercial (group 3) centers, the vast majority of which are exclusively or almost exclusively focused on DT, have little reason to suffer the expense of training for and supporting two different devices, so I project that Thoratec has very little risk of surrendering market share to the HVAD at these centers. The Heartmate II remains the only device approved for DT in the U.S., which gives it obvious advantages for that indication for two primary reasons. First, using the HVAD off-label - although legal - is additional risk for the surgeon given the latest data from the ENDURANCE trial. Surgeons implanting a device for DT are not very likely to subject their patients to increased risk of stroke (and subject themselves to increased risk of litigation) by using the HVAD, at least until more data are released from the ENDURANCE trial. In addition, using a device off-label creates reimbursement issues that most commercial centers would prefer to avoid.
At transplant centers, which perform implants for both BTT and DT, Thoratec will certainly lose some market share to HVAD. The fact that it can be placed intrapericardially and through a thoracotomy is a distinct advantage, and surgeons will want to use it. However, I do not think analysts have sufficiently accounted for the fear that the newest data related to stroke risk will cause among surgeons. When faced with two devices that otherwise produce (despite the differences in size and the invasiveness of the procedure) very similar outcomes, the additional stroke risk associated with the HVAD will be a partial deterrent. This will slow down (but not stop) market share gain at least until more data from the ENDURANCE trial are released (and/or when more data are released regarding the success of Heartware's recommended anti-coagulation and MAP management protocols). Additionally, at a recent healthcare conference, Thoratec noted that the recent market share gains that Heartware has made against Thoratec in Europe occurred before the latest data were released regarding hemorrhagic stroke. This newest wave of stroke concerns could cause a slowing of the HVAD's adoption in Europe as well.
Ultimately, Heartware's success depends largely on how many and which thought leaders it can garner support from. There is no doubt that there are prominent surgeons and researchers at clinical sites in the U.S. and abroad who endorse the HVAD, but the question is how convincing Heartware will be when attempting to convert surgeons who are currently in the Thoratec camp. Thoratec's marketing engine should not be overlooked here - it has 150 field personnel globally who will no doubt be preaching the Heartmate gospel and will be pointing to interim ENDURANCE data to show a difference in stroke risk. Heartware, although I believe it has valid counterarguments and a great product, will not be able to match that kind of manpower anytime soon. I think it will take 12 months for Heartware market share gains to pick up significant momentum - except for the initial spike we will see for the first quarter or so after FDA approval.
Valuation
For the reasons listed above, I am modeling revenue growth through 2014 that exceeds current analyst estimates and (for FY 2012) company guidance. Although I am modeling a continued decline in IVAD and PVAD sales through 2014 with percentage growth ranging from 22%-29% (depending on the year) and only modest increases in CentriMag/PediMag sales ranging from 9%-12% (depending on the year), I think Thoratec will continue to see very robust growth in the DT segment of the Heartmate II franchise during that time and will be flat to slightly down in the BTT segment. Additionally, I model that the company will begin to see revenue from the Heartmate III and Heartmate PHP trials in 2014. My FY estimates are below:

I am modeling an EPS of 1.84 per share for FY 2012 which, at a PE ratio of 23, creates a price target of $42.37 for the stock. This would represent a 14.2% increase from its current price of $37.09. Looking at the company's historical PE (via BigCharts.com), this PE falls into the lower end of the range.

The stock has done well this year, up 10.52% YTD, and has recently pulled back from 52-week highs to support near $37. I believe that the stock has been held back partially by macroeconomic factors and the fiscal cliff despite the noncyclical nature of the stock. There is also likely some impact from the upcoming medical device tax, but I believe the stock remains significantly undervalued.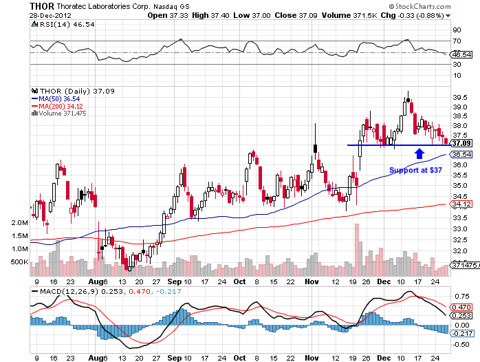 In addition to organic stock price growth, it is always possible that Thoratec will be acquired in the next couple of years. Last year, activist investor Oracle Investment Management caused a stir when it publicly urged Thoratec to put the company up for sale. However, by January 2012, Thoratec had convinced Oracle that greater value lie in its current course. Given the projected consolidation in the medical device sector in the next two years, combined with the robust growth prospects of the LVAD industry, I (and others) would not be surprised to see Thoratec acquired to complement a larger heart failure product lineup.
Investment Risks
The primary risks to this investment are (1) an update showing excellent data related to HVAD's ENDURANCE trial, (2) delays in Thoratec's pipeline, (3) a more rapid acquisition of market share from Thoratec by Heartware and other competitors, (4) reports of stroke events or other complications related to the Heartmate II, and (5) a trend reversal in patient categorization that sends more patients to BTT from DT instead of toward DT as has been the trend for a few years. The upside risks to this analysis are the inverse of the above.
In addition, although it would likely create long-term value, the stock price may drop if Thoratec uses some of its ~$300 million in cash reserves for a strategic acquisition. For example, even though the acquisition of Levitronix has (in my opinion) proved to be a good investment, the stock went down 6.5% the day after it was announced. In the Q&A session of the Q3 2012 earnings call, the company reiterated that the use of cash would prioritize strategic investments in the mechanical circulatory support market serving advanced heart failure patients. I can see Thoratec purchasing a company such as Sunshine Heart (NASDAQ:SSH) - another company that I am bullish on - to further expand its patient base in Class III heart failure. Though some investors may trade down the stock on that news, I would view it as a very positive event.
Conclusion
For the reasons listed above, I believe Thoratec is significantly undervalued and will continue to report beat analyst estimates in upcoming quarters. I believe Wall Street has modeled too conservatively with respect to growth in the Heartmate II DT segment and has been too enthusiastic about HVAD market share gain. This, combined with the Heartmate II's superior data, entrenchment among surgeons, strong product pipeline, and reliable support services make the stock very attractive at the $37 level and will keep it one "beat" ahead of competitors.
Disclosure: I am long SSH. I wrote this article myself, and it expresses my own opinions. I am not receiving compensation for it (other than from Seeking Alpha). I have no business relationship with any company whose stock is mentioned in this article.
Additional disclosure: I have no position in THOR or HTWR, but I may initiate a long position in THOR over the next 72 hours.