By now it's common knowledge that Carl Icahn has built a huge NFLX)+Stake/7892398.html" rel="nofollow">position in Netflix, Inc. (NFLX) this Fall. The billionaire "activist" paid $154.7M for over 4 M shares of the video rental company. In addition, just last month he also exercised call options which sets his total stake at roughly 5,541,066 shares.
Combining the exercised calls and the initial shares, an Sec filing says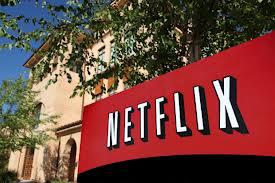 Icahn paid $323.6M, which equates to an average of $58.40 per share if you do the math. Since NFLX is currently trading for roughly $89/share, Icahn's success is clear; he has made a killing on his NFLX position. However, it is highly probable Icahn will continue to hold on to NFLX in hopes of an even more lucrative investment outcome.
It has been understood that Icahn is expecting the company to be bought by a larger technology leader. Last month, Icahn was quoted, "There is a very good argument that, at the right premium, somebody should buy Netflix...They've got a great platform," he added. "That is also why it is such a great acquisition candidate for someone...Most of the shareholders would like to see the company sold at a big premium," said Icahn.
Icahn is not alone on his bullish opinion of NFLX's value to a big institution, as other big investors are expecting a juicy premium in the case of a buyout. Whitney Tilson said in an email to clients last month he would be "very disappointed" if the shares were sold for $100 a share.
"It would have to be a much higher price for me to be happy about giving up this stock," said Tilson.
At just about $5 B in market capitalization, it's clear a NFLX acquisition would be little more than a loose change-type buyout for many technology giants. At such a paltry market cap and unique industry position, Icahn and Tilson definitely have a justifiable stance on their opinions regarding NFLX as a buyout candidate.
Long Shares: Risk/Reward Not Compelling
But how much could NFLX go for IF it is in fact acquired? The intrinsic value of the company is beyond debatable. For years investors have argued if NFLX's monopolistic qualities could be a game changer for cable companies and content owners alike. But to counteract the bulls, it is clear NFLX's shares come with inherent risk. The hype of buyout rumors by Microsoft Inc. (NASDAQ:MSFT) last Spring and Icahn's position has possibly elevated the shares too much to warrant a long position, as some short term downside risk may occur at current levels. In addition, NFLX's on and off balance sheet debts are mounting, causing concern for some investors.
With the possibility of a buyout of extreme proportions balanced by indisputable short-term downside risk, how does an investor take a stance in NFLX? Simply getting long shares may be too risky if the Icahn excitement simmers and a buyout possibility is dimmed. For some, the answer is a Risk Reversal Option Strategy:
This risk-reversal will consist of selling an out of the money put option, which will fund buying an out of the money call, but with a twist. We will take this classic trade a step further by utilizing additional legs, or a Bull Call Spread and a Bull Put Spread to take a shot at the possible NFLX buyout.
Risk Reversal Option Strategy:
Shares are currently trading at $89/share.
1) Sell to Open June 2013 Credit Bull Put Spread for $190 in premium.
a) Sell to Open June 2013 60 strike put for $3.20
b) Buy to Open June 2013 50 strike put for $1.30
| | | | | |
| --- | --- | --- | --- | --- |
| Net Credit | Max Risk | Break Even | Price Needed for Max Credit | Return on Risk |
| $190 | $810 | $58.1/share | $60/share or higher | 23.46% |
Although the risk/reward metrics of this credit put spread aren't exactly compelling, it's more attractive than selling an outright put, since we have established a cap on downside risk. Also, if you feel confident in Icahn's net buy price of around $58/share, and the technical support at the mid $50s, the loss range of $60-$50/share is probably out of reach, making this put spread more appealing than meets the eye.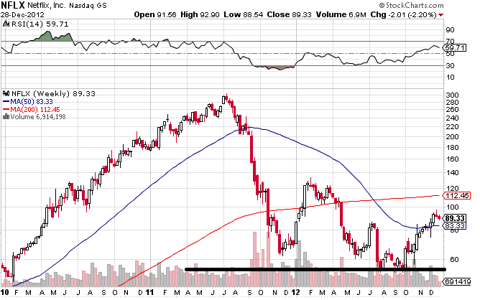 Now, we will use this $190 in premium to help fund buying a call spread, which can capture the upside if a buyout occurs:
2) Buy to Open June 2013 Bull Call Spread for $2.25 in premium.
a) Buy to Open June 2013 120 strike call for $4.70
b) Sell to Open June 2013 135 strike call for $2.45
| | | | | | |
| --- | --- | --- | --- | --- | --- |
| Net Debit | Max Risk | Break Even | Max Gain | Max Gain Price Needed | Max Return on Risk |
| $225 | $225 | $122.25/share | $1275 | $135/share or higher | 560% |
Now, when combining the Bull Put Spread with the Bull Call Spread, the metrics of the trade combine to look like this:
| | | | | | | | | | | | |
| --- | --- | --- | --- | --- | --- | --- | --- | --- | --- | --- | --- |
| Net Debit | | Max Risk | Losses Begin @ | Max Loss Price Needed | | Max Gain | Gains Begin @ | Max Gain Price Needed | | Max Return on Risk | Max Loss on Risk |
| $35 | | $1035 | $60.35/share | $50/share | | $1465 | $120.35/share | $135/share or higher | | 41.8x | 29.6x |
The best part of this trade is if shares result anywhere between $120.35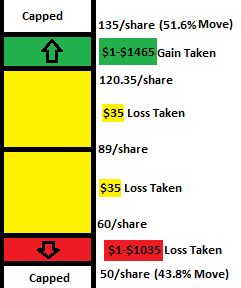 and $60 a share, we only lose $35. Admittedly, this is the highest probability outcome for this trade. However, we have huge reward possibilities beyond 120.35/share, which I feel is below a possible buyout price for the company. In addition, our losses are capped at 50/share, Below major levels of support and Icahn's buy price, making this level very unlikely in my opinion.
Notice how our black swan max loss is $1035, or 29.6x our investment of $35- while we stand to gain $1465, or 41.8x our investment. This risk/reward profile is advantageous-a 41% difference to be precise. Although the stock must move 51.6% to the upside versus only 43.8% to the downside for each max situation to occur, (a 7.8% difference) the 41% payout advantage does outweigh this 7.8%. This situation is an arbitrage to investors willing to partake in this complex, lottery ticket like gamble.
Although the max gain outcome is somewhat unlikely to occur, I feel it is just as likely as a NFLX buyout, and more likely than shares sinking below $60/share. Also, by utilizing this risk reversal instead of buying shares or straight up call options, we stand to lose minimal funds down until about $60/share, which again is near major levels of support. Since we have additional legs to cap the downside and lower our net cost simultaneously, this very low cost synthetic long position is an effective and exciting trade to speculate on the buyout of NFLX by June of 2013.
Disclosure: I have no positions in any stocks mentioned, but may initiate a long position in NFLX over the next 72 hours. I wrote this article myself, and it expresses my own opinions. I am not receiving compensation for it (other than from Seeking Alpha). I have no business relationship with any company whose stock is mentioned in this article.
Additional disclosure: I may initiate identical or similar positions in NFLX at any time.