Intel (NASDAQ:INTC) got some rare positive comments from an analyst today. Wells Fargo up its earnings estimates by 4% today stating revenue from cloud computing bode well for earnings. It is one of several positives on the stock that I think deserves an option play that could be very lucrative if the shares bounce back in the first quarter of 2013.
Some other positives for Intel:
Intel has underperformed the market by some 30% in 2012, with most of that underperformance coming in the fourth quarter (See chart). Now that we are at end of quarter and year end window dressing, a headwind to the shares will end today.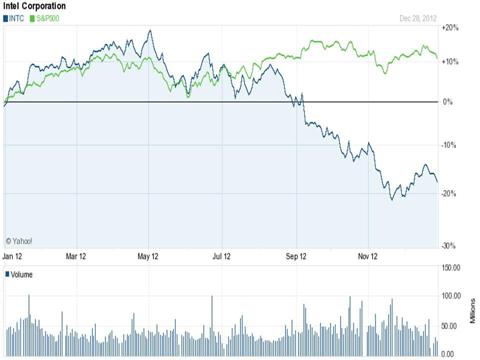 In addition, the stock looks like it bouncing again off long term technical support (See Second Chart).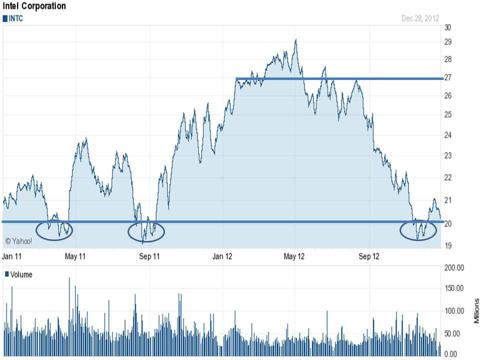 The stock will also be included in the "Dogs of the Dow" index for 2013 and its 4.4% dividend yield should also put a floor at around its technical support as well.
Since the stock appears to have little downside but some recent catalysts, I want to design a lucrative option strategy that could provide a generous return if the stock recovers 50% to 60% between its current technical support level and its recent highs of around $27 a share in the first couple months of the year.
Option Strategy: I am going to initiate a bull call spread on INTC. I am going to target the April 21/24 call pair for a net 65 cents. If INTC can get to $24 by April 20th, I will make $2.35 on my $.65 investment and it is a very cheap way to play a plausible modest rise in Intel stock.
Happy Hunting
Disclosure: I am long INTC. I wrote this article myself, and it expresses my own opinions. I am not receiving compensation for it (other than from Seeking Alpha). I have no business relationship with any company whose stock is mentioned in this article.