According to Inside Mortgage Finance (June 30, 2012), Wells Fargo (NYSE:WFC) is the #1 residential mortgage originator and the #1 mortgage servicer in the US. It is also the #1 commercial real estate originator, the #1 middle market commercial lender, the #1 small business lender, etc. It was careful with its own mortgage originations before the housing crash, but it bought Wachovia as a result of the US financial crisis. Since then Wells Fargo has struggled to fully recover from the real estate crash of 2006-2011. It has fared better than most of its peers, but it has experienced the same bad mortgage problems and the lawsuits. Economists have only recently begun to think that the US real estate market has begun to rebound.
The Christmas season brought delightful presents of substantial good news in this regard. The November 2012 Existing Home Sales were 5.04 million. This was a great improvement over the previous month's 4.76 million Existing Home Sales. Existing Home Sales prices for November 2012 were up 10.1% year over year. This factor alone makes virtually all of WFC's outstanding loans better risks (more valuable). When WFC has approximately $15.3B of mortgages more than 6 months delinquent (not in foreclosure), the above is hugely positive news. On top of all of this the Fed announced QE4 -- a plan to buy $45B per month of long term Treasuries for an indefinite length of time. Admittedly it may not be as effective at keeping down mortgage rates as Operation Twist was; but it will help. Further the Fed has QE3 (QE Infinity) -- buying $40B per month of MBS -- in place indefinitely. All the above should mean that Bank of America (NYSE:BAC) will recover from its home loan problems in the very near future. The Case-Shiller Home Prices Indices (for October 2012) confirmed good growth in home prices in 20 major metropolitan areas (not in just existing homes sold) with a growth figure of 4.3% year over year. The Pending Home Sales for November beat with a +1.7% figure versus an expected +1.0% figure. These news items alone make virtually all of WFC's outstanding loans better risks (more valuable). The above news may be the light at the end of the tunnel. WFC won't benefit as much as Bank of America, which has been crushed by Countrywide's loans, but a housing market recovery will still make WFC much more profitable.
As it is WFC has been doing well. It has grown its net income applicable to common shares for each of the last few years from $7,990,000,000 in FY2009 to $11,632,000,000 in FY2010 to $15,025,000,000 in FY2011. For the first nine months of FY2012 the figure is $13,142,000,000. If you just duplicate the Q3 result for Q4 2012, the result is $17,859,000,000 for FY2012. An investor has to love a company with good consistent growth in net income. WFC has slightly exceeded EPS estimates for all of the last four quarters. This shows good management. Its FY2012 EPS average analysts' estimate has risen slightly in the last three months. It has a healthy average analysts' 5 year EPS growth estimate per annum of 8.62%. It has a good Price/Book (mrq) ratio of 1.25. It has a reasonable PE of 10.66 and an FPE of 9.34. The average analyst gives it a recommendation of 2.3 (a buy); and it has a good dividend of 2.60%. With good growth that could accelerate if the housing market continues to improve. The forecast for S&P500 Financials Sector (minus the Insurance segment) is +42.9% growth year over year for Q4 2012. WFC, as a leading financial stock, should show perhaps better than expected growth based on this forecast.
WFC's balance sheet is part of its allure (safety). Its loan portfolio is diversified with 55% consumer loans, 40% commercial loans, and 5% foreign loans. Its income is spread almost exactly equally between net interest income and non-interest income (fee income). Plus its fee generation is highly diversified. The chart below gives a good description.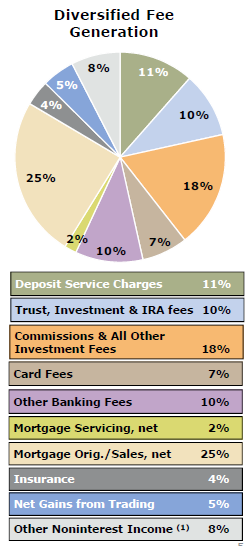 This diversity has helped WFC generate consistently improving EPS. The chart below shows that EPS have gone up every quarter since Q1 2010.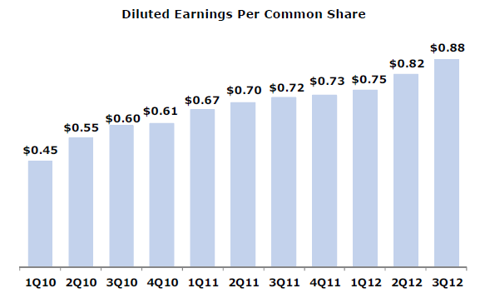 Yes, WFC did have trouble in the recession, but it has clearly done well consistently since then. In the latest quarter (Q3 2012) it reported EPS of $0.88 per share. EPS were up 7% sequentially and 22% year over year. In other areas, Loans were up 3% year over year. Deposits were up 6% year over year, Average earnings assets were up 6%. Tier 1 common equity under Basel 1 was up 15%. Net Interest Income was up 1%. Revenue was up 8%; and charge-offs were down from 1.37% in Q3 2011 to a reported 1.21% or an adjusted 0.92% in Q3 2012. Return on equity was up from 11.86% to 13.38%. The common stock dividend was up 83% from $0.12 to $0.22 year over year. The chart below shows WFC's revenue growth performance versus its peers.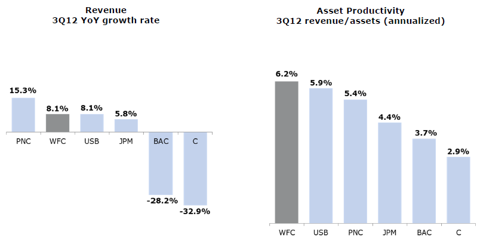 The investor can see that WFC had one of the best revenue growth results over the last year. If and when the housing market turn around becomes stronger, it should do even better due to its #1 mortgage origination and servicing positions. WFC's asset productivity is also outperforming many peers. There are many other categories I could mention, but the overall point is that WFC performs better than most peers in most categories. It is a good, solid bank with a good dividend. This is exactly what most investors want in a bank. It makes WFC a buy.
The two year chart of WFC give some technical direction to this trade.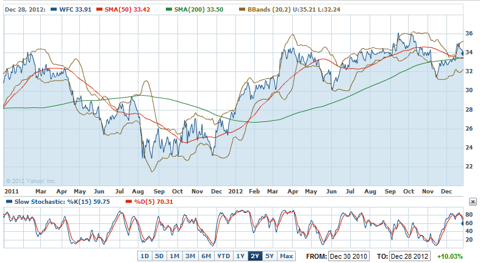 The slow stochastic sub chart shows that WFC is down slightly from overbought levels. The main chart shows that WFC has been in a weak uptrend or alternately a relative consolidation pattern for most of 2012. The recent housing news might normally cause a new rise in WFC's stock price. WFC's multiples are have room for growth. WFC looks like a solid, good growth, good dividend, banking stock. It is a solid buy for the long term. However, the US economy is currently at a crossroads. The US is almost certain to go over the fiscal cliff. A slow down or recession is almost certain, even if the fiscal cliff issues are resolved soon. Companies have already cut back on CAPEX for both Q4 2012 and 1H 2013. This by itself will cause a slowdown. The removal of many federal spending monies will slow the US economy further. The sequestration cuts would remove still more money from the economy. If the US fails to address the entitlement issues in a constructive way in 2013, this would likely negatively affect US Treasuries (lead to increased yields). The uncertainty and negative effects of all of these things and others could easily push the overall market downward substantially. This means an averaging in strategy is appropriate around the fiscal cliff/recession effects. In this way you should be able to get a good overall average entry price. This should stand you in good stead with this long term good, stable grower/dividend payer.
Two articles about the possible negative affects of going over the fiscal cliff are the CBO estimate and the National Association of Manufacturers estimate.
Notes: Some of the data above is from Yahoo Finance. WFC was recently given an overweight rating (a buy) by Morgan Stanley (NYSE:MS).
Disclosure: I have no positions in any stocks mentioned, but may initiate a long position in WFC over the next 72 hours. I wrote this article myself, and it expresses my own opinions. I am not receiving compensation for it (other than from Seeking Alpha). I have no business relationship with any company whose stock is mentioned in this article.