Commodity Chart Of The Day: Crude oil
(click image to enlarge)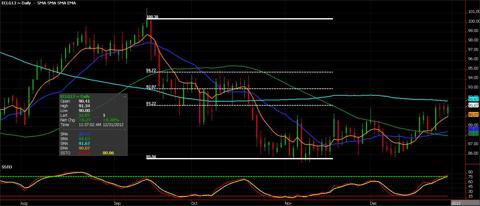 Click to enlarge
In the last few weeks, crude oil has appreciated just better than $6 to lift prices near the upper end of the trading range in which futures have been contained for the last three months. As one can see from the chart above, prices have been supported by the 8 day MA -- the orange line -- but to date, have not been able to penetrate the 100 day MA -- the light blue line -- at $91.67. Prices have stalled out at the 38.2% Fibonacci level, and are also approaching overbought levels, with the stochastic below the chart above -- the green line.
My stance is that we see a trade south in the coming weeks. My favored plays are to establish bearish put spreads or to get short futures while simultaneously selling out of the money puts 1:1. I am not looking for a total meltdown, but rather a grind lower to back near $87/88 barrel.
Outside market influences, such as a trade south in equities or a trade north in the dollar, could also be supportive. There appears to be some risk premium built into the market on news of late of turmoil in oil-producing regions and a slight uptick in demand that had previously been stripped out of the marketplace. I would be eager to reverse and gain bullish exposure with clients on a correction, which would amount in no more than a 5% drop, so stay tuned.
Risk Disclaimer: The opinions contained herein are for general information only and not tailored to any specific investor's needs or investment goals. Any opinions expressed in this article are as of the date indicated. Trading futures, options, and Forex involves substantial risk of loss and is not suitable for all investors. Past performance is not necessarily indicative of future results.
Disclosure: I have no positions in any stocks mentioned, and no plans to initiate any positions within the next 72 hours. I wrote this article myself, and it expresses my own opinions. I am not receiving compensation for it. I have no business relationship with any company whose stock is mentioned in this article.