Although many of the pieces to the puzzle that is the Affordable Care Act won't take effect until 2014, the next 12 months are going to be quite interesting for the US-Based Healthcare Sector. Over the course of the next year, many firms in the healthcare industry will begin to enter new policyholders into their systems, and in an effort to avoid a plethora of problems, use every last second of the next 12 months to accomplish this task before a majority of the healthcare law takes effect. That being said I wanted to examine one specific healthcare company that I think will thrive in the new environment.
HCA Holdings, Inc. (NYSE:HCA): Based in Nashville, Tennessee, and operating through a number of its subsidiaries, HCA provides health care services in the United States. The company owns, manages, or operates hospitals, freestanding surgery centers, diagnostic and imaging centers, radiation and oncology therapy centers, rehabilitation and physical therapy centers, and various other facilities". (Yahoo! Finance)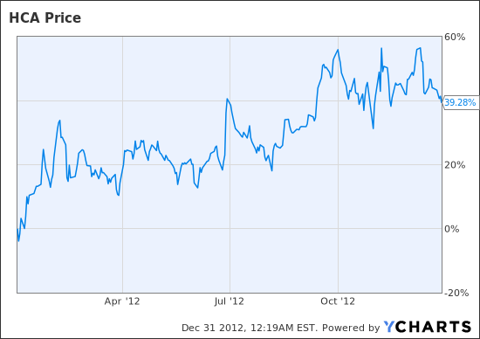 Fundamentally speaking shares of HCA have risen 39.28% on the year, carry a market cap of $13.31 Billion, possess a PEG ratio of 0.7 and currently trade at 4.74% discount to their 50-DMA and a 1.26% premium to their 200-DMA. When it comes to EPS performance shares of HCA have surpassed analysts' estimates by an average of 19.40% in three of the last four quarters. It should be noted that HCA missed analyst's estimates by $0.01/share during the September 2012 quarter. During the company's Q3 profits jumped 30% to 78 cents a share, 1 cent under analyst estimates. Revenue also rose 22% to $8.89 billion which was quite impressive considering analysts had expected $8.76 billion.
Cash Conversion Cycle
According to Seth Jayson, a contributor at Motley Fool, "the Cash Conversion Cycle, or CCC, is the time it takes a firm to convert outgoing cash into incoming cash, and the less time this cycle takes, the more powerful and flexible its profit engine is. The less money that is tied up in such things as inventory and accounts receivable, the more room the company has to grow".
In order to properly calculate a company's CCC we must add together the number of days' inventory outstanding to the number of days' sales outstanding then subtract the number of days' payable outstanding. In other words the equation is similar to this:
(# of days of outstanding inventory) + (# of days of outstanding sales)
- (# of days payables are outstanding)
Over the course of the past year, the CCC of HCA Holdings looks fairly in-line, although I'd personally prefer a CCC in the low 30's or high 20's. At an average of 35.1 days per month, the company's 12-month average is slightly worse than its five-year average of 33.9 days. The biggest contributor to that degradation was DPO, which worsened 5.3 days when compared to the five-year average.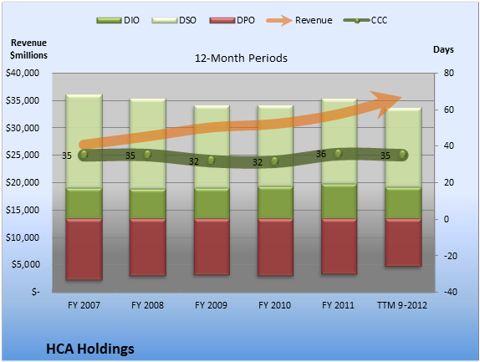 Why do I think HCA will strive in the wake of Obamacare? Given the fact HCA currently operates 163 hospitals and surgery centers in 20 states, the company actually stands to benefit by the number of patients that require extended hospital stays. Russ Britt recently noted that "As more individuals become insured, hospitals stand to wipe billions of dollars in bad debt off their books that they have incurred for years by treating uncovered indigent patients in their emergency rooms. For some hospitals, it amounts to as much as 20% of revenue". In the case of HCA this could be quite significant considering the fact that as of September 2012 the company had amassed a total of $27.40 billion in debt, which is nearly twice the company's current market cap.
Are there any negative catalysts to consider when it comes to HCA? As is the case with most doctors and hospitals potential investors need to be aware of some of the more recent civil action that was brought against the company and some of its affiliate hospitals. According to Julie Creswell of the New York Times, "One facility was fined $8,000 in 2008 and $14,000 last year for delaying the start of dialysis in patients, not administering physician-prescribed drugs and not documenting whether ordered tests had been performed".
Another example noted that "some of HCA's tactics are now under scrutiny by the US Justice Department. During the week of August 6th, HCA disclosed that the United States attorney's office in Miami has requested information about cardiac procedures at 10 of its hospitals in Florida and elsewhere". Though the number instances are seemingly minimal, investors need to understand there is a better chance of HCA thinking from a profit perspective then from a patient perspective, although patients will be one of the company's hottest commodities once the Affordable Care Act kicks in.
Final Analysis
For potential investors looking to establish a position in HCA Holdings, Inc., I'd take a closer look at the company and keep in mind the primary positive and negative catalysts moving forward. Given the fact HCA has become an industry role-model over the last few years, I'd look to establish a small-to-moderate position at current levels, and add to that position if and when positive news or developments are announced.
Disclosure: I am long IYH. I wrote this article myself, and it expresses my own opinions. I am not receiving compensation for it (other than from Seeking Alpha). I have no business relationship with any company whose stock is mentioned in this article.