Corning (NYSE:GLW) is a leading manufacturer of glass products found in LCDs, consumer electronic products, fiber-optic cables, automobiles, and life sciences products, with the company controlling nearly 50% of the glass panel market globally. Recently, CNBC wrote an article about dividend stocks to own in 2013, including Corning, Coca Cola (NYSE:KO), Wells Fargo (NYSE:WFC), Intel (NASDAQ:INTC) and General Electric (NYSE:GE). At its current, historically-low valuation levels of 7.8x 2013E P/E (adjusted for cash) and market capitalization below book value (Price-to-Book of 0.9x), Corning could offer an interesting entry point to play the cyclical rebound of the LCD panel market, as well as participate in the potential upside of its Gorilla Glass business for Apple (NASDAQ:AAPL) and Samsung (OTC:SSNLF) products, which has grown to a $1 billion business comprising of 13% of Corning's sales. In addition, the 2.6% dividend yield (which is only a 25% dividend payout ratio) provides investors with a decent return while you wait for the rebound.
Valuation
At a stock price of $12.47, GLW trades at 9.2x 2013 P/E, the bottom range of 10 year historical average of 8-14x P/E. The Company also has $3 billion of net cash, or $1.94 per share of cash (the 2013E P/E adjusted for cash would decline to 7.8x). The dividend yield is 2.62% and the dividend payout ratio is only 25% of net income, which implies there is plenty of cushion for management to continue increasing dividends down the road (the company recently raised dividends by 20% in October 2012). The stock also currently trades below book value, at a Price-to-Book of 0.9x.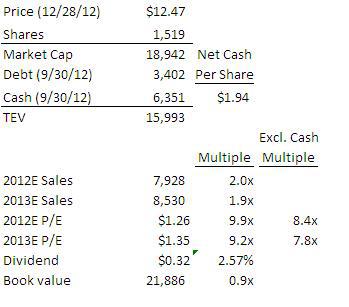 Gross profit margins and net income margins have declined from 2010 to 2012, mainly due to the maturing LCD market and LCD price declines during that period. EPS growth has declined as a result from 2010-2012, however EPS is projected to increase 7% in 2013, as LCD prices have begun to stabilize beginning in October 2012 (graph of historical LCD prices covered below in LCD industry).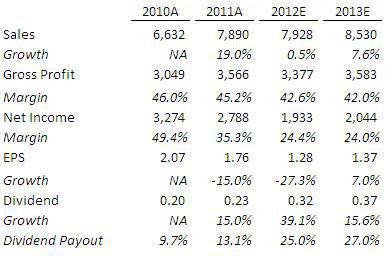 Capital Expenditures about to Payoff?
Capital expenditures increased significantly in 2011 as a result of several multi-year investment plans announced in 2010. Specifically, the increase was driven by construction costs for an LCD facility in China and a capacity expansion project for Gorilla Glass in Japan. Two of the more exciting growth opportunities for Corning in the next few years are related to these investments (China's LCD Market and Gorilla Glass for smartphones and tablets). The investments in these two opportunities are mostly complete, and annual capital expenditures will drop nearly 50% from $2.4 billion in 2010 to $1.3 billion in 2013. As a result, free cash flow will nearly double from just $757 million in 2010 to $1.5 billion in 2013. Getting into the stock now allows you to participate in the potential payoff from the prior years' significant capital expenditure investments.

Revenue Contribution
2012E total revenue is approximately $7.9 billion. LCD Display (TVs, notebooks, desktops) is 40% of sales, Telecom is 26%, Specialty (Gorilla Glass) is 13%, Auto is 13%, and Life Sciences is 8%.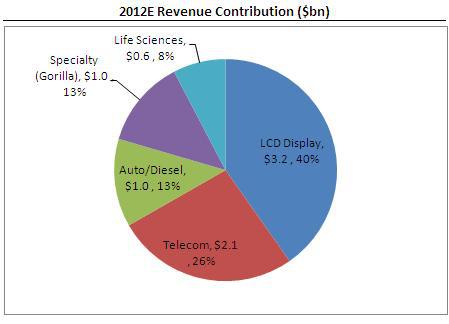 As you can see, Corning is still primarily driven by its LCD segment. Let's first look further into the LCD Panel Industry, followed by a look into the Gorilla Glass potential.
LCD Glass Panel Industry
LCD glass panel industry is an oligopoly dominated by a handful of players including Corning, Samsung Corning, Asahi Glass and Nippon Electric Glass. Corning's scale and manufacturing efficiencies allow Corning and its 50%-owned subsidiary (Samsung Corning Precision), to control nearly 50% of the glass panel market globally and enjoy some of the highest margins in the industry.
In the past 2 years, the LCD industry has been plagued by slowing demand, overcapacity, and consequently, LCD price panel declines. Remember, people on average replace their televisions every 7-8 years and there was a large purchase of LCD TVs back in 2007 when LCD TVs replaced CRT TVs for the first time (so this would imply 2014 would be next big replacement cycle). Note however, that the TV replacement cycle has been shortening in recent years, as LCD TV prices continue to fall and HDTV adoption picks up speed. As a result, beginning in October 2012, LCD panel prices (including HD LCD panels) reversed year-over-year declines and have finally begun to stabilize.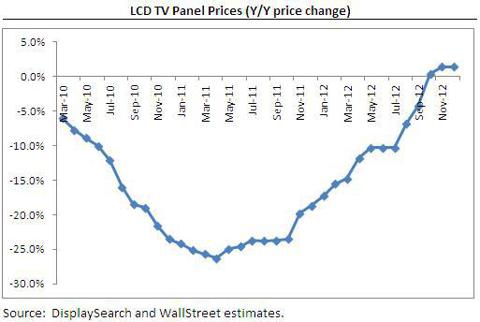 Click to enlarge
China LCD Market
The 50/50 Samsung Corning Precision joint venture has committed to invest $600 million in a new LCD facility in China scheduled to be completed in 2013. China's LCD TV market is currently the largest in the world, at 20% of the world market. Furthermore, sourcing glass locally within China should drive additional cost advantages for the Samsung Corning joint venture. Samsung's worldwide market share is 20.1%, but in China it is only 3% currently.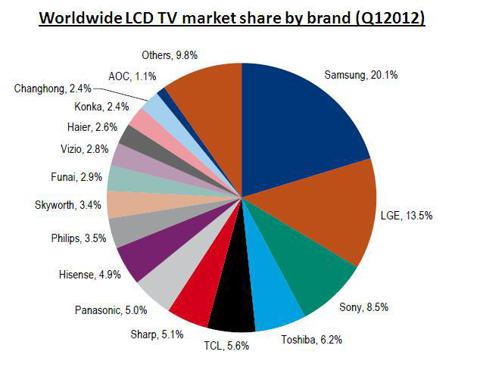 Click to enlarge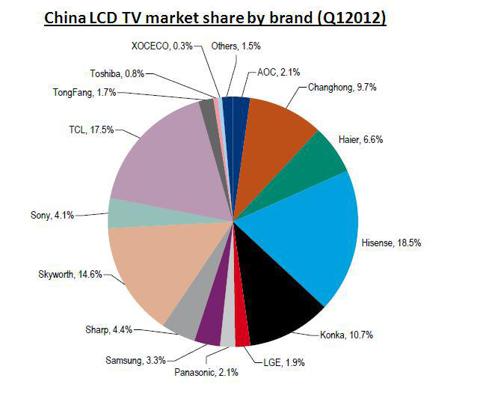 Click to enlarge
Having a local operation in China will allow Samsung Corning JV to significantly increase TV unit production to better compete with local brands such as TCL, Hisense, and Skyworth. The more Samsung products sell in China, the more profits Corning can record from their 50/50 joint venture. Note, the Samsung Corning JV is recorded through the equity method, and therefore the JV's sales is not consolidated on Corning's income statement. Instead, Corning recognizes an "equity in earnings of affiliated companies" below their operating income for Corning's 50% share of the JV's profits.
Gorilla Glass
The markets for smartphones and tablets are growing rapidly and driving the need for specialty glass products like Corning's Gorilla Glass and next generation Willow Glass. As shown below, the smartphone industry is projected to grow 47% in 2013 (as it continues to take market share from traditional feature phones), and according to tech crunch, the tablet industry is projected to grow 75% in 2013 (as it continues to take market share from traditional PCs).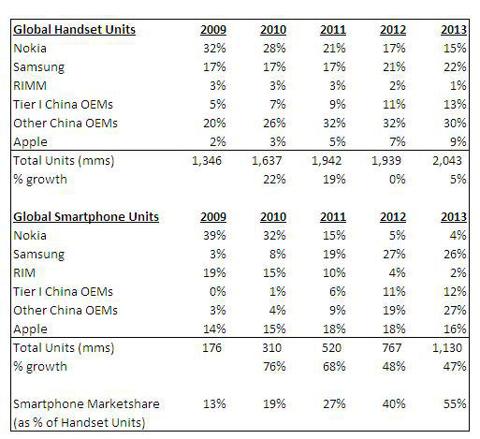 Click to enlarge
On November 27, 2012, Corning announced that Gorilla Glass would achieve approximately $1 billion in sales in 2012, or 13% of total sales of $8 billion (by the way, in the same press release, management announced that "stronger-than-expected retail demand for LCD televisions and other consumer electronic devices in North America and China are resulting in improved views of the LCD glass supply chain", which helps confirm the LCD price trend reversal discussed in LCD Industry section).
Conclusion
The LCD industry has gone through over two years of price declines and given that 40% of Corning's sales is LCD Display, Corning's stock has suffered as well in the past two years (down from around $22 in February 2011 to recent prices around $12). Recent checks on LCD prices, as well as Corning management's recent press release comments, indicate that LCD prices may finally be stabilizing and reversing its trend. In addition, Corning's capital expenditure investments in 2011 and 2012 to expand their Gorilla Glass and China LCD businesses should begin to provide returns on those investments over the next few years. With a solid balance sheet (net cash of $3 billion) and cheap valuation multiples (2013E P/E of 7.8x after adjusting for cash and P/B of 0.9x), Corning provides an interesting cyclical turnaround play in the LCD market. In the mean time, the stock pays a 2.6% dividend yield while you wait for the turnaround.
Disclosure: I am long GLW. I wrote this article myself, and it expresses my own opinions. I am not receiving compensation for it (other than from Seeking Alpha). I have no business relationship with any company whose stock is mentioned in this article.