J.C. Penney (NYSE:JCP) is completing its first transition year (out of 4) from a promotional department store to a specialty department store. The strategy outlined by the CEO, Ron Johnson, consists of reorganizing the department store into separate curated stores, shops and boutiques containing merchandise from well-known premium brands like MarthaHome, IZOD and Levi's, supported by a fair and square pricing strategy. The new strategy allowed the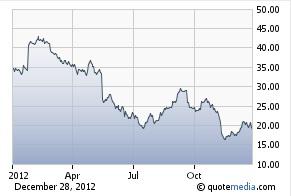 company to attract a number of premium brands that otherwise would not be willing to sell in J.C. Penney. The advantage for these brands is obvious. They can control the selling environment in their "own shop," get a national presence overnight and do it against a cost much lower than establishing their own separate stores (think about capital investment, employee training, advertisement). J.C. Penney's strength is its low cost of retail space. The company owns 49% of the 111.1 million square feet and leases the remaining against an average of $4 a square foot. This is a competitive advantage with the average specialty retail space being around $40 per square foot. In essence, Ron Johnson and team are making a bet they can expand their existing model with the Sephora store-within-a-store concept to other national brands. The Sephora stores (in J.C. Penney) generate around $600 sales per square foot compared with $134 for the rest. The potential for increased sales and profitability is huge if the company makes this transformation successfully.
The last two weeks provided me with the opportunity and time to go through the third quarter 10-Q and investor presentation to get an update on how the transformation is progressing. The new J.C. Penney will need to find its customer base and place in the market. Sales for the first three quarters of 2012 were down significantly: Q1 20.1%, Q2 22.6% and Q3 was 26.6% (versus 2011). Traffic for these quarters was down 11% in Q1, 12% in Q2, and 12%. The impact of moving away from a promotional model based on coupons, ads and events is pretty consistent during this first transformation year. I expect Q4 to come in with similar results.
J.C. Penney is targeting gross margins above 40%. In Q3 it achieved a margin of 32.5% down from 37.4% the same period last year. The margin decline was mainly due to the clearance mix impact and markdown/reserves. There are two positives that make the outlook for 2013 promising. The company expects that the clearance and markdown of inventory not fitting the new strategy is almost completed. The second positive is that the margins on everyday selling items in Q3 increased with 360 basis points to 51.7%. With obsolete inventory being cleaned-out it comes down to execution in achieving the right balance between clearance (15%) and everyday items (85%). In that scenario gross margins above 40% can be achieved easily.
On the expense side the actions are on track. The company is getting the cost structure in line by reducing SG&A with almost $1 billion. In 2011 the SG&A cost was $5.1 billion and the outlook for 2013 is $4.2 billion, a $900 million reduction. This reduction alone translates to operating earnings of $4 per share. Inventory control is the other positive. Inventory value is down by $1 billion (23%). These items are in management's direct control. I consider it very positive the company is executing as promised.
The cash flow necessary to fund the transformation has to be monitored carefully. Based on the information available I don't see this as an issue at this point. The company has $500 million in cash on the balance sheet and a credit line of $1.5 Billion. It still expects to close the year with $1 billion in cash. Q3 is normally the most cash intensive for retailers due to the build-up in inventory for the holiday season. A strong cash flow for Q4 can be expected. This would provide access to $2.5 billion in cash. Re-investment in the business was $341 million in Q3. Even if the company generates zero cash going forward it will have funding for another seven quarters of transformation. My thoughts on the cash position are reinforced by the other actions the company took. It paid off $230 million in long-term debt and also maintained accounts payable in line with the inventory trend. These aren't actions a company deprived of cash would take.
Let's focus on the transformation side. The cost and cash actions alone will not suffice to get the EPS back in the positive again. J.C. Penney will need to start growing sales from next year to make this transformation work. The company in total has 111.1- million-square-feet of space. For the transformation 64-million-square-feet is in scope (other is smaller stores and non-sales, like warehouse space). In 2012, around 11% of the floor space in scope (7.2-million-square-feet) has already been transformed. The first 13 weeks of data for these stores are very promising. This floor space is generating $264 in sales per square foot (compared with $134 for the old J.C. Penney). By the end of 2013 J.C. Penney is targeting to have 25.6-million-square-feet (40%) transformed with a total of 40 shops. Examples of Brands in line to get their shop opened in 2013 are Joe fresh, Dockers, Michael Graves, Bodum, Disney and Carter's. The question here is to what extent the first 13 weeks and the performance of the first eight shops is representative for the shops coming online in the coming three years? If so, then the future is looking very promising.
Business transformations are complex and take time. J.C. Penney outlined a 4-year transformation timeline. Companies have to be flexible and willing to learn during the process. Drive the big points and adjust the tactical details as you get more feedback on what is working and what is not. Ron Johnson and his team have been very open on the analysts calls that they are still learning and don't have all the pieces of the transformation puzzle in place yet. Pricing is a good example. Last August they decided to change the "new strategy" with only keeping two types of prices: everyday price and clearance. The month-long value price was eliminated. It increased simplicity in the pricing model with better customer understanding. It also took away revenue, around $260 million a quarter, that is not replaced yet.
Let's take a look at earnings potential for the new J.C. Penney, based on the assumptions outlined above.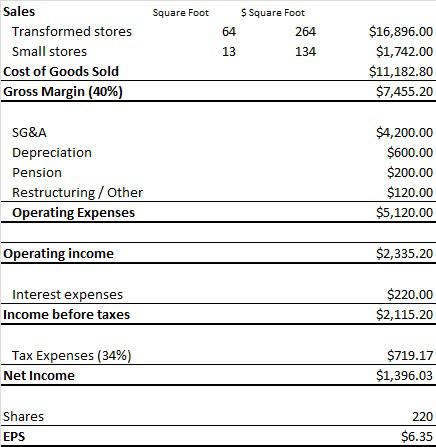 Investing in J.C. Penney is a bet that Ron Johnson and his management team are on to something with creating a specialty retailer and the ability to execute the turn-around. The first data points are positive. I see limited down-side to this investment. Only on an asset basis the stock is worth at least $40 to $45 a share. Upside will be significant if they can turn the old promotional J.C. Penney into one of the biggest specialty retailers in the U.S.
Disclosure: I am long JCP. I wrote this article myself, and it expresses my own opinions. I am not receiving compensation for it (other than from Seeking Alpha). I have no business relationship with any company whose stock is mentioned in this article.