William Keitel, CFO, Principal Accounting Officer and Executive Vice President of Qualcomm (NASDAQ:QCOM), indicated in the company's Analyst Meeting held on November 15, 2012 that Qualcomm has less exposure to the Fiscal Cliff than other companies. Paul Jacobs, Chairman and Chief Executive Officer of Qualcomm, additionally noted the performance of the global macro economy's impact with regard to Qualcomm is muted due to the global adoption of smartphones and the growth of 3G communication technologies around the world.
However, Paul Jacobs noted the upcoming year might be somewhat tougher than 2012 due to potential supply shortages, but Mr. Jacobs has a positive outlook for the year, as the trends in the industry are headed in company's direction. Mr. Jacobs indicated he believes Qualcomm can deliver double-digit revenue and EPS growth over the next five years.
Qualcomm is in a sweet spot with regard to smartphone technology, as Steven Mollenkopf, President and CEO, noted. Mr. Mollenkopf considers Qualcomm as number one in modem, computing, GPU and DSP as related to smartphone technologies. Of 27 different devices recently announced by Japanese wireless carriers, 24 of them have selected Qualcomm's Snapdragon processor solution. The company has announced development of 500 Snapdragon devices and has over 400 designs in development. Qualcomm's latest quad-core Snapdragon processor, Snapdragon S4 Pro, is shipping in LG's new device, in Google's (NASDAQ:GOOG) Nexus 4 and in the HTC Droid DNA. The company also noted wireless technology is expanding at a very high rate on a global basis with China, India and Latin America as regions notable of mentioning.
Qualcomm now considers itself as being a leader in the industry and as a result does not discuss its forward-looking road map, so as not to telegraph its direction. Qualcomm indicated it has been working with DTS (NASDAQ:DTSI) to incorporate Dolby 5.1, encoder and decoder, in the company's Snapdragon solution, giving Qualcomm the capability to record and playback in full surround sound. The company is also working on improving camera technology using multi-array cameras and post-capture refocusing. Qualcomm is also working on technology for resolving issues related to viewing display screens when located outside.
On a negative note, Qualcomm did not have a solution for Microsoft's (NASDAQ:MSFT) first version of the Surface device, but considers the company in a good position for follow-on generations of the Microsoft device. Qualcomm noted it is the only vendor supporting both of Microsoft's Windows Phone and Windows RT.
Qualcomm's stock price has been in a trading range between $56 and $69 over the last year as shown below: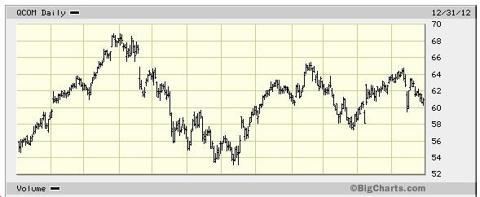 The company's stock price has recently pulled back and is trading near the middle of the $56-to-$69 trading range.
With Qualcomm's strategic technological position in wireless and its lower susceptibility to Fiscal Cliff issues, an investor might consider entering a position for the company. However, a new position entered for the company should probably include some type of protection -- just in case the Fiscal Cliff is more like the Grand Canyon. A married put is a good protective option strategy to consider as it provides for unlimited upside with limited downside. The married put position can be entered by purchasing a put option against a long stock position. The put option purchased for the married put position is typically selected several months out in the future in order to reduce the per-day cost of the "put insurance".
Using PowerOptions, a number of potential married put positions were found for July 2013 expiration as shown below: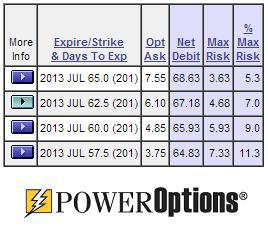 The second position in the table above looks attractive with a maximum potential loss of 7%, however, the maximum potential loss in the table does not take into account expected dividend payments during the position's holding time. When including expected dividend payments, the maximum potential loss is reduced to 6.3%. The specific put option to purchase is the QCOM 2013 Jul 62.50 put at $6.10.
Qualcomm Married Put Position:
Buy QCOM stock (existing or purchased)
Buy QCOM 2013 Jul 62.50 put at $6.10
A profit/loss graph for one contract of the Qualcomm married put position is shown below: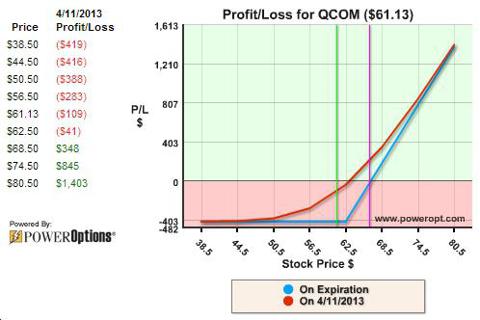 For a stock price below the $62.50 strike price of the put option, the value of the married put position remains unchanged. For an increasing stock price, the value of the married put position also increases. And, if the price of the stock increases to above the $62.50 strike price of the put option, then income methods can be applied in order to receive income and reduce risk as taught by RadioActiveTrading.com.
Disclosure: I have no positions in any stocks mentioned, and no plans to initiate any positions within the next 72 hours. I wrote this article myself, and it expresses my own opinions. I am not receiving compensation for it (other than from Seeking Alpha). I have no business relationship with any company whose stock is mentioned in this article.