Background
If there's one thing that can be said about Nvidia's (NASDAQ:NVDA) management is that it's not shy about getting people excited about its upcoming products. I remember watching the company's stock price fly to sky-high levels right around CES 2011 (and feeling like a fool for not having jumped on board). Nvidia played up its "Tegra 2" and, more importantly, hyped up its next generation "Project Denver" custom CPU core. This was supposed to take the ARM (NASDAQ:ARMH) instruction set and build a custom, high-performance core based on it. This, along with a patent cross licensing win for Nvidia, sent shares skyrocketing to over $20/share before starting on a very painful downtrend.
Back then, Nvidia's prospects were based mostly on powerpoints and hype. Advanced Micro Devices (NYSE:AMD) was a very potent player in the discrete graphics space (AMD's more power efficient design let it take all the mobile graphics marbles), Intel (NASDAQ:INTC) had just launched its first CPU with competent integrated graphics (wiping out the low-end discrete GPU market), and it wasn't at all clear that Tegra (Nvidia's mobile effort) would be competitive in what was shaping up to be a very crowded, commodity market.
But things are now different. Fortune and a very strong management team have built strong momentum that should make the company's presence at CES much more exciting and credible than ever before.
Clear Graphics Leadership
Nvidia has now very safely secured its position as #1 in the discrete graphics space, as we can see from the most recent market share numbers: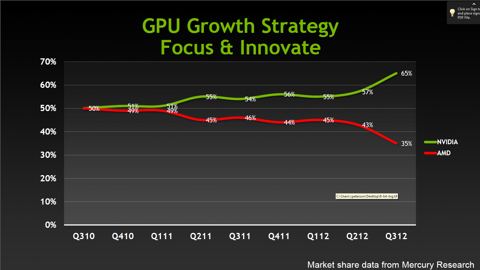 While AMD's management has emphasized that it will continue investments in its graphics products even as it cuts costs (and as key executives continue to flee), it will be very difficult for AMD to fight Nvidia's market-share momentum. Nvidia's operating profit in the graphics segment significantly outperforms AMD's each quarter by a factor of 10, which will enable Nvidia to make significant investments to ensure leadership going forward.
The marketshare gains are probably not going to be aggressive going forward (and may even reverse slightly as AMD rolls out 28nm mobile parts), but this secures a fairly strong cash cow for Nvidia to fund its investments elsewhere (including the shiny new dividend).
Tegra, Tegra Everywhere!
Google's (NASDAQ:GOOG) Nexus 7 and Microsoft's (NASDAQ:MSFT) Surface. Guess what they have in common? They're both powered by the Nvidia Tegra 3 system-on-chip! Nvidia has been making some very real progress with its mobile system-on-chip product. As the market sees players drop out because the space is just so crowded [paging Texas Instruments (NYSE:TXN)...], the Android tablet pie will be split into larger pieces among fewer and fewer players. In fact, it seems that Nvidia is counting on the non-Samsung Android and Windows RT markets to be split fairly evenly between itself and Qualcomm (NASDAQ:QCOM):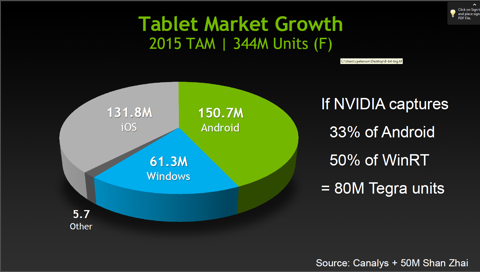 Now, it seems pretty unlikely that Windows RT will actually make up such a huge part of the Windows tablet space; Windows 8 tablets powered by Intel's "Atom" and "Core" products are likely to take the bulk of the 10" Windows tablet market (assuming Intel can execute against its aggressive roadmap). There will probably be a market for lower end 7" Windows RT devices (it makes no sense to have full Windows on a 7" device) however, and Nvidia can very aggressively take share there.
Phones
I also believe that Nvidia's purchase of Icera was a nice (and necessary) move. While high-end smartphones typically come with separate baseband/apps processors, the mid- to low-end (read: high volume) smartphone arena is quite dominated with highly integrated parts. Today and for the better part of 2013, Nvidia will be out of the running here as it fights to get its first integrated apps processor/baseband combination (codenamed "Grey") out into production. I expect for 2013, Nvidia sees small improvements on the high-end smartphone side while 2014 will be when it can really start eating into the phones.
The opportunity is presented nicely here: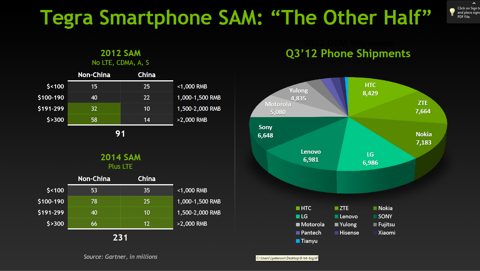 While 2013 will depend mostly on tablet growth to drive Tegra, 2014 will be super-charged with both smartphone and tablet growth.
So, Why Buy Before CES?
Well, the big problem with the Tegra division is that it is losing money, especially as R&D costs ramp up to fund the growth initiatives. According to the latest 10-Q, the CPB division wiped away $116M of net income or $0.18/share. We can then reasonably estimate that the division will lead to ~$0.24/share loss for the current year.
Now, this loss is not due to negative gross margins, but is instead due to the fact that volumes aren't there yet to cover operating costs. My belief is that during the next fiscal year, the CPB division will ramp volumes enough to actually bring this division to break-even. Should the rest of the businesses remain flat (and this is slightly pessimistic as I expect nice growth in the Professional Solutions with the "Tesla" ram along with a recovery in Quadro), a breakeven on Tegra bumps up EPS by $0.24 over this year's levels and gives us $1.1/share in earnings. At today's price-to-earnings multiple of 15-to-1, this gives upside to $16.5/share. Further momentum as the tablet TAM expands and as the smartphone market becomes open to the company should allow the Tegra business to become accretive to EPS by CY2014, enabling further long-term upside.
How this growth plays out is highly dependent on two major factors:
How quickly Nvidia gets its next-generation "Tegra 4" tablet SoC to market in high volume
How well this product stacks up to competitive solutions from Qualcomm
While Qualcomm happily owns the smartphone space, it has not made as big of a splash in the tablet space. Nvidia actually has been winning these high-volume tablet designs for two reasons:
Nvidia's deeper familiarity with the Windows ecosystem (thanks to its heritage as a GPU developer) allowed it to have a Windows-ready software stack before Qualcomm could for its "Snapdragon S4"
Nvidia's decision to use TSMC's 40nm process instead of its 28nm process allowed it to avoid the supply/yield issues that Qualcomm had to face. Since the "Surface," "Nexus 7" and other high-end tablet designs needed to be ready in high volumes, Qualcomm's chip was simply not an option. Notice how the Qualcomm-based Dell (NASDAQ:DELL) XPS 10 has only just recently become available after a multitude of delays?
These advantages won't be there in the next generation. Nvidia needs to win these designs by having the superior product and not necessarily the "only available" product. And that's why I'm excited about the recent leak of the tech-specs of the Tegra 4. I cover it in more detail here, but the upshot is that it looks to be a very powerful solution. If it can get to market first and perform extremely well, then I see no reason why Nvidia can't grow its tablet sales substantially in 2013. This of course, hinges on a product announcement at CES (with perhaps some design wins).
At $12.10/share as of the most recent close, coupled with the imminence of CES, Nvidia looks like a bargain, especially near 52-week lows and with nice growth drivers in place. There will probably be a short-term bounce here, but I expect even richer rewards in the longer term.
Disclosure: I am long INTC, NVDA, MSFT. I wrote this article myself, and it expresses my own opinions. I am not receiving compensation for it (other than from Seeking Alpha). I have no business relationship with any company whose stock is mentioned in this article.
Additional disclosure: I am short ARMH