Over the second half of 2012, Chinese equities have made a major rebound. Over the past six months the Chinese 25 index fund (NYSEARCA:FXI) is up over 18%, while the S&P 500 Index Fund (NYSEARCA:SPY) is up 4.8%.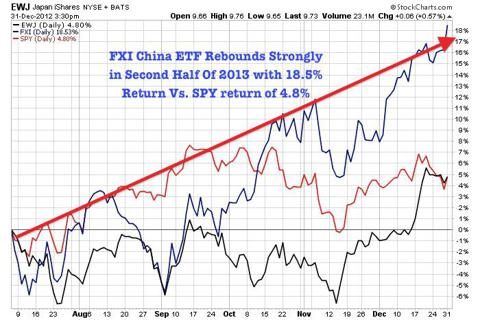 This upward reversal in the Chinese markets which have been basing for many months should continue to support undervalued industrial miners which are fully permitted such as General Moly (NYSEMKT:GMO) with world class assets.
We originally highlighted this company on our blog in early 2009, long before the Hanlong Group from China took a major interest below $2. Click here to see our original posting. Now it is hitting new 52 week highs in a resource market which is still basing at record low valuations.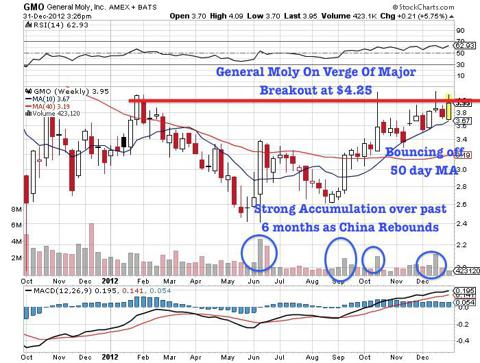 The Wall Street Journal published a recent article about Chinese participation in this American asset. The title of the article is "In Nevada, a Chinese King of the Hill." Do not forget that in addition to Chinese entities, South Korea and Japan are financially involved supporting General Moly's Mt. Hope Project.
For a long time we have been predicting increased interest from Asian funds in the undervalued junior resource sector. We expect more of these deals in 2013 as China, Japan and South Korea may continue to diversify away from U.S. dollars (NYSEARCA:UUP) and treasuries (NYSEARCA:TLT) into undervalued junior miners. Incidentally, South Korea's Central Banks have recent gold purchases (NYSEARCA:GLD).
General Moly just announced that they can begin construction on its world class, high grade Mt. Hope molybdenum mine in mining friendly Nevada. Mt. Hope is considered one of the largest and highest grade moly mines in the world. Moly is crucial for developing nuclear reactors. China has started construction on several new nuclear power plants.
Bob Pennington, Chief Operating Officer of General Moly, said, "After receiving funding from POS-Minerals Corporation, our joint venture partner on the Mt. Hope Project, and obtaining authorization from the BLM on reclamation bonding, we will now move beyond our ongoing cultural clearance program and initiate light construction activities including early well field development and clearing and grubbing as we prepare for heavy construction in the spring."
We are witnessing a major high volume 52 week high breakout on the positive news. Many major institutions such as Posco (NYSE:PKX), Hanlong, Arcelor Mittal (NYSE:MT) and Sojitz have done their due diligence in this asset and are confident investing at much higher prices taking a long term approach. This provides General Moly with strong financial backers from Korea and China that understand that demand over time will continue to rise and supplies of high grade moly mines may become increasingly valuable. We will continue to follow the Mt. Hope's construction in our free newsletter. Patience and fortitude - especially in the undervalued resource sector.
Disclosure: I am long GMO. I wrote this article myself, and it expresses my own opinions. I am not receiving compensation for it. I have no business relationship with any company whose stock is mentioned in this article.
Additional disclosure: We are offering ideas for your consideration and education. We are not offering financial advice. None of our content is provided to invite or encourage any person to make any kind of investment decision. We are not financial advisors. We advise you to consult with a professional financial and investment advisor before relying on any content. Please do your own due diligence!We are sharing our ideas for educational and informational purposes only. You must do your own due diligence and are responsible for your own investments.