By Steven Orlowski
Wrapping up 2012, it's worthwhile comparing the performance of four emerging market, small-cap exchange-traded funds with a diversified BRIC ETF.
Historically, small-cap stocks outperform larger stocks during periods of growth and underperform in down cycles. While 2012 was not a banner year for the major developing markets, the small-cap funds did outperform in most regions.
The iShares MSCI BRIC Index ETF (NYSEARCA:BKF) looks to close out the year up approximately 8.6%. BKF is a diversified emerging market ETF, which, as its name suggests, invests in Brazil, Russia, India, and China.
I chose BKF for this comparison and not the iShares MSCI Emerging Markets Index ETF (NYSEARCA:EEM) because it is a true BRIC ETF. EEM is the most commonly held and traded emerging market ETF, but it is not exclusively invested in BRIC countries.
Volatility was definitely the major theme for emerging markets in 2012. BKF has yet to match its peak of early in the year. The ETF had a negative return as of June, but has since staged a terrific comeback.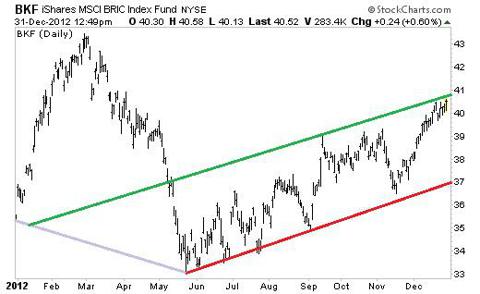 The Market Vectors Brazil Small-Cap ETF (NYSEARCA:BRF) followed the overall trend of EEM. It also has yet to reclaim its 2012 highs.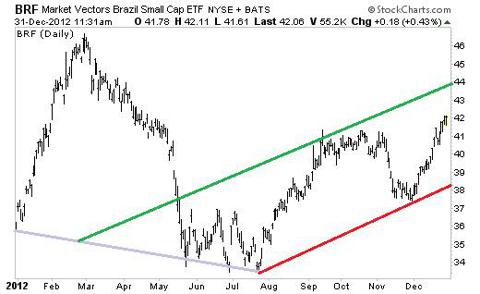 By August, BRF looked terminal as it was negative for the year and seemed determined to go lower. However, that trend reversed and BRF has rallied through Dec. 31, 2012. The ETF will close up for the year approximately 12.5%.
Similarly, the Market Vectors Russia Small-Cap ETF (NYSEARCA:RSXJ) peaked early in 2012 and then sold off, bottoming in June. While it has also recovered somewhat from its lows, RSXJ is far from its highs. The chart for RSXJ evokes a less optimistic outlook than BRF. It could, however, be argued the bottom is in and it could trend higher. Unfortunately, it will book a loss of about 8.5% for 2012.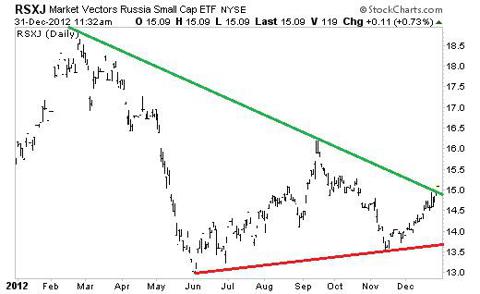 The EGShares India Small-Cap ETF (NYSEARCA:SCIN) also peaked early and bottomed in the summer.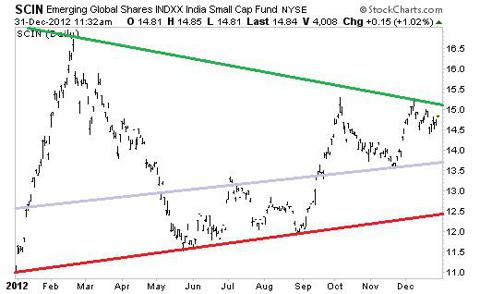 While still trading in a wide range between $12.50 and $15.00 per share, a secondary support level has emerged between $13.50 and $14.00 per share. That is still a long way to fall if the trend reverses, but it is indicative of a strong uptrend. SCIN will close up for 2012 by approximately 28%.
The Guggenheim China Small-Cap ETF (NYSEARCA:HAO) has had the most pronounced recovery this year. As of September, the shares were trading below $18.50. Since then they have risen to nearly $24.00 per share, just shy of the high for 2012.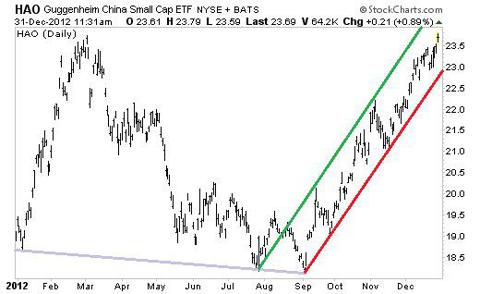 HAO will end the year with a gain of about 21%.
Of the four regional emerging market ETFs, three outperformed BKF. Had an investor purchased equal amounts of the four regional ETFs rather than buy BKF, they would have had an average return of approximately 13.25%, superior to BKF's performance by 4.65%.
Of course, past performance is not indicative of future results. But the charts are indicating higher prices in the future. If things improve economically, then I would expect the small-cap ETFs to outperform again in 2013. The flip side to that optimism is that small-cap stocks and funds tend to be more volatile. If things worsen in 2013, you should be prepared to protect your downside as these ETFs can also deliver bigger losses.