Equity volume for the NYSE is closing out 2012 near a 10-year low. Investors seem to be giving up on the equity markets if this volume data is any indication.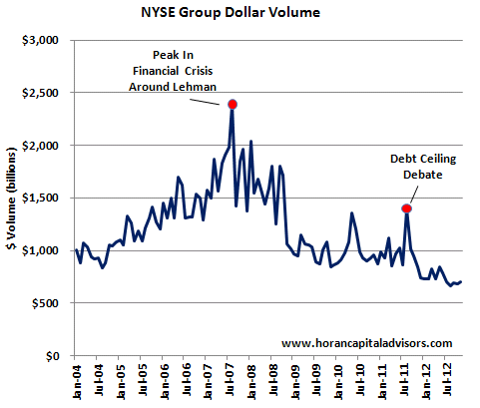 Related to this low equity volume is the continued flow of funds out of equity mutual funds. The equity outflows appear to be finding their way into fixed income mutual funds.
Lastly, margin debt as of November 2012 is at a level last seen prior to the Lehman crisis. In addition to the high margin debt level, net free credit is also negative. The takeaway from this is these margin investors are mostly fully invested at this point in time -- i.e., limited additional cash to push the market higher. Investors should keep in mind that margin debt is a better longer-term indicator (at least one year) of potential market performance.
Data Source: NYSE.