EQ is important in this current market environment because so many companies are feeling pressure to meet their sales expectations. Many companies are channel-stuffers, which is one form of accruals that often leads to negative earnings surprises. A recent poster-child for this example of sending excess inventory to stores that could not sell its products would be Crocs (NASDAQ:CROX) and the way the company tried to pad its sales numbers.
Earnings Quality: Accrual
An accrual is the difference between Cash Flow and Net Income.
Net Income = Cash Flow + Accruals
Low Accrual companies outperform high accrual
There are two ways to approach accruals:
1. Cash Flow Statement
Difference between Net Income and Cash Flow
2. Balance Sheet
Change in Net Operating Assets from Period t-1 to t
Net Operating Asset equals Total Assets Less Cash, Less Non-Debt Liabilities (excl. Minority Interest)
Our studies show that the Balance Sheet approach is superior to the Cash Flow Statement approach.
We found the Balance Sheet approach is also easier to expand to international companies.
We screened the S&P500 to identify those firms with the worst EQ scores. The score is given from 1-100, 1 being the best EQ company, 100 being the company with the highest amount of accruals and the worst EQ. Because high EQ companies are more likely to have negative earnings surprises, this is a group of companies you may want to avoid. The EQ variable works well as an exclusionary variable coupled with AFG's valuation model.
After running our screen we identified 19 firms as the worst Earnings Quality firms. You can set yourself up for success and save time by narrowing your list of constituents to only those that meet our standard valuation, Economic Margin and Management Quality checks and following that up by filtering out those companies most likely to have negative earnings surprises (high EQ). The Chart Below identifies the firms that met our screen criteria, along with the EQ score and our VE analysis.
Worst 10% Earnings Quality Companies In the S&P 500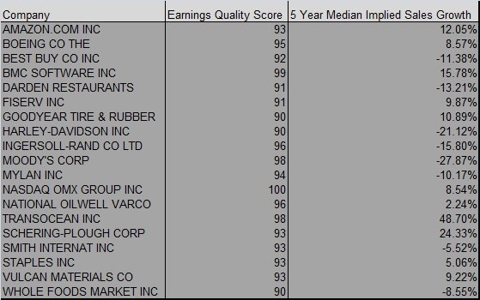 Click to enlarge
Click to enlarge


Universe Size: 4,000 to 5,000 Firms

Source: Applied Finance Group Database from 9/1998-5/2008
This variable does not add any value for companies within the financial sector and those companies are automatically screened out when using this variable.