NIKE, Inc. (NYSE:NKE), a component of the S&P 500, is the world's largest designer and wholesaler of athletic footwear and apparel. North American Nike brand sales are projected to account for 36% of revenue in fiscal year 2012, followed by Western Europe (18%), emerging markets (14%) and China (10%). NKE is expected to maintain its market leadership via a wide economic moat based on its superior product development capabilities, internationally recognized brands, and large economies of scales. NKE managed to beat the analysts' estimates despite lower overseas sales. Despite the solid fundamentals, NKE may be at its high-end of valuation. Investors can wait to establish long-term positions or use options to acquire NKE stock at a lower price, which will be reviewed in the following article.
Q2, 2013 Earnings
On Dec. 20, 2012, NKE reported revenue of $6.0 billion, up 10 percent excluding currency changes. For the quarter ended Nov 30, the diluted EPS from continuing operations was up 11 percent to $1.14 a share, which was higher than $1.05 a share a year earlier. While the decline was mainly due to lower overseas sales, Nike's earnings still beat analysts' average estimate of $1 a share. As reported, "[The] diluted earnings per share grew faster than revenue due to SG&A leverage, an increase in other income and a lower average share count, which more than offset the impact of a slightly lower gross margin and an increase in the effective tax rate." The gross margin declined 30 basis points to 42.5 percent. The gross margin benefited from pricing actions and easing material costs. However, these benefits were more than offset by higher labor costs and unfavorable changes in foreign exchange rates. Additionally, gross margin was negatively impacted by a shift in the mix of the company's revenues to lower margin products and businesses.
The worldwide futures orders were up 6 percent and 7 percent growth excluding currency changes. For fiscal 2013, it continues to expect high single to low double-digit revenue growth on a constant currency basis, with reported revenue expected to grow mid- to high single digits, reflecting weaker foreign currencies particularly the euro.
During the second quarter, NKE repurchased a total of $4.0 million shares for approximately $384 million and concluded the $5 billion share repurchase program approved by the Board of Directors in September, 2008. The company purchased 59.4 million shares at an average price of $84.16. The company began repurchases under the four-year, $8 billion program approved in September, 2012. Of the total shares repurchased during the second quarter, 3.1 million shares were purchased under this program at a cost of approximately $294 million.
Analysts' Calls and Earnings Estimates
On Dec. 28, 2012, analysts at McAdams Wright Ragen maintained a "Hold" rating on NKE, preferring a better entry point to take advantage of the company's potential growth. As noted by the analyst at McAdams Wright Ragen,
"The strength of Nike's brands and its history of consistent execution give us confidence in its longer-term prospects. While we believe there is moderate potential upside in the shares over the next 12-24 months, we prefer a better entry point to provide not only better potential returns, but also to insulate from the downside risks inherent in a still-choppy global economy."
On Dec. 26, 2012, NKE had been reiterated by TheStreet Ratings as a buy with a ratings score of A-. The company's strengths can be seen in multiple areas, such as its revenue growth, largely solid financial position with reasonable debt levels by most measures, reasonable valuation levels, growth in earnings per share and increase in stock price during the past year. We feel these strengths outweigh the fact that the company has had sub par growth in net income. On the same day, Sterne Agee reissued the neutral rating on NKE and reported,
"We are adjusting our FY13 and '14 EPS estimates from 5.26 dollars and 5.99 dollars to 2.63 dollars and 2.99 dollars to reflect the 2 for 1 stock split of company's shares. Our revenue and margin estimates have not changed."
Analysts are expecting an EPS of $0.67 and revenue of $6.23B for the quarter ending in Feb. 2013. For the full year of 2013, analysts are estimating an EPS of $2.64 with revenue of $25.29B. For 2014, analysts are projecting an EPS of $3.00 with revenue of $27.20B, which is 7.6% higher than 2013, as seen from the chart below.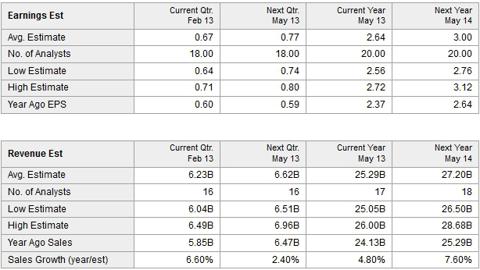 Source: Yahoo Finance
Key Stats and Valuation
NKE currently has an enterprise value of $42.54B with a market cap of $45.64B. NKE has a total cash of $3.52B, and the current book value per share is $11.16 in the most recent quarter.
By using the data obtained from Morningstar, NKE's key stats will be compared to its competitors in the footwear and accessories industry, including Under Armour, Inc. (NYSE:UA) and VF Corporation (NYSE:VFC). NKE has a higher revenue growth (3 year average) of 8.0, comparing to the industry average of 5.8. However, NKE has a lower EPS growth (3 year average) of 16.0, as compared to the average of 26.0. NKE achieves higher operating margin of 11.8%, ttm, and net margin of 8.7%, ttm, comparing to the averages of 9.3% and 8.2%, ttm, respectively. NKE generates higher ROE of 21.5, comparing to the average of 18.5 with zero debt-to-equity, where the industry average is 0.2.
NKE currently has a P/E of 22.2, P/B of 4.1, and P/S of 1.9, all are higher than the industry averages of 19.2, 3.4 and 1.5, as well as NKE's 5 year averages of 19.2, 3.6, and 1.8. NKE has a forward P/E of 14.2 and the PEG ratio of 1.2.
Technical Analysis
At the time of writing, NKE is trading at $51.04 with a 0.08% gain. NKE had been trading in the range of $42.55-$57.40 in the past 52 weeks. NKE has a beta of 0.86. The MACD (12, 26, 9) indicator had been showing a bullish sign since Dec. 21. However, the MACD difference continued to decline. RSI (14) is showing a bullish lean at 58.82. NKE is currently trading above its 50-day MA of $48.20 and 200-day MA of $49.70 with the next resistance at $53.02, the R2 pivot point, as seen from the chart below.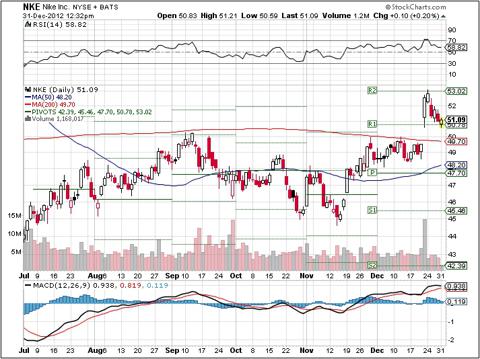 Source: StockCharts.com
Options Trading
While the long-term outlook for NKE remains solid, it is suggested for investors to wait for a lower valuation to establish long-term positions. For options traders, a credit put spread is reviewed which will allow investors to acquire the stock at a lower price while gaining some upside potentials.
Short 1x April 20, 2013 put at the strike price of $45.00 for the credit of $1.00
Buy 1x April 20, 2013 put at the strike price of $42.50 for the cost of $0.65
The maximum profit is $0.35, and the maximum risk/margin requirement is $2.15 ($2.5 loss - $0.35 credit received). If NKE closes above $45.00, 16.28% return on margin will be gained. If NKE falls below $45.00 upon option expiration, NKE will be acquired at $44.65, which is 12.52% lower than the current price of $51.04.
Note: All prices are at the time of writing on December 31, 2012 and all calculations are before fees and expenses. Investors and traders are recommended to do their own due diligence and research before making any trading/investing decisions.
Disclosure: I have no positions in any stocks mentioned, and no plans to initiate any positions within the next 72 hours. I wrote this article myself, and it expresses my own opinions. I am not receiving compensation for it (other than from Seeking Alpha). I have no business relationship with any company whose stock is mentioned in this article.