A slide in the value of the yen gives Japanese equity-focused exchange traded funds a chance to rally in the new year, especially those that hedge their exposure to the weakening currency. The prominent investment bank Goldman Sachs (NYSE:GS) is currently loading up on these shares, verifying the trend.
"The investment bank's asset management unit in Japan is buying shares of the nation's machinery and electronics exporters, financial firms and electricity producers," Hiroyuki Ito, Tokyo-based head of equity investment at Goldman Sachs Asset Management Co., said in a recent report.
Prime Minister Shinzo Abe's new government promises to do more to end deflation and weaken the yen, reports Anna Kitanaka for Bloomberg. The Guggenheim CurrencyShares Japanese Yen Trust (NYSEARCA:FXY) has lost about 10% year-to-date, as the Japanese yen is the worst-performing currency in 2012.
The yen's weakness is here to stay for some time with the new political leadership dedicated to keeping the currency value low, which can give the equity market back some value.
"We're bullish on Japanese stocks next year and the basis for that is the currency," said Ito. "The yen's strength has really hurt Japanese industry, but that trend has ended. The government has made its message very clear: they will be rigorous in boosting the economy."
The WisdomTree Japan Hedged Equity ETF (NYSEARCA:DXJ) captures the Japanese equity market while avoiding exposure to yen movements against the U.S. dollar. Another pure-equity play is the DBX MSCI Japan Currency Hedged Equity Fund (NYSEARCA:DBJP), however, the fund is not as liquid as DXJ. The iShares MSCI Japan Index Fund (NYSEARCA:EWJ) is the largest fund in this category and has $4.9 billion in assets under management. EWJ does not hedge its currency exposure to the Japanese yen.
(click image to enlarge)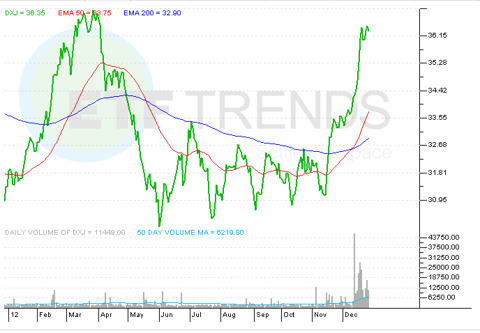 Tisha Guerrero contributed to this article.
Disclosure: I have no positions in any stocks mentioned, and no plans to initiate any positions within the next 72 hours. I wrote this article myself, and it expresses my own opinions. I am not receiving compensation for it. I have no business relationship with any company whose stock is mentioned in this article.
Additional disclosure: Mr. Lydon serves as an independent trustee of certain mutual funds and ETFs that are managed by Guggenheim Investments; however, any opinions or forecasts expressed herein are solely those of Mr. Lydon and not those of Guggenheim Funds; Guggenheim Investments; Guggenheim Specialized Products, LLC or any of their affiliates.