AT&T Inc. (NYSE:T) is by market cap the largest telecommunications company in the United States. AT&T operates in four segments: wireless, wireline, advertising Solutions and Other. Its wireless subsidiaries provide both wireless voice and data communications services across the United States, and as of Sept. 30 had over 105 million subscribers. AT&T along with its archrival Verizon (NYSE:VZ) have been successful in diversifying themselves away from the declining landline segment. The stock is currently trading for $33.32 and is down about 11% from its YTD highs. AT&T seems to have found some support at around $33.00, and has been range bound since mid October.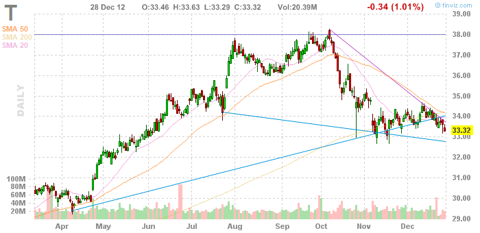 Click to enlarge
AT&T currently offers a high and compelling dividend of $0.45 per quarter, for a 5.4% dividend yield. This dividend has been increased yearly for nearly 30 years. For most of the past 5 years, the yield for AT&T has been closer to 6%.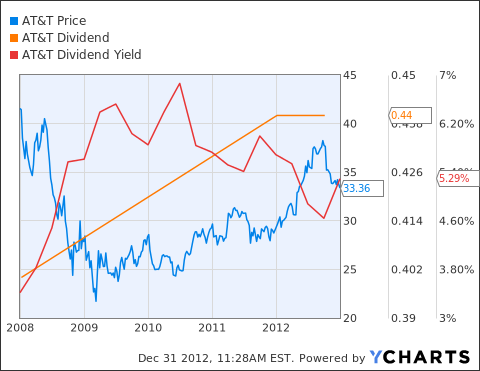 In sharp contrast with other telecom companies, AT&T has experienced consistent revenue growth for the past 5 years. TTM revenues have risen 7.1%, to $137.4 billion, since 2008, while on a per share basis, revenues are up 12.4%, to $21.62 per share. The increase in revenues for AT&T since 2008 can be attributed to it having exclusivity on the iPhone for several years. The iPhone now makes up nearly 77% of smartphone sales for AT&T. 4.7 million iPhones were activated in Q3, while Q4 it is expected that iPhone sales will nearly double to above 9 million.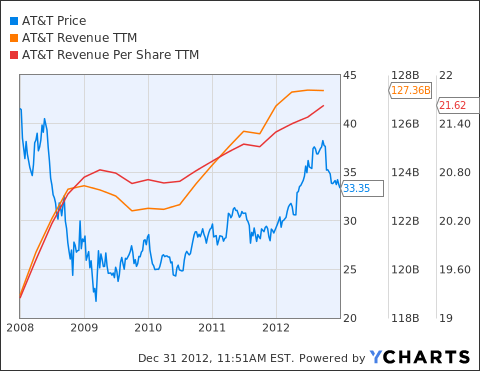 An area of concern for AT&T has been a decline in net income. TTM net income for AT&T declined 78% in 2012, from over $20 billion in 2011 to a current $4.4 billion. On a per share basis, TTM EPS has declined from around $3.40, to a current $0.77, a similar 78% decline. The decline in profitability for AT&T can also be seen in TTM EBITDA margins, which have contracted to 24%, from over 30% a year ago. However, do not be discouraged; this decline in earnings is the result of a massive $6.7 billion the company took on the failure of its planned T-Mobile deal.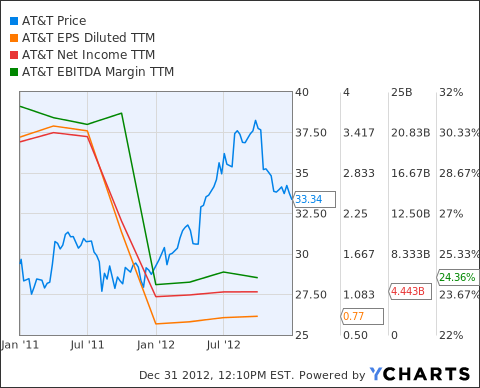 A true measure of AT&T financial strength is by looking at its operating cash flow. TTM cash from operations stood at $36.4 billion. TTM capex has been around $20 billion. TTM dividend payments stood at $10.3 billion, while stock buybacks were around $8 billion. The TTM net shareholder payout has been over $18.1 billion, for a 8% net shareholder yield.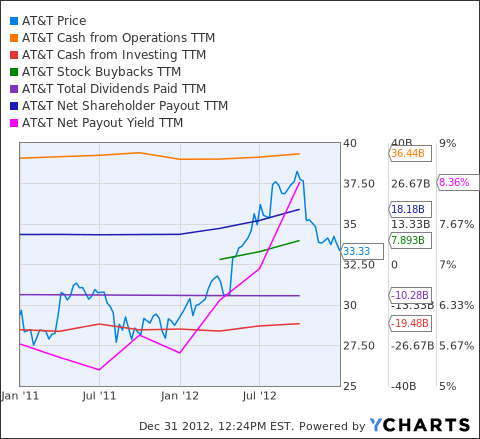 Looking at AT&T's balance sheet, we can see that the company does have a large debt load, at over $64 billion. However, the debt to equity ratio for AT&T is only 0.63. TTM free cash flow for AT&T is around $17.3 billion. TTM EBIT to interest expense is well above 7X, with the only hiccup being the massive writedown for the T-Mobile deal. AT&T is hardly having trouble with its credit rating, with S&P rating its recent 2045 senior notes at A-.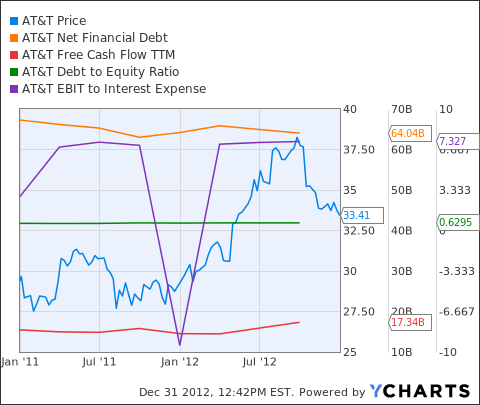 For investors looking for a income from the telecom sector, AT&T should be considered the top choice. Not only does AT&T offer a well above average yield of 5.4%, but it also offers potential growth from ever increasing smartphone adoption. On a risk/reward scale, AT&T offers relatively low risk and medium returns. This cannot be said of some of the rural telecom companies such as Frontier (NYSE:FTR), Windstream (NASDAQ:WIN), and CenturyLink (NYSE:CTL). While rural telecoms may offer slightly higher yields, they also are much more risky. AT&T offers not only a high dividend, but dividend growth and stock buybacks, with its total shareholder return (dividend + stock buybacks) being over 8%.
Disclosure: I have no positions in any stocks mentioned, but may initiate a long position in T over the next 72 hours. I wrote this article myself, and it expresses my own opinions. I am not receiving compensation for it (other than from Seeking Alpha). I have no business relationship with any company whose stock is mentioned in this article.