2012 Results - by Sector, Market Cap, and Style
The year is over, and we're pretty much where we're going to be on a full-year basis. So how did things go? Take a look.
As for market caps, there wasn't a great deal of disparity between large caps, mid caps, and small caps. Mid Caps (NYSEARCA:MDY) (NYSEARCA:IWR) led the way with a 14.6% gain, while Large Caps (NYSEARCA:SPY) (NYSEARCA:DIA) (NYSEARCA:VTI) (NYSEARCA:RSP) gains 11.0% in 2012. The Small Caps (NYSEARCA:IWM) (NYSEARCA:IJR) (NYSEARCA:SCHA) were wedged in between with an 11.9% gain. Though all three are headed lower right now, the mid caps legitimately have the long-term edge (again) heading into 2013 for option trading.
2012 Performance, by Market Cap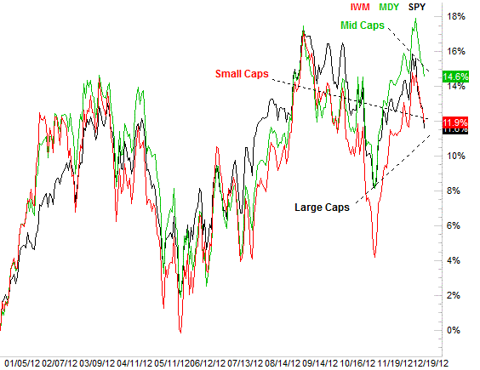 Click to enlarge
Sector-wise, the chart below is color coded (by ETF), but just to ensure there's no confusion, the listing of all the major sectors on the left side of the chart flows from top performers to the weakest performers. In other words, the Financials (NYSEARCA:IYF) (NYSEARCA:XLF) were 2012′s biggest gainers with an average 21.9% advance, while the Utilities (NYSEARCA:IDU) (NYSEARCA:XLU) posted the worst numbers with their 4.1% loss. It's rare for a leader or laggard to hold that spot two years in a row, so it may be wisest to start seeing utilities in a bullish light, and to start shedding your financial names.
2012 Performance, by Sector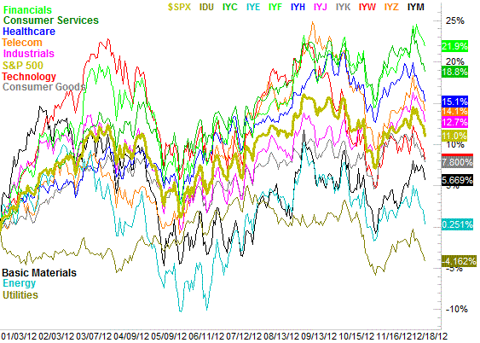 Click to enlarge
Although the difference between market cap performance was minimal, the difference in performance between styles in 2012 was even less pronounced. Growth (NYSEARCA:IWF) lagged with its 11.2% gain, while Value (NYSEARCA:IWD) led with a 12.7% advance. The 'blend' S&P 500, of course, is found in between with its 11.6% gain. Unfortunately, there's nothing telling in this chart about what the coming year will hold in terms of styles for option trading.
2012 Performance, by Style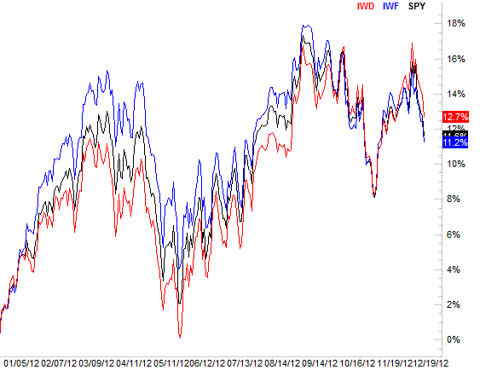 Click to enlarge
Happy, Healthy, and Profitable New Year to all!
Disclosure: I have no positions in any stocks mentioned, and no plans to initiate any positions within the next 72 hours. I wrote this article myself, and it expresses my own opinions. I am not receiving compensation for it. I have no business relationship with any company whose stock is mentioned in this article.
Additional disclosure: BigTrends Rapid Options Income subscribers have an open SPY options position.