FuelCell Energy Inc. (NASDAQ:FCEL) reported 4th quarter and full-year results on December 20th of a loss of 5 cents per share for the quarter and 21 cents per share for the year, on an adjusted basis. These results were in line with analyst estimates for the quarter. In the quarter, the company announced a 121.8 megawatt order and licensing agreement for manufacturing of fuel cell components in South Korea by partner POSCO Energy, a division of POSCO (NYSE:PKX). The company also announced an order from Microsoft (NASDAQ:MSFT) to provide power to a data center in Wyoming. The order from Microsoft is important for FuelCell as data centers are a fast growing business that could provide future orders for the company. Microsoft is committed to becoming carbon neutral. The company also acquired the remaining shares of Versa Power Systems, a leader in solid oxide fuel cells. This technology pairs well with FuelCell's technology as it is best suited to sub 1 megawatt projects, whereas FuelCell's technology is better for multi-megawatt projects.
In the quarter, the company's production run rate was 56 megawatt, and FuelCell needs production of 80 to 90 megawatts to achieve positive net income. New orders have expanded FuelCell's backlog, which now stands at 151 megawatts, and the company is working to ramp up production to a run rate of 70 megawatts. The company believes the current backlog will support a base level of production at 50 to 55 megawatts. This will allow FuelCell to be gross margin positive. Production levels of 80 megawatts would produce positive EBITDA.

When you look at FuelCell compared to some its competitors, it appears fairly valued. On an EV/Revenue ratio basis, it is in line with competitors as it is right at the average. One concern is the company's cash conversion cycle, which you can see lags the group. The main drag on cash conversion is FuelCell's high inventory levels. The company has 141 days of inventory outstanding compared to Plug Power Inc. (NASDAQ:PLUG) with 112 days of inventory outstanding and Capstone Turbine Corp. (NASDAQ:CPST) with only 65 days of inventory outstanding. FuelCell falls more in the middle of the road when it comes to the time it takes to collect from customers with about 73 days of sales outstanding compared to over 100 at Ballard Power Systems, Inc. (NASDAQ:BLDP) and only 52 days at Capstone. FuelCell has the lowest days of payables outstanding and I believe this while hurting their cash conversion cycle is not a bad thing, as it gives them greater flexibility. Ballard Power already has 166 days of payables outstanding, so Ballard has little room to improve its cash situation by delaying payments, whereas FuelCell has only 43 days outstanding, and this should give the company more flexibility, should it have to work with suppliers. FuelCell believes it will convert $11.3 million of inventory to cash in the early part of 2013. I believe the company will benefit from improving working capital management in 2013 and this paired with ramping product will bring the company close to being cash flow positive.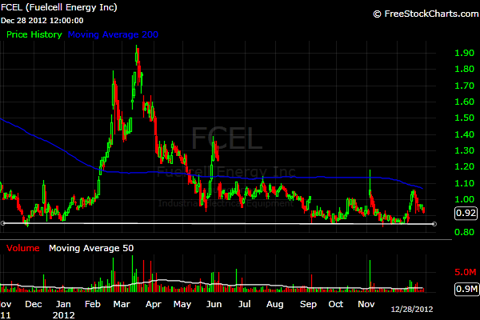 FuelCell's stock has found strong support around 85 cents per share, and I believe this area is a good entry point in the stock. Baring the country falling apart from the fiscal cliff, this company has improving prospects and I believe it will be able to hold support at 85 cents. If the current move down is reversed, I believe the company's strengthening financial position will allow the stock to rally. With that said, the company is still a speculative investment and presents a fair amount of risk for investors. The company should have plenty of capital for the next year; however, it is dependent on future orders. FuelCell needs to be on the edge of being cash flow positive by the end of next year if it is going to produce sizeable returns for investors.
Data sourced from: Company filings, and Yahoo!Finance. Chart from: Freestockcharts.com
Disclosure: I have no positions in any stocks mentioned, and no plans to initiate any positions within the next 72 hours. I wrote this article myself, and it expresses my own opinions. I am not receiving compensation for it (other than from Seeking Alpha). I have no business relationship with any company whose stock is mentioned in this article.