Darden Restaurants, Inc. (NYSE:DRI) reported earnings of 26 cents per share on December 20th - this came after Darden had preannounced that earnings would fall short on December 4th. The company believes public backlash from Darden's attempt to test ways to comply with the Affordable Care Act caused an unquantifiable impact to sales in the quarter. This has led to the company announcing it will keep all current full-time employees at full-time status and Darden will offer the same insurance plan to all hourly and salaried full-time employees starting in 2014. This is in addition to the 5-cent impact on EPS from costs associated with the Yard House acquisition. In the quarter, Hurricane Sandy also caused a cumulative total of 475 days of restaurant closures, negatively effecting EPS by one cent. Even with the challenges faced in the quarter, the company has a clear slowdown in business at its main brands and needs operational improvements to regain all important comp store sales growth.
Darden's largest brands are Olive Garden with 809 locations, Red Lobster with 706 locations and LongHorn Steakhouse with 399 locations. Same-store sales at Olive Garden slid the most, down 3.2% in the quarter and down more than 5% over the last two years. Red Lobster saw same-store sales fall 2.7% in the quarter and LongHorn had a 0.8% decrease. The company believes raising the price of the endless pasta bowl at Olive Garden by $1 adversely affected that brand's traffic. At Red Lobster, the company used 5 promotions throughout the year instead of the 7 promotions it used in past years. This hurt traffic in the later weeks of the promotions, particularly with the endless shrimp promotion which saw a sharp traffic decrease in the final weeks of the promotion. Darden has announced it will increase price-pointed promotions in the coming year.
All customers are looking for a good deal and while Darden management talked a great deal about this on the conference call, it does not seem that the company fully understands this. For example, at one point management said "… consumers want to use casual dining more often than they do today but often do not feel that they can afford to do so." Also the company believes that not all consumers are motivated by price and that "over the past several years, [management has] also seen a growing desire among more economically secure guests for distinctive, higher-quality dishes that also have higher prices." Darden is missing the real issue that consumers are motivated by value. While a stronger economy may make customers less focused on value and cover up missteps by Darden, a weaker economy will highlight them.
If you look at Brinker International's (NYSE:EAT) Chili's brand, its clear marketing message is dinner for 2 for $20, DineEquity, Inc.'s (NYSE:DIN) Applebee's brand is also pushing the same deal at the same price point. Looking at Olive Garden, it's advertising dinner for 2 for $25 and Red Lobster is marketing 15 meals for $15 or less. You can argue that Olive Garden and Red Lobster are higher-end restaurants, but is Olive Garden's 25% better than Chili's or Applebee's? Furthermore, to compel customers to spend 25% more, I would argue it would have to be more than 25% better to convince customers to dine at the more expensive choice.
Darden also stated on the conference call that the company will reduce capital expenditures going forward. Darden will decrease its capex budget at least 10% in 2013, as it decreases planned restaurant openings in 2013 to 100 from the original plan of 110 to 120. The company appears to have three goals, continue to open new stores, maintain its investment grade credit rating, and maintain the dividend at current levels. Analysts believe the company will have to cut capex further than 10% to maintain the other two goals. The company believes it will have $1 billion of operating cash flows for the fiscal year, with capex budgeted at around $750 million and dividends of about $250 million.
I think analysts' worries stem from the fact that even without the acquisitions, the company would have had to add $90 million in debt over the past six months to keep its cash balance unchanged. Analysts following the company are worried that the decreasing same-store sales will impact operating cash flow in the second half of the year. The company, however, believes seasonality and fewer headwinds in the second half of the fiscal year will allow Darden to reach $1 billion in operating cash flow. Analysts are also worried about the company's process for testing menu changes, as the company has not reacted well to changing market conditions.

When you look at Darden's valuation compared to its peers you can see that with its recent decline, it is at best a fair value. Only DineEquity and Bloomin' Brands Inc. (NASDAQ:BLMN) have a higher EV/EBITDA ratio than Darden. Darden's PEG ratio is also third highest behind DineEquity and slightly less than Texas Roadhouse Inc.'s (NASDAQ:TXRH); 1.24 verses 1.23.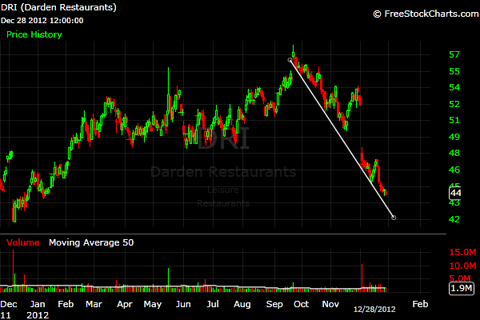 The high dividend yield makes Darden an expensive stock to short, but an investor could control risk by buying put spreads that capture future earnings announcements. The chart shows a falling stock with no indication of finding a bottom and I do not believe support will be found until the low 40's. The dividend yield will also provide some downside support, but I do not see any reason why the yield could not rise above 5% as investors worry about the dividend going forward. However, the company maintains the dividend is safe and could continue to grow in the future. I believe Darden is not far from either requiring deep capex cuts or cuts to the dividend. The company can be turned around and can restore comp store sales growth; however, management is currently not on a path to make that happen.
Data sourced from: Company filings, and Yahoo!Finance. Chart from: Freestockcharts.com
Disclosure: I have no positions in any stocks mentioned, and no plans to initiate any positions within the next 72 hours. I wrote this article myself, and it expresses my own opinions. I am not receiving compensation for it (other than from Seeking Alpha). I have no business relationship with any company whose stock is mentioned in this article.