Despite the lack of a vote on the Fiscal Cliff issues (during market hours), the constant stream of breaking news, comments from congressional sources and assorted tweets kept the markets in an upward trend on the last day of 2012. The S&P 500 closed the day with a gain of 1.69% to finish the year up 13.41%, the best performance in three years.
Here is a look at Monday's action -- a fairly subdued performance until the noon hour followed by a steady acceleration as the Cliff optimism increased.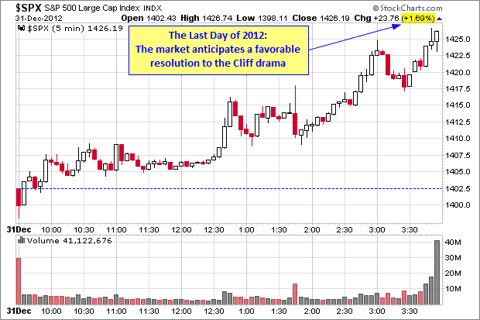 And here is a snapshot of 2012 with the roller coaster peaks and troughs highlighted.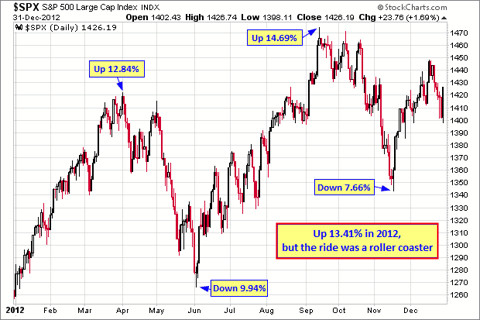 The S&P 500 finished 2012 with a gain of 13.41%, but the index is 2.70% below the interim closing high of September 14th.
From a longer-term perspective, the index is 110.8% above the March 2009 closing low and 8.9% below the nominal all-time high of October 2007.
For a better sense of how these declines figure into a larger historical context, here's a long-term view of secular bull and bear markets in the S&P Composite since 1871.