Yesterday was another one of those random walk, dead cat bounce days. But the feeling remains that we have some way to go before we reach the terminus at the end of the road. There was some cheer from GE (NYSE:GE) which announced with fanfare that they would continue paying a dividend. The Fed will extend their three emergency loan programs (i.e. Primary Dealer Credit Facility, Term Securities Lending Facility and Paper Money Market Mutual Fund Liquidity Facility) to the 30th April. There is also the increasing expectation that we are close to a Detroit bailout. I do hope the CEOs flew economy this time.
Diabolical real world data is likely to see gravity prevail later in the week as positioning data from the Commodity Futures Trading Commission suggests that the market is very short VIX (volatility) and long S&P. VIX at these levels has to pull back if equities rally, not if they sell off. That makes this bear market rally very hard to sustain. Bonds remain unimpressed and Treasuries continue to soar as credit spreads reach record highs. Cash remains king.
Todays Market Moving Stories
US vehicle sales numbers hit a 25-year low (Ford (NYSE:F) -31%, GM (NYSE:GM) -41% and Chrysler -47%) showing us that they are on the road to nowhere. GM announced it would focus on just four models and cut 1/3 of its workforce. The Big 3 are teetering on the brink of bankruptcy and the declining state of the economy will soon push them over the edge. Sales have plunged 37% in the past year with their most profitable lines taking the biggest hits. The industry cut production by 18.4% this year and this has prevented inventory sales ratios from soaring. The Big 3 must restructure and reduce brands and models to become leaner. Restructuring can occur through voluntary negotiations or through a Chapter 11 filing. Congress prefers voluntary negotiation. The Big 3 have said that they need $15bn just to get them over year end! But they are asking for $34 billion now and Congress will probably grant it. Do you know anyone who actually drives an American car?
Flip flop Hank Paulson is getting ready to beg Congress for the 2nd tranche of the TARP as they have raced through the funds in Phase One.
Our old chum Willem H. Buiter (founding member of the BoE MPC) is looking for a 1.5% cut from the BoE tomorrow (recall he was spot on last time around). He goes on to say that the only thing preventing them from cutting rates to zero is the fear that Sterling will go into a further tailspin. Nationwide UK consumer confidence dropped 5 pts to a new historic low of 50 (well below consensus which was 54) as job insecurity is mounting.
The US ABC consumer confidence survey chalked up yet another low with a print of -54 (-52 previously).
Ten year German bond yields have just broken 3%. Wow. I talked about bonds in depth yesterday.
Interestingly, the under pressure Chinese authorities appear to be letting their Renminbi (yuan) go in a mini devaluation. Things must be worse than the official figures suggest. Chinese data should always be taken with a healthy degree of scepticism even if only on the basis of the sheer difficulty in collecting it. Note Hank Paulson is due in town next week.
Bill Gross of Pimco muses on why stocks may not be as "cheap" as they seem.
Dr. Doom, Prof. Roubini is predicting the economic equivalent of a nuclear winter in 2009, bar aggressive and coordinated policy actions.
Merrill Lynch's (MER) David Rosenberg notes that last week's pop was the eighth bear market rally since October 2007. "This is now a five-day rally that has seen the S&P 500 surge 19%. Then again, we did see a 7-day rally tally up to 18.5% from late October to early November. And before that a 4-day rally in mid-October that netted equity traders an 8.5% spike. What is happening is that the bear market rallies are getting shorter and more flashy – but they are still bear market rallies. The ones we have seen thus far in this bear market have seen the S&P 500 rise nearly 10% and last 18 days on average. These are rallies, in our opinion, that investors should be using as an opportunity to sell into."
The US Recession's Impact On Equities
It's official. The NBER's business cycle dating committee decided on Monday that the US has been in recession since last December. We have thus already endured a downturn that exceeds the average length of the 12 previous US recessions since the Great Depression (10 months). Alas, this statistic does not provide hope that recovery is around the corner. On the contrary, the economy is likely to contract throughout next year. It's a case of one down, but at least another one to go. This is not great news for equity investors. Contrary to popular wisdom, since the 1930s on average, share prices have only hit a floor around four months before the end of the economic downturn.
Where does all this leave us today? Admittedly, the price/earnings ratio on the S&P 500 has now fallen below its very long-run average (using 10-year cyclically-adjusted earnings and adjusting for inflation). But stock markets have tended to undershoot substantially during bear markets. The average P/E ratio at the trough of the equity market in the US recessions since the 1930s has been 11.7. And if we strip out the 2001 recession when the P/E ratio was sky high, the average is just 10.9 - well below the current level of just over 14. What's more, not all recessions are equal. The duration and depth of the current downturn is likely to be at the nasty end of the spectrum. With this in mind, it is worth recalling that the P/E ratio at the trough of the Great Depression was not much more than 5. And it was below 9 and 7, respectively, in the next two deepest recessions in 1973/5 and 1981/2.
And Finally… Until Next Time Around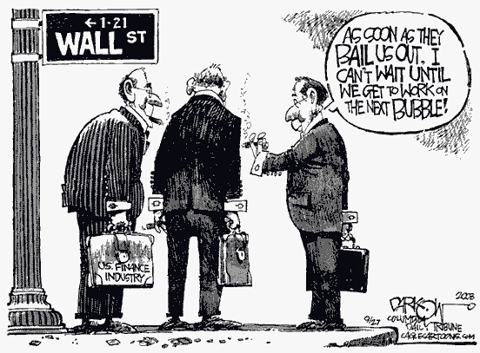 Disclosures: None