2012 was the fourth year in which I shared my picks from my Top 20 Model Portfolio and from my Conservative Growth/Balanced Model Portfolio. As hard as it was last year for me to share the results of those 2011 picks (I underperformed in the Top 20), I did so, as there is seldom true ownership of prior recommendations in the blogosphere or in print media. Since I share a snapshot (names, not weights), it's very easy to see how these perform. My models at Invest By Model, which are monitored by Hulbert, are tracked daily on a total return basis, so it's real easy to see how I adapted during the year as well.
In 2012, I contributed 98 articles to Seeking Alpha. Some of these were book reviews, and many were either informative or simply exploratory. Others were related to asset allocation. I don't intend to review the performance of each and every article that did have a specific recommendation - I'll leave that to the reader. Certainly there were some duds, but there were some winners too. My goal is to encourage the reader to do his or her own diligence, to stimulate their thinking. This is actually the performance metric that I hope I achieved.
So, in the spirit of following through, let's look first at my Top 20 Model Portfolio. For the year, the model returned 16.96%. Frankly, this was not as good a showing as I had anticipated, but I'll take it. Again, this was how the model actually performed. How did the 20 initial holdings that I shared at the beginning of the year do? Not so great. This was one of those years where trading added value, which is probably good for me from a business perspective (otherwise no one would subscribe but rather just buy and hold the list I share for free here). Let's look at the initial positions: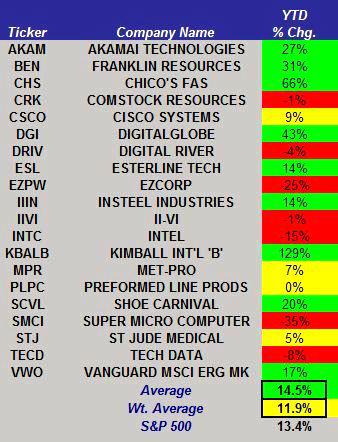 The bottom-line is that these picks, on average, slightly outperformed. I have shared the price changes, but this statement holds on a total return basis (with dividends) too, though just barely. While I didn't share the weights in the model at the time, it turns out that on a weighted basis, the picks underperformed slightly.
I have color-coded the picks - green is better than the market, yellow is positive but trailing the market, and red is negative. What a range. 9 picks were good, but 7 of the 11 not-so-good picks actually declined in a rallying market. Ouch.
Let's look at the really big movers (13% deviation from market):
Akamai (NASDAQ:AKAM) soared following a late 2011 acquisition, with earnings estimates consistently rising through the year.
Franklin Resources (NYSE:BEN) bounced back after performing poorly in late 2011, perhaps reflecting strength in global equities
Chico's (NYSE:CHS) also bounced back from a late 2011 challenge, enjoying strong growth in all of its brands and e-commerce
Comstock Resources (NYSE:CRK) suffered from its Haynesville exposure though it transitioned to a Permian oil play through an acquisition
Digital Globe (NYSE:DGI) was able to acquire its rival (pending) and survive budget cuts while growing its commercial satellite imagery business
Digital River (NASDAQ:DRIV) performed very poorly, with the CEO retiring as the company failed to capitalize on e-commerce growth
EZCORP (NASDAQ:EZPW) befuddles me, as they say their challenges were related to gold while it seems like the reality is that they bit off more than they can chew
II-VI (NASDAQ:IIVI) struggled with challenging end markets
Intel (NASDAQ:INTC) endured the pendulum swinging back the other way with respect to concerns about their ability to compete in mobile as the desktop languishes
Kimball International (KBALB) befuddles me - the stock was really cheap and sadly I gave up after a little rally having lost patience
Super Micro (NASDAQ:SMCI) wasn't so super, stumbling on a transition to a new product as well as hard-disk drive inventory issues
TechData (NASDAQ:TECD) botched an SAP installation in North America and saw EPS growth only due to massive share repurchases
Intel is the exception, but most of the stocks that declined were Small-Caps, where there is greater variability. Indeed, most of the winners were Small-Caps too. A portfolio lesson here is that when one invests in smaller companies, be prepared for greater variability. Some may look at this negatively, but it's actually an opportunity for those who are willing to trade around their core portfolio.
I need to confess, and this is where the real lessons come into play. I held some losers all year (IIVI, SMCI and TECD) and I let some winners go way too early (AKAM, CHS, DGI and especially KBALB). This is the opposite of what one is supposed to do. After knocking the cover off the ball in 2009 and 2010, 2011 performance for this model lagged. I have to admit to being influenced a bit by this, and wanted to lock in profits, which proved very costly, especially on KBALB. DGI was sold as it came out of the hole and before they pulled off their merger coup. AKAM and CHS were great sales where I failed to get back in later.
Let's shift to the stocks in the Conservative Growth/Balanced Model Portfolio. This one is a bit trickier, as the model isn't just stocks. The benchmark is 60% equities (S&P 500) and 40% bonds (Bar Cap Aggregate Bond), and I am permitted to have 45-75% equity exposure and 10-55% bond exposure (with cash of 5% to as high as 45%). As I disclosed last year, the model was just 11% in bonds, and we kept the exposure low all year.
The model returned 13.74%, which was more than 2% above the benchmark and above the S&P 500. We were able to beat the S&P 500 with no more than 75% in stocks (more return, less risk). I shared 14 stocks that we held at year-end. Here is how they did: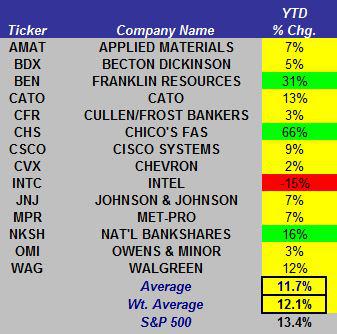 Here, the average pick lagged on a price-basis, but the total return of these picks ended up matching the market roughly, as the dividend yields are higher. Unlike the other model, there was little variability in returns. I addressed BEN, CHS and INTC above. Small-Cap National Bankshares (NASDAQ:NKSH) did well, but it actually lagged Financials. Again, trading really helped this model do better than the initial portfolio.
I shared a couple of portfolio management "lessons" above regarding variability of returns as well as what can happen when you sell winners, and there is one for this model too: You can construct portfolios that meet your tolerance for risk. The securities in this model are combined to produce both income (above-market) and capital preservation. The parameters I use reflect valuation as well as balance sheet strength and other fundamental attributes. I am the same guy doing both of the models I shared. The returns were better for the other model, but the subscribers to the Conservative Growth/Balanced model portfolio most likely slept better at night.
I said last year that 2011 wouldn't make it on my career highlights film. While 2012 was better, it again didn't track my expectations. I covered all of the worst performers, but I am happy to address any others in the comments section if you should have any questions. Happy New Year to you!
Disclosure: I have no positions in any stocks mentioned, and no plans to initiate any positions within the next 72 hours. I wrote this article myself, and it expresses my own opinions. I am not receiving compensation for it (other than from Seeking Alpha). I have no business relationship with any company whose stock is mentioned in this article.
Additional disclosure: Several of the stocks discussed are held in one or more models managed by the author at Invest By Model.