Quantitative easing brought with it reduced spreads for mREITs and the constant threat of prepayment. Consequently, market prices have plummeted well below book value for many of these companies. This introduces an opportunity for the purest form of value accretion: share buyback. In this article, we will explore the multitude of share repurchases in the mREIT world and how investors can position themselves to take advantage, but first let us examine the history of share buyback among REITs to show how incredible it can be.
Historical REIT buybacks
Share buybacks are rare, but not unprecedented among REITs. Ashford Hospitality Trust (NYSE:AHT) bought back both common and preferred equity (Press release linked here) at deep discounts during the Great Recession. Ashford bought back nearly half of its outstanding common shares at an average price of $3.26 and 1,606,000 shares of its $25 par value Preferred Series D at an average price of $5.72. When we compare these prices to the current $10.44 common and $25.13 preferred, we can see that the accretion of the maneuver was astronomical.
More recently, Hersha Hospitality announced the intended buyback of $75mm of common stock in response to its low market price. CEO Jay Shah believes HT's portfolio is far more valuable than its market price and that opportunistic repurchase could prove accretive.
In each of these cases, the accretion comes from each share representing a higher portion of a property portfolio. Thus, accretiveness is contingent upon the gained portion of the portfolio being worth more than the price paid to buy it back. As such, it relies on the properties continuing to have value in the market. This contingency is entirely removed when the share being repurchased is a cash equivalent. To clarify, we can take a look at CapLease (NYSE:LSE).
On January 1st, 2009 LSE announced the repurchase of $8.74mm of principal of its 7.50% Senior Notes for about $3.27mm. As the principal was a cash liability, it essentially bought cash for less cash. The accretiveness of such an act is undeniable as there is no uncertainty from having to convert value of assets to cash.
This is where the mREITs come in. If we exclude accounting anomalies such as differences between nominal and fair value and potential impairment charges, mREITs have the unique attribute of their equity being so closely analogous to cash. This brings about an interesting occurrence in which mREITs trading significantly below book value can buy back their own cash equivalents for less than face value. Essentially, a company such as Armour Residential REIT (NYSE:ARR) which currently trades at $6.46, a 17.4% discount to its $7.76 book value, can buy back dollars for $0.826 each.
Let us take a look at the mREIT market to see where opportunities may lie. Across the market as a whole, prices have drifted significantly beneath book value.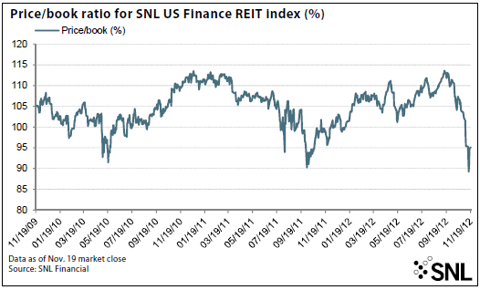 This discounting is even more sizable in individual securities.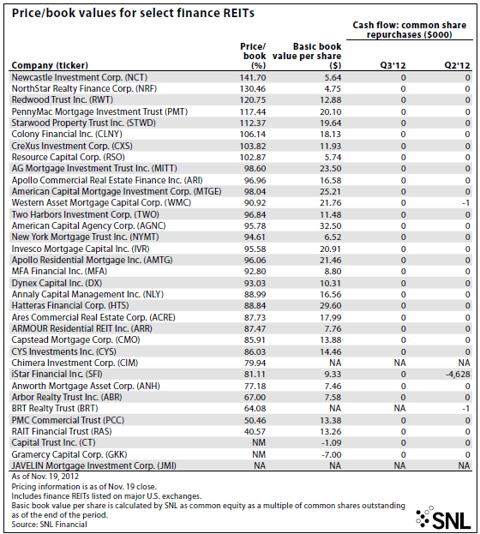 24 of these trade below book, but we can narrow the search even further to include only those which are planning share buyback.
| | | | | |
| --- | --- | --- | --- | --- |
| Company (ticker) | Market Price 12/31/12 | Book Value $ | % discount to book | Magnitude of planned buyback* |
| American Capital Agency (NASDAQ:AGNC) | $28.90 | $32.50 | 11.07% | Up to $500mm |
| American Capital Mortgage Investment (NASDAQ:MTGE) | $23.52 | $25.21 | 6.70% | Up to $50mm |
| Annaly Capital Management (NYSE:NLY) | $13.95 | $16.56 | 15.76% | Up to $1.5B |
| Capstead Mortgage Corp. (NYSE:CMO) | $11.45 | $13.88 | 17.51% | Up to $100mm |
| CYS Investments (NYSE:CYS) | $11.79 | $14.46 | 18.46% | Up to $250mm |
| Dynex Capital (NYSE:DX) | $9.37 | $10.31 | 9.12% | Up to $50mm |
| Two Harbors Investment Corp. (NYSE:TWO) | $11.11 | $11.48 | 3.22% | Up to $25mm |
| Western Asset Mortgage Capital (NYSE:WMC) | $19.75 | $21.76 | 9.24% | Up to $2.4mm |
| Armour Residential REIT | $6.46 | $7.76 | 16.75% | Up to $100mm |
*Source: SNL Financial
Fundamentals
Even with the impending accretion from buybacks, the mREIT market remains a dangerous place. While quantitative easing has allowed mREITs to finance debt at impressively cheap rates, it also lowers the rate lenders can charge. In many cases, the revenue loss is greater than the interest savings causing an overall tightening of spreads. These low margins combined with prepayment susceptibility and frighteningly high leverage make investment very risky.
Armour Residential REIT, stands out from the pack with a decreased susceptibility to prepayment. Two factors go into analyzing a company's prepayment risk:
1) The relative premium paid above principal in acquisition of securities.
2) The rate at which prepayment occurs.
Magnitude of risk is calculated by multiplying the factors.
In terms of the first risk factor, nearly all agency mREITs are in the same boat. As of late, Agency securities are only available at a premium, so they are almost always acquired at a premium. Armour is no exception. In fact, its 10Q directly states "To date, all of our Agency Securities have been purchased at a premium."
The difference lies in the second risk factor. Armour has repeatedly had a relatively lower constant prepayment rate (CPR) than its competitors. As a basis of comparison, we will use one of the giants of the sector, Annaly.
| | | |
| --- | --- | --- |
| Quarter Ended: | Annaly CPR | Armour CPR |
| 9/30/12 | 20% | 13% |
| 6/30/12 | 19% | 9.1% |
| 3/31/12 | 19% | 11.4% |
| 12/31/11 | 22% | 19.3% |
| 9/30/11 | 18% | 12.4% |
The primary reason for the lower CPR is that ARR deals with lower coupon securities. Annaly's weighted average coupon was 4.10% as of 9/30/12, whereas ARR's weighted average fixed rate was only 3.52%. This lower coupon corresponds to a decreased incentive to refinance and has led to their significantly lower CPR. It seems reasonable that the same logic would hold for future periods.
One may be concerned that lower coupons would result in a smaller profit margin, but it is actually higher. Again, we will use Annaly as the comparison.
Annaly's spread is detailed in the excerpt below from their 3Q12:
"The estimated weighted average yield on our investment portfolio at September 30, 2012 was 2.79% and estimated cost of funds on interest-bearing liabilities was 1.55%, resulting in an estimated interest rate spread of 1.24%."
In contrast, ARR has an asset yield of 2.70% cost of funds of 0.89% resulting in a 1.82% base margin. We must also take away the expense of repurchase agreements of 0.45% for a total spread of 1.37% (13 basis points higher than NLY's).
Risks of investment with Armour Residential REIT
The key to ARR's spread is an extremely low cost of capital derived from its use of short-term (30, 60 and 90 day) repurchase agreements. Such short-term agreements require constant refinancing, so it requires continuous liquidity of the capital markets. Investors would be wise to keep an eye on the associated risks.
Additionally, ARR is externally managed, so some investors would be leery of misalignment. Here is the agreement with ARRM.
"We are externally managed by ARRM pursuant to a management agreement, as most recently amended and restated on June 18, 2012 (the "2012 Management Agreement"). The 2012 Management Agreement entitles ARRM to receive a management fee payable monthly in arrears in an amount equal to 1/12th of 1% of gross equity raised until gross equity raised was $50 million. Thereafter, the monthly management fee would be 1/12th of the sum of (A) 1.5% of gross equity raised up to $1 billion plus (B) 0.75% of gross equity raised in excess of $1 billion. We are also obligated to reimburse certain expenses incurred by ARRM and its affiliates. ARRM is further entitled to receive a termination fee from us under certain circumstances. The ARRM monthly management fee is not calculated based on the performance of our portfolio. Accordingly, the payment of our monthly management fee may not decline in the event of a decline in our earnings and may cause us to incur losses."
The terms seem fairly troubling as it inherently incentivizes growth without regard to shareholder value. Fortunately, we are about to get a very clear test of management's ethics. If they chooses to go through with the aforementioned share buyback, it will benefit shareholders through the accretion and lower the fees management can collect. Clearly this would be a sign of proper alignment and should significantly alleviate worries.
Conclusion
Armour Residential REIT has become a much better value than many of its competitors due to the recent sell-off.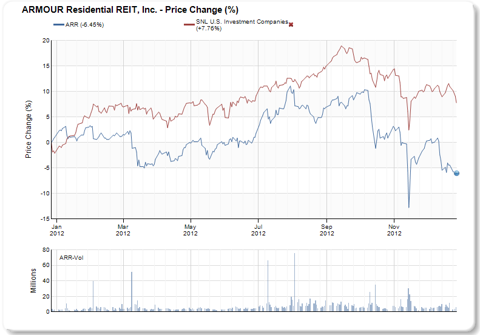 It can now use the low market price to buyback its own shares at a 16.75% discount that would be accretive to shareholder value. Furthermore, it has a unique tolerance to principal prepayment not shared by its competitors that may allow it to generate superior earnings. Investors should be aware, however, of the high risk associated with the leverage of mREITs as well as the risks unique to ARR.
· Price to FactSet estimated 2013 earnings = 6.09
· Current dividend yield of 14.88%
Disclaimer: 2nd Market Capital and its affiliated accounts are long AHT and LSE. This article is for informational purposes only. It is not a recommendation to buy or sell any security and is strictly the opinion of the writer.
Disclosure: I am long AHT, LSE. I wrote this article myself, and it expresses my own opinions. I am not receiving compensation for it (other than from Seeking Alpha). I have no business relationship with any company whose stock is mentioned in this article.