I have recently been focusing more on the "growth" section in my long-term portfolio. Obviously we want to see growth from all of our investments, but there are other metrics when considering what fund or stock to buy. For instance, some investors may be focused on dividends and income to fund life after retirement. Others may be looking for diversification, while some may be focused on growth. For me, I like to try and divide my long-term portfolio into sections.
Some sections focus on dividends and are what I call "core" holdings. I like these stocks to be solid companies, with a consistently increasing dividend and nice growth. Other sections focus on ETF's and diversifying myself from just the typical U.S. company. These holdings could be anything from the PowerShares QQQ Trust (NASDAQ:QQQ), which mainly focuses on technology stocks, to the iShares World Index Fund (NYSEARCA:URTH) or the iShares Emerging Markets Fund (NYSEARCA:EEM). All of these sectors are meant to appreciate over the coming years and decades, while focusing on stability, with a yield of around 3%. Where I plan to see most of my capital appreciation is in the growth section.
Today I want to analyze Panera Bread Company (NASDAQ:PNRA) to see how it fits into my growth section. Panera has had a very impressive run, as you will see on the chart following this paragraph, and continues to expand its market cap with solid growth. Though it has a rather lofty P/E ratio, we will take a deeper look to see if this valuation is justified. Below is a three-year chart of Panera Bread with the 50-day, 100-day, and 200-day simple moving averages: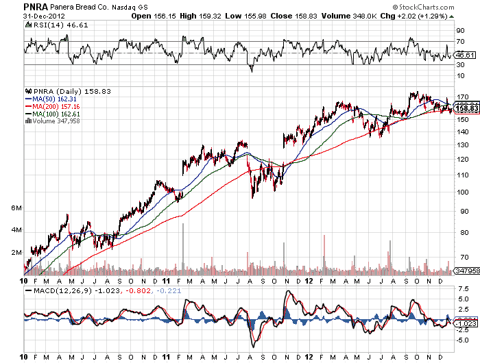 Source: Stockcharts.com
Panera's chart has been very strong over the last several years, only touching the 200-day sma several times, and only truly violating it once. The reason that we use the 200-day, 100-day and 50-day sma is that it represents the longer term movement of the stock better than say the 10-day and 20-day sma's do. The chart above is measured on a daily basis, whereas the one below is measured on a weekly basis: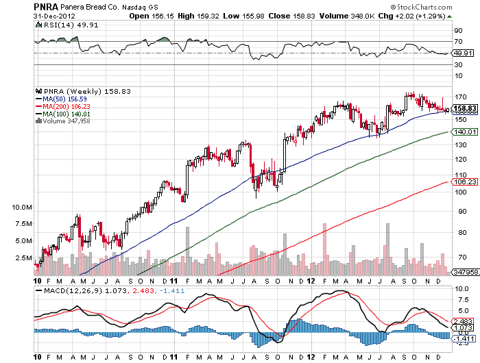 Source: Stockcharts.com
Before we get into the P/E ratio, I'm going to show two tables. The first one will show Panera's revenues and how much they grew over the last four years, with the fifth year being next year's future estimates. We are looking for growth greater than 10%. The second table will show earnings per share, or EPS, over the last four years, with the fifth being next year's future estimates. Just like with revenues, we are looking for growth of greater than 10%.
Revenues (in millions):
| | | | |
| --- | --- | --- | --- |
| Year | Revenues | Change From Previous Year ($) | Change From Previous Year (%) |
| 2009 | 1,353.50 | +54.5 | +4.25 |
| 2010 | 1,542.50 | +189 | +14 |
| 2011 | 1,822 | +257.5 | +16.7 |
| 2012* | 2,100 | +278 | +15.25 |
| 2013* | 2,400 | +300 | +14.30 |
(*) = Indicates that the year 2012 and 2013 are estimates. 2012 earnings will be reported on February 4th, 2013.
Earnings Per Share:
| | | | |
| --- | --- | --- | --- |
| Year | Earnings Per Share (NYSEARCA:EPS) | Change From Previous Year ($) | Change From Previous Year (%) |
| 2009 | 2.78 | +.56 | +25.20 |
| 2010 | 3.62 | +.84 | +30.20 |
| 2011 | 4.55 | +.93 | +25.70 |
| 2012* | 5.88 | +1.33 | +29.25 |
| 2013* | 7.03 | +1.15 | +19.50 |
(*) = Indicates that the year 2012 and 2013 are estimates. 2012 earnings will be reported on February 4th, 2013.
As you can see on the two tables above, Panera has had extremely strong earnings and revenue growth. Another thing that I really like is that it's consistent growth. The stock isn't parabolic when you look at the charts, but rather, slow and steady. Same with revenues and EPS, it's not up 10% one year and 80% the next, followed +22% the following year. For revenues, the growth is consistently in the mid-teen figures, while the annual EPS growth is consistently between 20-30%.
After looking at a few of these numbers in a little more depth, we can finally take a peak at that P/E ratio and see if it's justified or not. While trading with a trailing twelve month (NYSE:TTM) P/E ratio of 29 suggests the stock might be a bit pricey, I think it fits the growth fairly well. However, when you look at the future twelve month (ftm) P/E ratio, it is trading with a slight discount. For 2012 estimates, Panera is trading with a P/E ratio of 26.5 and a 2013 P/E ratio of 22. Keep in mind that 2012 results will be reported next quarter, in February. However, these are relatively cheap valuations when you consider how fast both the top and bottom lines are growing at Panera.
To make sense of this, lets take a look at the PEG ratio. This ratio measures the price relative to the company's growth. For example, a company with a P/E ratio of 15, that is growing at 15% annually, would have PEG of 1. For 2013, Panera has a P/E ratio of 22, as discussed above, with an earnings growth of 19.5%. When using the equation for determining the PEG value (price-to-earnings / earnings per share growth) we come up with the following:
22 (2013 P/E ratio) / 19.5% (annual EPS growth) = 1.13
A quick look at Yahoo! Finance, will show an estimated 5-year PEG ratio of 1.38, more than the 1.13 ratio measured for 2013. This would suggest that Panera is potentially slightly overvalued, but not in the slightest amount to convince me not to own it. Panera trades at high valuations, but that's because of its immense growth! Without this growth, Panera would be overvalued, but I think the company is doing great and has promising long-term growth potential.
I was searching around the Internet, but I think fellow Seeking Alpha contributor Alexandra Reisman summed up Panera's store growth best,
"The long-term prospects for Panera's growth are equally sunny [being compared with Chipotle Mexican Grill (NYSE:CMG)]. By matching the density of its home market in St. Louis, Morningstar estimates that Panera could expand to 4,000 bakery-cafes domestically (there are about 1,625 right now), which, at its current pace of about opening 115-120 per year, gives it about 20 years of runway. In addition, there is the potential for expansion internationally, as well as smaller-format stores for urban locations."
I think the best way to own this company is through outright shares. I have a long-term bullish outlook and think that it looks very promising for quite some time. In fact, another reason I think it is best to own the outright shares is because options are usually meant for short- to intermediate-term moves. Long-term moves can only be exposed via LEAPs, but even those only go out about two years. The only options strategy I would consider would be selling cash-secured puts, to gain exposure upon assignment.
Taking it one step further, I am short-term bearish on Panera. The one-year chart looks bleak and sentiment is definitely down, though there seems to be support around the 200-day sma. Of the 29.2 million outstanding shares, 1.92 million are sold short. This is an increase of 100,000 shares or 5.5% more than last month, when 1.82 million shares were held short. Here is the one-year chart: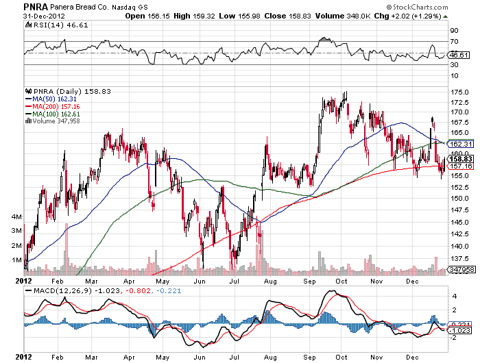 Source: Stockcharts.com
Despite this, I certainly remain long-term bullish on this stock and view this as a buying opportunity. I believe it fits my risk profile well and certainly deserves a spot in the "growth" section of my long-term portfolio. Even with a gritty looking one-year chart, the long-term (three-year) chart looks very promising. With fantastic revenue and earnings growth, and fair P/E and PEG ratio measurements, I think Panera will continue to churn out great numbers. Especially when considering how many stores Panera plans to open, I am bullish and soon-to-be-long Panera Bread Company.
Disclosure: I have no positions in any stocks mentioned, but may initiate a long position in PNRA over the next 72 hours. I wrote this article myself, and it expresses my own opinions. I am not receiving compensation for it (other than from Seeking Alpha). I have no business relationship with any company whose stock is mentioned in this article.