With the end of the regular season of pro football, the annual frenzy of firing has struck. So far, seven head coaches and five general managers have received the pointy end of the boot. It's likely, however, that a few of them just may go on and win a championship or two when they are snatched up by some forward-looking team.
Funny how last year's losers sometimes become this year's standouts.
Oftentimes, it's the same with investments… especially with the immediately previous year's poor performers.
Way back in 2011, a few of the worst performers included homebuilders, financials, and auto manufacturers.
With the mortgage crisis, economic malaise and unemployment running rampant, the iShares Dow Jones US Home Construction (NYSEARCA:ITB) gave up just under 9% in 2011.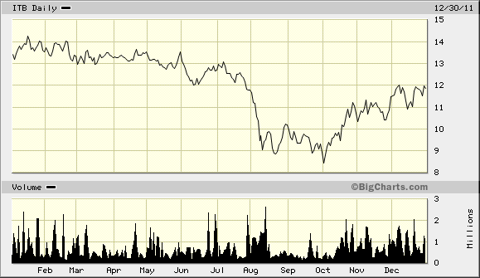 With a continuing inability to turn things around and an outspoken display of hostility from Washington, the Financial Select Sector SPDR (NYSEARCA:XLF) lost just over 17% for the year: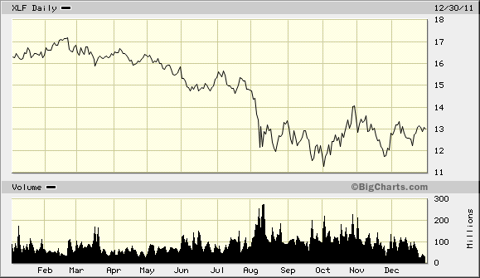 Coming off the much publicized and very expensive publicly-funded pumping of the auto industry, the First Trust NASDAQ Global Auto Index (NASDAQ:CARZ) graciously turned in a loss of 25% to its new majority stakeholders (i.e. you and I as U.S. tax-payers).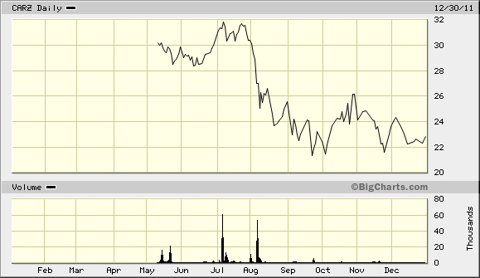 But 2012 brought significantly different results:
The previous "lemon" of an investment in the auto manufacturers turned into the "lemonade" of an almost 19% return. (Albeit with a little "lemon shakeup" going on thru the summer.)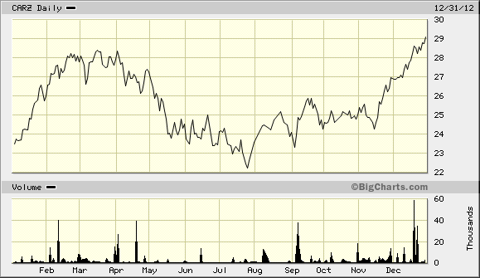 The financials turned around as well in 2012 with a 26% return: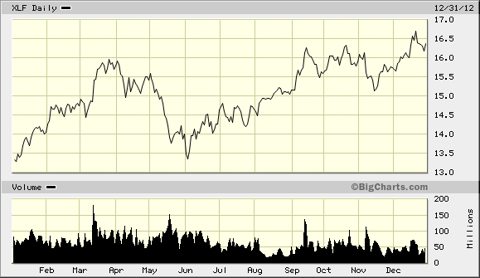 And the Pièce de résistance for 2012 turned out to be the previously unwanted iShares Dow Jones US Home Construction, up a phenomenal 76% for the year:
So what about 2013?
With the fear trifecta of the supposed most important election of our lifetimes, the terrifying Mayan Apocalypse, and financial Armageddon of the fiscal cliff, conventional wisdom said 2012 would be a great year for volatility, shorting the market and fleeing to the perceived safety of all that gold the miners had yet to extract.
Conventional wisdom, in this writer's opinion, is more often than not, neither conventional nor wise. Case in point:
The bears in the form of the Ranger Equity Bear ETF (NYSEARCA:HDGE) lost over 26%: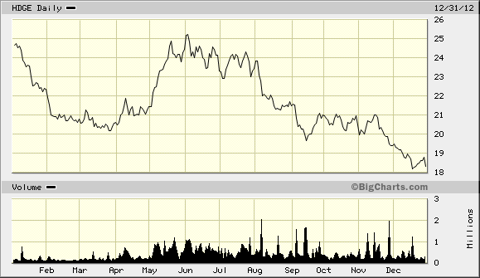 The miners in the vehicle of the Global X Gold Explorers ETF (NYSEARCA:GLDX) lost just under 32%: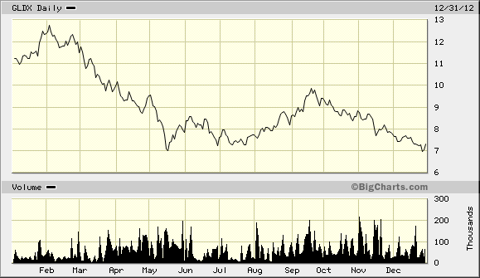 And those betting on volatility got their shirts handed to them if they held a long position for any length of time. The iPath S&P 500 VIX ST Futures ETN (NYSEARCA:VXX) lost over 77% in 2012:
So, was conventional wisdom wrong again? Or was it just the timing?
2013 should be pretty boring shouldn't it? Pretty boring. Pretty safe. Pretty calm markets overall. And those lousy gold miners will never get their act together… or will they?
When I was an up and coming young stock jock, one of the sagest, wisest stock brokers I know… and he was approaching sixty years in the business at the time, first shared with me those oft repeated words of contrarian wisdom: "Buy when things can't possibly get worse. Sell when they can't possibly get any better." Now I'm not a professional contrarian, nor do I play one on TV. I just wanted to share some data with you.
May you have a robust and profitable 2013.
Disclosure: I have no positions in any stocks mentioned, and no plans to initiate any positions within the next 72 hours. I wrote this article myself, and it expresses my own opinions. I am not receiving compensation for it (other than from Seeking Alpha). I have no business relationship with any company whose stock is mentioned in this article.
Additional disclosure: The contributing author, Binkley Wealth Management Group, LLC, and/or its clients may be pursuing the strategies and may or may not hold positions in securities mentioned in this article at the time of publication. The opinions and strategies expressed are not meant to taken as advice to any individual investor. The opinions and strategies discussed are not to be construed as personalized recommendations to buy, sell or hold securities by any individual investor without first consulting with their own personal financial advisor.