With the recovery continuing for the financial stocks, Citigroup (NYSE:C) looks like a strong investment for the long-term. The U.S. and world economy is slowly chugging along. The U.S. housing market has turned around with prices on the rise again and record low interest rates to entice buyers. These conditions are positive for Citigroup as the company's services will be increasingly needed.
The compelling thing about Citigroup is its undervaluation. The stock is currently trading with a forward PE ratio of 8.51 and a PEG of 0.91. The most attractive valuation statistic is the fact that the stock is trading 38% below its book value per share (stock price of $39.56 vs. book value per share of $63.58). Most stocks trade above their book value per share. Many of Warren Buffett's stocks trade between two to four times their book value per share. Citigroup's stock will eventually rise above its book value per share as its fundamentals continue to improve.
The stock price overshot to the downside as a result of the financial crisis. The price should continue to rise as earnings continue to grow. Citigroup is expected to see an 18% increase in earnings for 2013. The company is expected to grow earnings annually at 11% for the next five years. As the economy improves, the need for Citigroup's loans and other financial services for individuals and businesses will increase. This will allow the company to meet or exceed its expectations.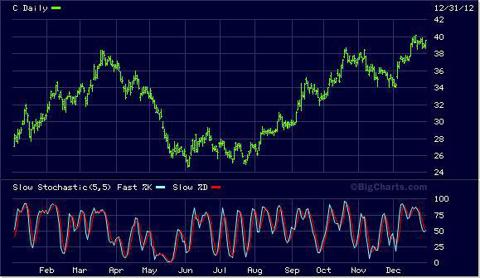 Although there are short-term risks with the stock, I think having a long-term investment perspective will prove successful. In the short-term, if the U.S. entered another recession, Citigroup's stock could lose 50% or more of its value. However, if that happened, the subsequent economic recovery would bring the stock back up quite rapidly. Therefore, when I'm talking long-term, I'm looking 5 or more years into the future.
Financial stocks have had a nice run in 2012 and unless we see a recession in 2013, I think the bull run will continue. The long-term potential rewards should outweigh the risks for Citigroup. With the stock selling under its book value per share, it has some catching up to do. Stocks selling under their book value per share can rise quite rapidly. Bank of America (NYSE:BAC) doubled in price in 2012 and still trades well below its book value per share. It's not too far-fetched to say that Citigroup could double in the next year or two, given its low valuation and strong earnings expectations.
I think that a healthy string of exceeding earnings expectations will continue to propel the stock higher. The company has already put together 3 straight quarters of exceeding earnings expectations by 10% or more. If this continues, the stock will continue rising.
Overall, Citigroup stock should perform better than the S&P 500 for at least the next five years. The average company in the S&P 500 is expected to grow earnings annually at about 9% for the next five years. Citigroup is expected to grow 11% annually over the same period. The stock should beat the S&P even if it was fairly valued. However, since Citigroup is trading so far under its book value per share, I think the stock will crush the performance of the market.
Disclosure: I have no positions in any stocks mentioned, and no plans to initiate any positions within the next 72 hours. I wrote this article myself, and it expresses my own opinions. I am not receiving compensation for it (other than from Seeking Alpha). I have no business relationship with any company whose stock is mentioned in this article.