Shares of CenturyLink (NYSE:CTL) have experienced an almost flat performance in 2012 by returning only 0.4%. The solid run-up of approximately 19.8% to $43.43 till September was almost offset by a pullback to the current share price of $39.12. Has a buying opportunity emerged? In this article, I will elaborate on my valuation analysis which may assist you in formulating the investment decisions.
From a relative valuation standpoint, CenturyLink's valuation appears to be reasonable based on the company's financial performance relative to its peers' (see comparable analysis chart below). Sell-side analysts on average predict the firm's revenue, EBITDA, and EPS to grow at 2-year CAGRs of -0.4%, -0.3%, and 16.7%, respectively, over fiscal 2013 and 2014. Those consensus growth estimates are slightly better than the averages of -1.8%, -1.7%, and 21.8%, respectively, for Frontier Communications (NYSE:FTR) and Windstream (NASDAQ:WIN), which are CenturyLink's primary competitors in the rural local exchange carrier ("RLEC") industry. In addition, CenturyLink's EBITDA margin is forecasted to expand by 0.1% over the same period, fairly in line with the peer average at 0.1% as well. On the profit side, most of CenturyLink's margins slightly underperform the peer averages, and both the firm's ROE and ROIC metrics are below the par. In terms of leverage and liquidity, CenturyLink has the lowest level of debt as reflected by the firm's relatively low debt to capitalization and debt to EBITDA ratios. The company's trailing free cash flow margin at 10.1% is markedly higher than the peer average at just 8.8%. Due to the relatively lower leverage, CenturyLink was able to maintain an above-average interest coverage ratio. Both the firm's current and quick ratios reflect a mediocre liquidity for the corporate balance sheet.

To summarize the financial comparisons, given CenturyLink's relatively in-line growth and profitability performance, the company's stronger free cash flow generating capability as well as its lower leverage level should support a slight premium stock valuation relative to the peer-average level. The stock's current forward EV/EBITDA and P/E multiples of 5.9x and 14.9x are fairly comparable to the peer-average trading multiples of 5.4x and 16.1x (see chart above), respectively, suggesting a reasonable and inexpensive valuation.
To support my view, I also performed a DCF analysis which incorporates the market's consensus revenue and EBITDA estimates from fiscal 2013 to fiscal 2017 (see DCF chart below). Other free cash flow related items including depreciation, tax expense, capital expenditure, and net working capital investment are projected based on their historical level relative to the total revenue as those ratios have been trending quite steadily over time. To be conservative, the terminal revenue growth rate is assumed to be -0.25%, which is lower than the consensus estimated average revenue growth of -0.15% from fiscal 2013 to fiscal 2017. The terminal EBITDA margin is modeled to be the estimated fiscal 2017 EBITDA margin at 42.3%.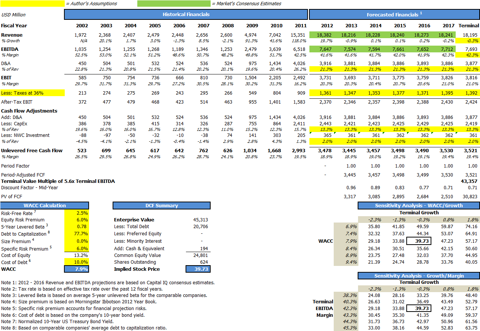 In the WACC calculation, a company-specific risk premium of 6.0% is used to account for the financial projection risk. Due to the current low 10-year Treasury Bond yield, a normalized 10-year risk-free rate is applied in the discount rate calculation. As such, based on a WACC of 7.9% and the terminal growth rate of -0.25%, the DCF model yields a stock value of $39.73, which is almost in line with the current share price at $39.12. Given that the assumptions in the model are fairly conservative, I believe the stock's current valuation should bear a solid margin of safety.
Moreover, the stock's price downside should be somewhat protected by its lofty dividend yield at 7.4%, which is supported by CenturyLink's solid free cash flow generation. As shown in the chart below, CenturyLink's free cash flow has experienced a steady improvement since 2008, the annual free cash flow was more than sufficient to cover the annual dividend payment in every year since 2008.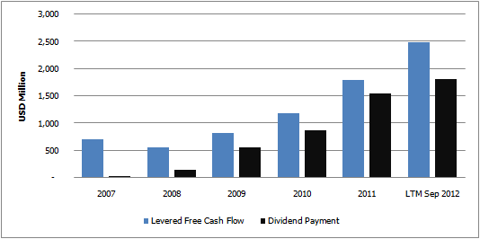 According to Equity Analyst, Thomas Seitz, at Jefferies, CenturyLink's management delivered the following message in his recent company visit (sourced from Thomson One, Equity Research):
"Management is currently weighing all of its options with respect to potential uses of FCF in 2013. The range of options includes, but is not limited to: share repurchases, modest dividend increases and/or continued de-leveraging. The company expects to inform the Street of its intentions in February."
I believe the above comment reflects management's confidence in CenturyLink's free cash flow stability in 2013, and any of those cash deployment options would help in protecting the price downside. Supposing that management pursues the dividend option and raise the annual dividend per share by just 3.5% from the current level of $2.90 to $3.00 in 2013, and further assuming a target dividend yield range between 7.0% and 8.0% as the yield's upside should be weighed by the strong demand for high-yield assets given the current low-interest environment, this scenario would suggest a stock value range between $37.52 and $42.88, or an attractive price return range from -4.1% to 9.6% without even considering the income derived from the 7.4% dividend yield.
Thomas Seitz at Jefferies also elaborated on management's view on CenturyLink's revenue growth in 2013:
"CTL remains focused on four growth initiatives: (1) Broadband expansion & enhancement, (2) Prism TV, (3) Fiber to the tower and (4) Managed hosting & cloud services. CTL believes these services, along with continued strength in enterprise, should return the company to positive YoY revenue growth (2014 vs 2013) at the latest."
Bottom line, in the light of the inexpensive valuation, sustainable dividend yield, and potential growth stabilization ahead, CenturyLink therefore is my top pick in the RLEC sector. I recommend buying the shares directly at the current price or establishing a long position in the stock by selling out-of-money put options to limit the investment risk.
All of the charts in the article are created by the author and all historical and consensus estimated financial data in the article and the charts are sourced from Capital IQ unless specified.
Disclosure: I have no positions in any stocks mentioned, and no plans to initiate any positions within the next 72 hours. I wrote this article myself, and it expresses my own opinions. I am not receiving compensation for it (other than from Seeking Alpha). I have no business relationship with any company whose stock is mentioned in this article.