Last night, the U.S. House of Representatives approved a bill 257-167 with bipartisan support that will keep the United States from falling off the impending "fiscal cliff." In the wake of the U.S. Senate passing the bill at 2 AM Tuesday morning and the U.S. House of Representatives' 11:43 PM decision, the next stop for the bill is the desk of President Obama. President Obama has indicated he will sign the bill into law after he reviews it Wednesday morning (2/1/13).
There are two key components of the bill that are particularly relevant to investors: dividend and capital gains tax rate increases and ordinary income tax hikes in the upper tax brackets.
While these changes seem insignificant compared to what they could have been, it is important for income investors to understand the specific effect these changes will have on their expected ROI in 2013. For instance, while the addition of 3.8% ($250-450K tax bracket) on capital gains and dividend income seems small, the percentage change is 25.33%. With a change of 25.33%, investors can expect a -10.3529% decrease in yield on dividends and capital gains.
In regards to the tax treatment of qualified dividends and capital gains, the worst case scenario has been averted - dividends and capital gains will not be taxed at 39.6%. The 39.6% rate would have been automatically placed into effect if Congress was unable to reach a deal, a frightening prospect for many investors. Instead, Congress has agreed that dividends and capital gains will be taxed at 23.8% for households earning over $450,000 per year. This change represents an 8.8% increase over the 15% rate that stood under the Bush Tax Cuts. The overall increase of 8.8% for high income households includes a 3.8% Affordable Care Act tax and a 5% overall increase from the previous rate of 15%.
For households earning between $250,000 and $450,000, dividend and capital gains taxes will increase from 15% to 18.3% - the only increase arising from the Affordable Care Act surcharge of 3.8%.
Income Tax Treatment
The bill passed by Congress officially sets the upper tax brackets marginal tax rate to 39.6% for individuals earning over $400,000 and 39.6% for married couples earning over $450,000. However, the Affordable Care Act; "healthcare income tax," scheduled to take effect in 2013, adds an additional .9% to the upper income bracket. Including the healthcare tax increase, marginal rates will be set at 40.5% for individuals earning over $400,000 and 40.5% for married couples earning over $450,000.
Dividend Effect and Capital Gains Effect
The effect of an additional 3.8% tax rate in the $250k-450K tax bracket represents a percentage change of 25.333%. The impact this change will have on non-compounded dividends and capital gains is -4.47% compared to 2012. The additional 8.8% in the $450K+ tax bracket represents a percentage change of 58.667% and a negative effect of -10% on dividends and capital gains.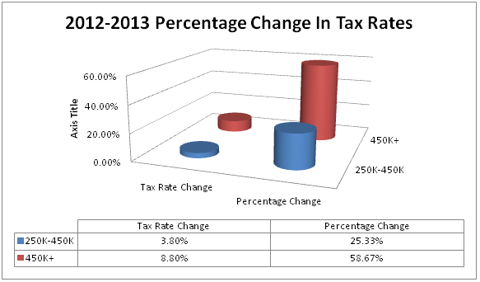 The example below assumes an investment of $10,000 and a 3% dividend yield. The effect tax increases will have on dividends becomes especially apparent in both tax brackets when compared with earnings yields in 2012.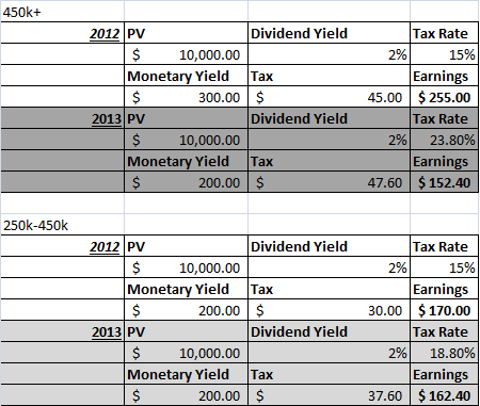 The example above illustrates that the immediate negative impact on investments as a percentage decrease in ROI is -10.35% for the $450K+ tax bracket and -4.47% on dividends in the $250-450K bracket.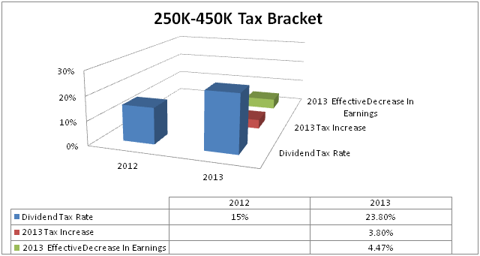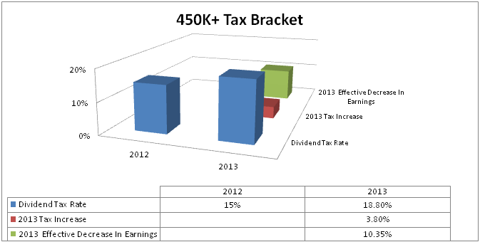 Conclusion: Look at the Bigger Picture
While we avoided the worst case scenario, investors still need to review the effects this bill will have on their portfolios. Looking at the bigger picture and understanding what is motivating institutional capital and high net worth individuals is important for investors in every tax bracket, and I hope this information helps investors make informed decisions in 2013.
Watching the markets' reaction should be very interesting, especially in regards to some of the larger Dow and S&P components with low dividend yields. Large funds and high net worth individuals may begin to move away steady investments with lower yields (<2%) such as Exxon Mobil (NYSE:XOM), Alcoa (NYSE:AA), Apple (NASDAQ:AAPL), Cisco (NASDAQ:CSCO), Walt Disney (NYSE:DIS) and Bank of America (NYSE:BAC) in exchange for higher yielding investments. If they do, it could create and opportunity for retail investors to pick up blue chip bargains.
Disclosure: I have no positions in any stocks mentioned, and no plans to initiate any positions within the next 72 hours. I wrote this article myself, and it expresses my own opinions. I am not receiving compensation for it (other than from Seeking Alpha). I have no business relationship with any company whose stock is mentioned in this article.