Peter Lynch is one of the all time great mutual fund managers. From 1977 through 1990 Lynch's Magellan Fund averaged a 29.2% annual return. Good investing requires patience, but compounding money at that rate will make you rich in a hurry.
Lynch's most famous advice to aspiring equity investors is to "Buy What You Know". The premise being that if you focus on companies in your line of work or area of expertise it provides an advantage to investors and helps mistakes be avoided. It makes so much sense I thought I'd give it a try.
I'm a gym rat, I always have been. It isn't something that is a hobby at this point for me, it is pretty much a part of daily life. Most people have to drag themselves to the gym to lift weights, I struggle to take a day off. And when you are working as hard as I do at the gym you want to see maximum results, which is where diet and supplements play as big a part as the exercise itself. These supplements like the gym visits become a part of life.
It occurred to me the other day that if I'm such a loyal user of some of these products, then a lot of other people likely are too. And that might mean the company producing them is a Peter Lynchian "Buy What You Know" opportunity for me.
Muscle Pharm Corp. (MSLPD.OB)
My starting point in my search for a "Buy What You Know" investment opportunity in the diet and supplement sector was the list of products that I have used over the years. I traced each product back to the company that manufactures it so that I could consider that company as an investment opportunity. The one company that caught my eye was the manufacturer of "Assault" which is a pre-workout drink that I have used and some friends swear by.
This product is manufactured by MusclePharm Corporation which according to its website:
Headquartered in Denver, Colorado, MusclePharm Corporation is the healthy lifestyle company that truly lives and breathes the healthy lifestyle. MusclePharm develops and manufactures a full line of nutritional supplements that are free of banned substances, working with approved organizations like Informed-Choice. Our products are the result of years of exhaustive research at the MusclePharm Sports Science Center Research Institute. Top nutritional scientists and doctors utilized an advanced six-stage research protocol, then field-tested each supplement with the help of hundreds of professional athletes from the National Football League, Mixed Martial Arts and Major League Baseball.
What caught my eye about Muscle Pharm from an investment point of view is how miniscule the company's market capitalization is relative to the amount of revenue the company generates.
Muscle Pharm has an enterprise value of roughly $20 million when you factor in all relevant balance sheet items. For 2012 (see quarterly sales trend below) Muscle Pharm is going to have roughly $70 million in sales. If even a small amount of those sales could make it into the hands of shareholders there is potential for a much larger enterprise value and higher stock price.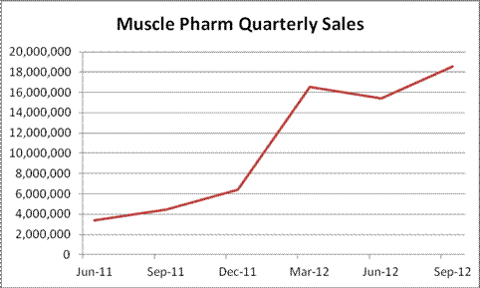 Click to enlarge
A valuation multiple of ten on $5 million of net income would be a $50 million enterprise value. If sales were to keep growing in the future perhaps a ten multiple on $10 million of net income would be possible. That would be a serious multi-bagger from the current share price.
Balance Sheet
When you see this kind of relationship between enterprise value and sales you know you are looking at a company that has some issues.
The low valuation relative sales is interesting because there is potential there. There is a lot of work to do between potential and actual results.
Issue number one for Muscle Pharm is its balance sheet which looked like this at its most recent quarter end:
| | | | |
| --- | --- | --- | --- |
| Current Assets: | | | |
| Cash | | $ | 634,870 |
| Cash - restricted | | | 74,202 |
| Accounts receivable - net | | | 4,037,872 |
| Inventory | | | 396,873 |
| Prepaid stock compensation | | | 92,032 |
| Prepaid sponsorship fees | | | 28,489 |
| Other | | | 569,438 |
| Total current assets | | | 5,833,776 |
| Property and equipment - net | | | 1,482,160 |
| Debt issue costs - net | | | 376,373 |
| Other assets | | | 117,310 |
| Total assets | | $ | 7,809,619 |
| Liabilities and Stockholders' Deficit | | | |
| Current Liabilities: | | | |
| Accounts payable and accrued liabilities | | $ | 10,114,183 |
| Customer deposits | | | 929,722 |
| Debt - net | | | 3,879,208 |
| Derivative liabilities | | | 24,889 |
| Total Current Liabilities | | | 14,948,002 |
| Long Term Liabilities: | | | |
| Debt - net | | | 159,210 |
| Total Liabilities | | | 15,107,212 |
| Commitments and Contingencies | | | |
| Total Stockholders' Deficit | | | (7,297,593 |
| Total Liabilities and Stockholders' Deficit | | $ | 7,809,619 |
The problems are not hard to see as the company has $5.8 million in current assets versus $14.9 million in current liabilities. This company needs funding to clean this up and it needs it pretty quickly.
The solution to this is likely going to require some dilution for current shareholders.
Cost Structure Needs Fixing
Muscle Pharm has done a good job creating a product that has attracted a loyal customer following. The company is going to hit $70 million in sales in 2012.
Now that a certain critical sales mass has been hit and loyalty among consumers created, it is time to get spending under control.
For an idea of what is possible in terms of sales making it to the bottom line for a company similar to Muscle Pharm, I thought I'd look at Schiff Nutrition which was acquired by Bayer (OTCPK:BAYZF) in 2012.
The slide below is from Schiff's final presentation as an independent publicly traded company.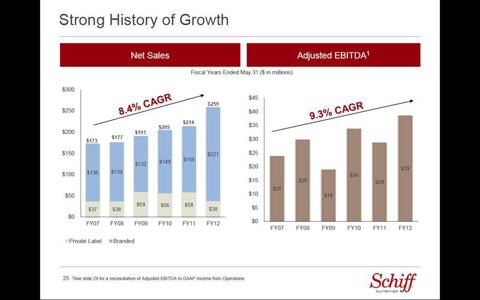 Click to enlarge
Including what was projected for 2012 Schiff's sales and EBITA looked like this:
| | | | |
| --- | --- | --- | --- |
| Year | Sales | EBITA | % |
| | | | |
| 2007 | 173 | 25 | 14.45% |
| 2008 | 177 | 28 | 15.82% |
| 2009 | 191 | 19 | 9.95% |
| 2010 | 205 | 34 | 16.59% |
| 2011 | 214 | 29 | 13.55% |
| 2012 | 259 | 39 | 15.06% |
On average, roughly 15% of Schiff's sales made it through as EBITA. If Muscle Pharm could steamline its spending and cost structure to achieve a similar margin on its $70 million of sales the company would create EBITA of $10.5 million.
A five multiple on $10.5 million of EBITA would be $52.5 million which is more than 3 times the current market cap of Muscle Pharm.
This is all nice in theory, but that is going to take a lot of work for a company that through September had in income statement that looked like this:
| | | |
| --- | --- | --- |
| Sales - net | | 50,563,746 |
| Cost of sales | | 40,345,528 |
| Gross profit | | 10,218,218 |
| General and administrative expenses | | 16,420,665 |
| Loss from operations | | (6,202,447) |
On the nine month revenue figure of $50 million Muscle Pharm would need $7.5 million of income from operations to match Schiff. That means coming up with over $13 million of cost savings. Is that achievable? I'm not sure, but I think there is some potential for savings because these products have reached a certain level of popularity that will allow for:
- Reduced spending on marketing
- Better contracts with distributors (such as GNC) now that the products have increased in popularity
- More direct high margin online direct sales
Is This An Investment or Speculation?
It's a speculation, there is no doubt about that. The balance sheet needs to be addressed quickly and the cost structure totally revamped. This is a rapidly growing young company with a lot of issues. If everything works out shareholders buying at current prices could make a ton of money, but the odds of that result are impossible to predict.
Realistically, the best and safest result here for a shareholder might be to sell the company to a much larger entity which could then simply add the Muscle Pharm products to its line and eliminate all of the overhead, and expensive distribution terms related this company existing as a stand-alone business.
Muscle Pharm has succeeded in creating a desirable line of products. Now it has to succeed in making selling those products profitable.
To do that is going to require some very hard work reducing costs.
Disclosure: I have no positions in any stocks mentioned, and no plans to initiate any positions within the next 72 hours. I wrote this article myself, and it expresses my own opinions. I am not receiving compensation for it (other than from Seeking Alpha). I have no business relationship with any company whose stock is mentioned in this article.