Nokia Siemens Networks B.V., headquartered in Espoo, Finland, is a multinational data networking and telecommunications equipment company. Nokia Siemens Networks is a joint venture between Nokia (NYSE:NOK) of Finland, 50.1% control, and Siemens (SI) of Germany, 49.9% interest. With operations in around 150 countries, Nokia Siemens Networks generated €14.041 billion ($18.65 billion) in 2011, ranking behind Ericsson, Huawei, and Alcatel-Lucent (ALU).
The company is in the process to eliminate 17,000 jobs by the end of 2013 after the $1.2 billion acquisition of Motorola's mobile network equipment business in July 2010. The company is focusing on mobile broadband equipment business, the fastest-growing segment of the market. The reductions will eventually trim the company's annual operating expenses by $1.35 billion by the end of 2013. As last reported by Reuters, the company is ahead of its restructuring. As reported on Oct. 18, 2012,
"Nokia Siemens underlying operating profit jumped to 323 million euros ($424 million) from 6 million a year ago, beating all analysts' expectations. Sales of the fourth-generation high-speed LTE network equipment in Japan and Korea helped to boost profits and lifted group sales 3 percent from a year ago to 3.5 billion euros, beating all analysts' expectations in a Reuters poll."
Latest Developments
On Dec. 20, 2012, Guangdong Mobile, China Mobile (NYSE:CHL)'s largest subsidiary, had selected Nokia Siemens Network's Serve atOnce Intelligence customer and business analysis suite. This deployment supports Guangdong Mobile's Signaling Data Sharing Platform project, a unique initiative to create a unified platform for consolidation, analysis and sharing of signaling data.
On Dec. 11, 2012, according to Infonetics, Nokia Siemens Networks achieved the largest increase for LTE market share in the third quarter of 2012, growing from 13% to 21.5% and nearly closing the gap with the market leader. As reported, Nokia Siemens Networks' share increase reflects the company's strong position in every major account in Japan (NTT DoCoMo, KDDI and Softbank Mobile) and South Korea (KT, SK telecom and LGU+) as well as the T-Mobile rollout in the U.S. The company continues to gain in North America through the T-Mobile USA W-CDMA and LTE rollout, adding one percentage point over the second quarter of 2012, also reports the market research firm.
On Oct. 25, Nokia Siemens Networks extended its partnership with China Mobile with a new deal for the deployment of TD-LTE in three cities by the end of 2012. As reported, "the deployment is part of China Mobile's large-scale pre-commercial trial of its TD-LTE network. Nokia Siemens Networks will deploy its TD-LTE 8-pipe radio and Flexi Multiradio Base Stations." The company is also reported to share China Mobile's LTE deals where Nokia Siemens Networks will be involved in two cities, Xiamen and Fuzhou. Although no specific numbers or prices can be confirmed, it is a growing catalyst for Nokia Siemens Networks to participate in China Mobile's TD-LTE network, the world's largest one.
China's TD-LTE Updates
China Mobile launched an integrated TD-LTE/LTE FDD network on Dec. 18, 2012 in Hong Kong, which is a first in Asia-Pacific region. As reported, "TD-LTE represents a technological evolution over TD-SCDMA, third-generation (3G) mobile technology over which China has proprietary intellectual property rights. TD-LTE was recognized by the International Telecommunication Union, ITU, as one of three major international fourth-generation (4G) standards last October. The other two standards are WiMAX championed by the United States and LTE FDD backed by Europe. Tests show the peak rate of 4G mobile broadband can exceed 100mb, about 20 times faster than the 3G broadband rate." China is now determined to facilitate the development of 4G technology after its lesson by adopting TD-SCDMA as the only country, which isolated it from mainstream 3G technologies. As previously reported,
"The Ministry of Industry and Information Technology, MIIT, stated Oct. 2012 that the TD frequency spectrum will include all 190 MHz frequencies within the 2.6GHz frequency range (2500-2690MHz). MIIT Minister Miao Wei said Sept. 2012 that China's first 4G license will be issued in about a year."
China Mobile, currently the only carrier in China that deploys TD-LTE technology, is speeding up the construction of its 4G network, aiming to set up trial networks in 100 large cities by 2013. The company has also sped up the search for ideal terminal devices, announcing in mid-December 2012 that it would procure through an open tender 70,000 units of terminal devices, up from 34,000 units previously planned. However, it may take few more years for 4G chips to mature as predicted by Shi Guang, secretary-general of TD forum, "it may take strong chipmakers one year to develop 28 nanometer chips, and at least another two years to realize mass production (over one million units), which is in addition to the time needed to develop workable software."
Divestment and Closing
On Dec. 4, 2012, Marlin Equity Partners announced its intent to acquire the optical division of Nokia Siemens Networks and its intention to become a consolidator in the optical sector. No financial terms were disclosed. Once the deal is concluded, which is expected to happen in early 2013, about 1,900 Nokia Siemens Networks' staff, most of whom are based in China, Germany and Portugal, will transfer to Marlin.
On Dec. 5, 2012, Redknee Inc. agreed to pay up to €40 million ($52.5 million) to acquire Nokia Siemens Networks' business support systems, BSS, business. Redknee is paying €15 million ($19.7 million) in cash plus performance bonuses of up to €25 million ($32.8 million) more, to be paid over a period of 12 to 36 months. About 1,200 Nokia Siemens Networks' employees would join Redknee, mainly in Berlin, Bangalore and Wroclaw, Poland. The deal is expected to close before July.
On the same day, the company is closing its "non-profitable filed service subsidiary" due to the loss of a key contract with Deutsche Telecom (DTEGF.PK). Up to 1,200 workers could lose their jobs, which is on top of the 17,000 job cuts announced earlier.
Investing through Nokia
For investors who are interested in investing into Nokia Siemens Network, its parent companies of Nokia and Siemens can be reviewed and considered. Nokia, however, will be studied below as it should be more closely impacted with Nokia Siemens Networks.
Nokia currently has an enterprise value of $9.44B with a market cap of $14.66B. NOK currently has a total cash of $11.97B and a total debt of $6.75B. NOK generates a negative operating cash flow of -366.40M with a levered free cash flow of $1.39B. NOK has a book value of $2.74 per share.
NOK closed at $3.95 with 3.67% gain on Monday. The volume of 34.51M was 53.88% of 30-day average volume of 64.05M. NOK had been trading in the range of $1.63-$5.87 in the past 52 weeks. NOK has a beta of 1.55. The MAD (12, 26, 9) had been showing a bearish trend since Dec. 24, but the MACD difference did not change on Monday. RSI (14) is showing a bullish lean at 58.57. NOK is currently trading above its 50-day MA of $3.27 and 200-day MA of $3.06. The next resistance is $4.14, the R2 pivot point, as seen in the chart below.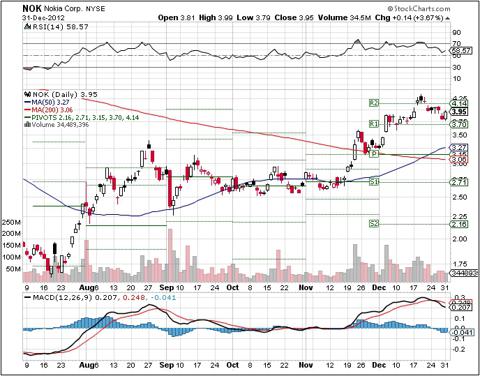 Source: StockCharts.com
Options Play
With improving Nokia Siemens Networks and the Lumia 920T venture with China Mobile, NOK is heading into a better 2013. A credit put spread options play will be reviewed, which will allow bullish investors to acquire NOK stock at a discounted price while gaining some upside potential.
Short 1x April 20, 2013 put at the strike price of $3.50 for the credit of $0.35.
Buy 1x April 20, 2013 put at the strike price of $3.00 for the cost of $0.19.
The maximum profit is $0.16, and the maximum risk is $0.34 ($0.5 loss - $0.16 credit received). If NOK closes above $3.50 on April 20, 2013, 47.06% return on margin will be gained. If NOK falls below $3.50 upon options expiration, NOK stock will be acquired at $3.34, which is 15.44% lower than the current price of $3.95.
For bullish traders who do not want to acquire the stock, a debit bull spread of April 20, 2013 $4.00/$5.00 call can also be reviewed. The cost is $0.27, and the maximum profit is $0.73.
Note: All prices are at the time of writing on December 31, 2012 and all calculations are before fees and expenses. Investors and traders are recommended to do their own due diligence and research before making any trading/investing decisions.
Disclosure: I have no positions in any stocks mentioned, but may initiate a long position in CHL over the next 72 hours. I wrote this article myself, and it expresses my own opinions. I am not receiving compensation for it (other than from Seeking Alpha). I have no business relationship with any company whose stock is mentioned in this article.