There's an old saying that says, "If you can't stand the heat, then get out of the kitchen!" So it's January 2013 and Celsion's (NASDAQ:CLSN) phase III HEAT trial is about to report at any time. Shorts and longs are actively promoting an opposite outcome. Therefore, where does this leave the common investor?
Celsion's share price has been churning. Right now the share price is mid-range between higher highs and higher lows. The heat is on.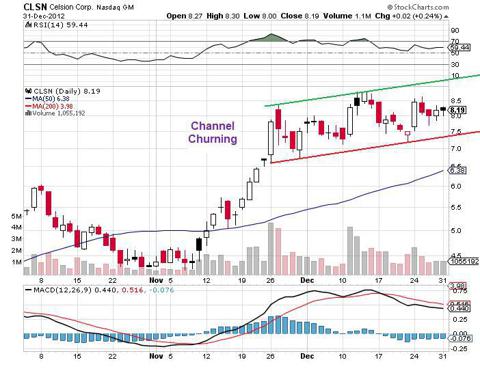 Targeting a deadly cancer, hepatocellular carcinoma is the target of Celsion's Thermodox drug-delivery technology of doxorubicin. Opposite viewpoints vehemently argue for a starkly different outcome. Let's examine these--
The Short Case
The short case predicts failure. In no particular order, the main arguments to date include:
1. The data pool from preclinical and phase I studies are too small to predict a positive HEAT outcome. It has to be conceded, animal studies are not necessarily predictive of human studies and phase I studies not only target an extremely small population, but are tailored to identify maximum and safe dosage amounts. That longs point to these studies as sure-fire proof seems brazen, but shorts also have no less equal ground to claim failure.
2. Other methods such as transcatheter arterial chemoembolization and doxorubicin-bead embolization do not necessarily support a positive HEAT outcome including radiofrequency ablation plus transcatherter arterial chemoembolization. Yet it's also equally true that these other methods do not necessarily disprove Thermodox and/or its advantages. Direct correlations between study regimens can be extremely tricky since the variability between each methodology is just as complex as the patients themselves.
On the other hand, the above arguments cannot also be used to disprove Celsion's HEAT trial either. The plain truth is, just as longs are banking on success, shorts are banking on failure. Candidly, if a phase IIB clinical trial had preceded the current phase III clinical study, the predictive outcome wouldn't be so volatile.
However, orphan drug status and fast track status do not guarantee a positive outcome. If the short case is correct, Celsion's overly zealous supporters could be in for a shocking outcome. Having followed biotechs, Celsion's management team is overtly confident and while longs love their dedication, a blinded study is a blinded study. The short case needs to be taken seriously. Heed the warning: Never invest more than you're willing to lose.
The Long Case
The long case predicts success. In no particular order, the main arguments to date include:
1. The addition of Thermodox widens the zone otherwise not address by radiofrequency ablation alone. This argument is at the heart of the Thermodox thesis. Like a dart board, the addition of Thermodox is said to widen the cancer-killing zone.
2. A repeat application of radiofrequency ablation is applicable to both arms of the HEAT phase III clinical study. The suggestion here is that a repeat treatment (allowed by the study) could further widen the treatment area. This implies a repeat treatment in the Thermodox arm suggesting that it would further widen its margins.
3. The placebo arm, since it targets tumors greater than 3 cm to 7 cm, is designed to fail, so if Thermodox is effective, the efficacious results could be either a raving failure or a stellar success. This is really the crux of the HEAT study; however, the results won't be known until Celsion releases the data.
Others will disagree and are entitled to do so, but I think the scientific mechanism of radiofrequency ablation plus Thermodox favors a positive clinical trial outcome. That is my opinion. The wider margins makes sense and repeat intervention allowed by the clinical trial appears to favor an even greater widening of the ablation/Thermodox zone. Knowing how radiofrequency ablation alone has failed to effectively treat tumors in the larger range of the clinical trials that suggests that the chemotherapeutic intervention of doxorubicin in highly concentrated levels will promote a favorable outcome, yet that is to be seen.
Keep In Mind
The ability of entertaining the short and long case makes for a savvy investor. The goal is to make money and not to prove that you were correct. Having had numerous bullish articles published supporting a positive HEAT phase III outcome is as much as about reading the opposite viewpoint as my own. Contrary opinions are welcome.
Management and longs are extremely bullish and shorts repeatedly fire shots in the opposite vein. Who is correct could be the difference between registering a monumental loss or a monstrous gain. But who is correct? If Celsion's trial fails, then expect lawyers to line up. Let's hope Celsion's CEO Tardugno is not using the exuberant playbook of BioSante's (BPAX) CEO whose female libido drug fizzled in phase III. Just remember why you invest: it is to make money and not to be able to say that you were correct. Going with the hunch that you are wrong could save or earn you that big payday or save you from losing your shirt.
Over the weeks leading up to January 2013, it's puzzled me how Celsion's management has so accurately predicted the end of primary end-point clinical design. Do they know something? It's intrigue me to know that frequent reviews of the phase III trial as Thermodox patients lose their hair and cemetery graves get filled, that maybe, just maybe someone knows how to hedge their bets. But comments like this cannot be entirely dismissed if a balding-patient (a side-effect of doxorubicin) has gone two full years without carcinoma recurrence or those with a full head of hair are keeping Chinese funeral parlors in business. Don't say that someone doesn't know because millions of shares, up or down, will get traded while common retailers hold their breath. But it has to be admitted: Celsion has not diluted one share going into phase III clinical results--that's utterly amazing considering the firm was up almost 400% in 2012. Can the Celsion team be more bullish?
You invest to make money, therefore you cannot afford to think that you're going to be right all the time. Nevertheless, you can try to be in the right place at the right time. If you're a little bit uneasy going into results, don't feel guilty or let the talk of longs or shorts get to you. You have to do what's right for you. Remember that. Those boys on Wall Street want your money.
In 2012, in contrast to Wall Street professionals I correctly predicted the outcome of Acadia's (NASDAQ:ACAD) pimavanserin's phase III clinical trial and while the market's silence was deafening, I wasn't any less nervous than I am now about Celsion's HEAT trial. While Thermodox's heat-triggered release makes logical sense and its high payload dose-delivery of chemotherapeutic doxorubicin makes sense too, I also know that for decades liver cancer has evaded a cure.
There is however one general observation that stands out regarding Celsion's phase III clinical trial:
The timing of the trial has executed like clockwork. That either means that both clinical arms are failing at the same rate to 380 events or one arm has a distinct advantage over the other.
There is also one scientific fact that has kept me holding:
The 10-12x increase bombardment of anti-cancer cell doxorubicin favors a greater treatment margin in combination with radiofrequency ablation thereby promoting greater necrosis into regions otherwise missed by radiofrequency ablation alone.
Indeed, the heat is on. Buy, hold, or sell, yes... the heat is on.
Disclosure: I am long CLSN, CVM, QCOR. I wrote this article myself, and it expresses my own opinions. I am not receiving compensation for it (other than from Seeking Alpha). I have no business relationship with any company whose stock is mentioned in this article.
Additional disclosure: You are warned not to use this article for individual investor advice. Investing in any of the stocks mentioned in this article could result in the loss of your entire investment. This article is for entertainment purposes only. You are duly warned to seek the advice of a market professional. For me 'long' is until I sell. I do not 'short' stocks. I may buy and/or sell any stock at any time referenced in this article.