When it comes to traditional dividend investing, many investors are quite happy with lesser-volatile, higher-yielding stocks that paid out regular distributions like clockwork. That being said, I think such a theory can apply to one ETF in particular that has returned at least 10% on the year, is focused on high-yielding smaller cap investments, and carries a very low expense ratio.
Wisdom Tree Small Cap Dividend ETF (DES): Over the past year DES has returned 11.44% to its shareholders while providing investors with a trailing twelve month yield of 4.03% (as of Dec. 31st) or $2.057. One of the most compelling things the Wisdom Tree Small Cap Dividend ETF is its sector by sector weightings which are led by Financial Services (33.14%) and Real Estate (21.18%). The fund's top five holdings represent 6.71% of its assets and consist of positions in Apollo Investment Corp. (NASDAQ:AINV), Commonwealth REIT (NYSE:CWH), Prospect Capital Corp. (NASDAQ:PSEC), Corporate Office Properties Trust (NYSE:OFC), and Healthcare Realty Trust Inc. (NYSE:HR). By breaking down the ETFs top holdings we'll see an average annual return of 14.988% coupled with an average yield of 7.582%. If the US housing markets and financial services sector can demonstrate considerable gains throughout 2013, DES's returns could mimic or even surpass the gains that were demonstrated during 2012.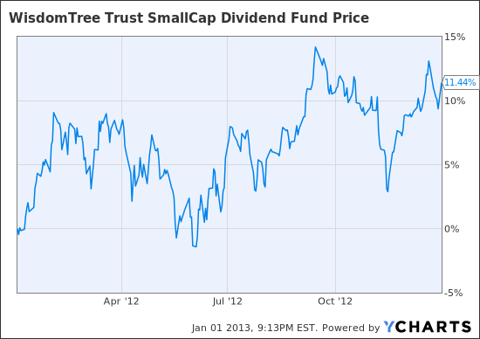 Are there any negative catalysts to consider when it comes to the Wisdom Tree Small Cap Dividend ETF? In order for us to determine the ETF's negative catalysts possibly affecting the fund, I've examined three of the funds top holdings in an effort to highlight some of the potentially negative catalysts.
Apollo Investment Group: Although Apollo has returned 24.78% to shareholders in the last 12 months; it has reduced its dividend by a total 61.53% since December 2008. If such behavior continues through 2013, this could negatively impact the distributions the fund makes to its shareholders.
Commonwealth REIT: During Commonwealth's Q3 conference call, it was noted by the company's Managing Trustee, Adam Portnoy, that, "on a consolidated same-store basis, our occupancy declined 80 basis points to 83.3% and NOI declined by 2%. The decline in same-store NOI primarily reflects the decline in occupancy in our suburban office portfolio". Since occupancy is a major catalyst for Commonwealth, any issues arising or resulting in the reduction of occupancy could result in a reduction of revenues for the company.
Prospect Capital Corp: Analysts are expecting Prospect to demonstrate negative growth of -39.20% for the quarter, and -9.20% for the year. If the company fails to meet or exceed analysts' growth estimates we could see shares nosedive and as a result affect the ETF's performance.
Could the Wisdom Tree Small Cap Dividend ETF potentially mimic its 2012 performance? There's a very good chance of that happening, especially if we consider the projected rebound in both the housing and financial services sectors during 2013. According to Pat Mertz Esswein, Associate Editor at Kiplingers, "All the positive trends for the housing market will drift into 2013, becoming more entrenched as the economy picks up steam in the second half of the year, says Celia Chen, a housing economist at Moody's Economy.com. Market observers agree that home prices will keep rising in 2013, but they disagree by how much". Even if the housing prices increase by a mere 2%, it's certainly a step in the direction.
When it comes to the financial services sector, a certain level of uncertainty still exists and that may play a key role in the sectors overall performance throughout the year. According to the 2013 AFP Business Outlook Survey, "Financial professionals remain cautious in their business outlook for 2013 as they expect the U.S. economy to maintain a modest pace of growth and job creation. Specifically, financial professionals anticipate the economy will grow 1.7 percent (real GDP growth) and create 1.3 million jobs during 2013".
Final Analysis
For potential investors looking to establish a position in the Wisdom Tree Small Cap Dividend ETF, I'd take a closer look at the fund and keep in mind behavior of both the housing and financial services sectors. Given the fact the fund had made considerable strides over the past year, I'd look to establish a small-to-moderate position at current levels, and add to that position if and when positive news regarding any of its top holdings occurs.
Disclosure: I have no positions in any stocks mentioned, and no plans to initiate any positions within the next 72 hours. I wrote this article myself, and it expresses my own opinions. I am not receiving compensation for it (other than from Seeking Alpha). I have no business relationship with any company whose stock is mentioned in this article.