In 2012, a long standing tradition kept hold. High yield bonds produced their best monthly returns in January. In fact, each ratings cohort (BB, B, and CCC) produced its best monthly returns in the first month of last year.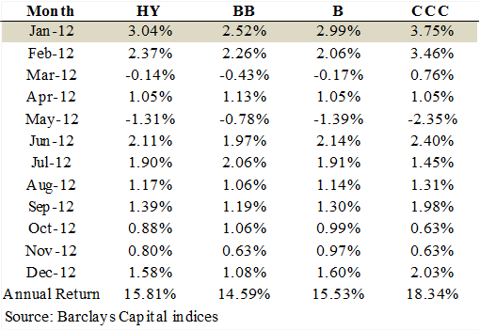 Click to enlarge
While market pundits will breathlessly recount the January Effect in equities, it has not proven to a reliable source of excess return in that market. Over the last thirty years, returns in January for the S&P 500 have not been statistically different than returns in other months. From 1984-2011, average returns in January for the S&P 500 were the tenth highest of the twelve months.
In the high yield bond market, excess returns in January have been statistically significant. Over the last thirty years, January high yield returns have been the highest of any month with the variability of returns being the second least, marking a far departure from flagging equity returns at the start of the year.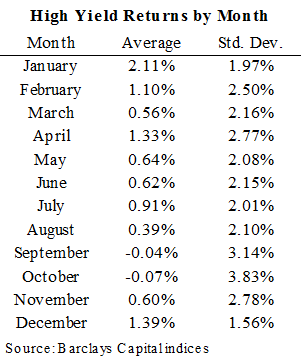 Comparing average high yield returns by month versus returns from the S&P 500 (NYSEARCA:SPY) demonstrates that returns in high yield bonds historically have outperformed equities in January by a wide margin, a difference greater than in any other calendar month.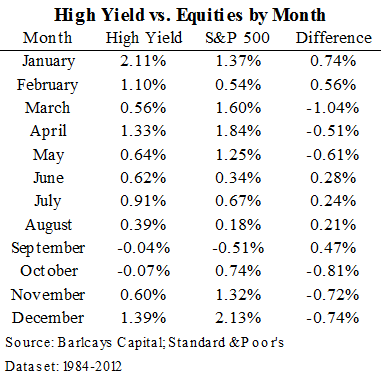 This reliable calendar effect is likely driven by a confluence of factors. Unlike equity markets which will produce only several dozen domestic IPO's in even the most bullish of years, multiple new high yield bond issues will come to market each day when credit investors are receptive. 2012 was a record year for high yield bond issuance, but despite the very high supply, markets still slow down materially around the Christmas holiday and early in the new year. In a dealer-driven market as opposed to the exchange-traded equity markets, market participants need to be at their desks to support deal flow. Issuers will obviously not bring deals if a market holiday slackens demand, increasing yield and interest expense on term debt that will be outstanding for many years. This temporary absence of supply, combined with a re-setting of return objectives at high yield buyers at the beginning of the calendar year could lead to a favorable demand/supply imbalance that increases prices early in the new year. Year-end window dressing of higher risk exposures at typical large high yield bond buyers like insurance companies, which hold increasing levels of capital against speculative grade credits, could also depress prices in the fourth quarter only to see performance reverse in January.
Whatever the reason behind this financial market anomaly, Seeking Alpha readers should understand that the January Effect is a high yield bond phenomenon. With high yield bonds' record performance driving yields towards record lows, excess returns above the average coupon will be hard to come by in 2013. I still expect that an outsized portion of this outperformance will continue to come in the first month of the year.
*All high yield bond return data in this article is from the Barclays Capital U.S. High Yield Index. This index is replicated by the SPDR Barclays Capital High Yield Bond ETF (NYSEARCA:JNK).
Disclosure: I am long SPY. I wrote this article myself, and it expresses my own opinions. I am not receiving compensation for it (other than from Seeking Alpha). I have no business relationship with any company whose stock is mentioned in this article.