As part of my 2013 previews and predictions, I will focus on stocks to watch in the new year. Last year, I chose 7 growth names and 7 value names to focus on. This year, I am upping the number to 10 in each category to try to get a little more diversification and expand on the number of sectors each list can hit. In this article, I will focus on the first half of the growth names. Now, to be on this list, a company doesn't necessarily need to have huge projected growth for 2013. This list also includes several companies whose stock prices are depressed as they look for a big rebound in 2013 after trouble in 2012. Also, some of the companies have a certain item of growth that investors will be looking for, maybe a certain product, or margins, etc. Over the next couple of days, I will have four articles, two for growth and two for value, that each will contain five names, in no particular order. Here is part one, with five growth stocks to watch in 2013.
Apple (NASDAQ:AAPL)
If you thought Apple's growth days were over, you are sadly mistaken. Apple is still expected to show plenty of growth in its 2013 fiscal year, which ends in September. Analysts currently expect Apple to produce $191.58 billion in revenue for the year and $48.80 in earnings per share. When you adjust the prior-year period for the extra fiscal week, that represents adjusted yearly growth of 25.1% and 13.1% for revenue and earnings, respectively.
There will be several areas of growth for Apple, and it begins with the iPhone. In the just ended fiscal Q1, Apple is expected to sell somewhere around 45 million iPhones, which would represent nice growth from last year's 37 million iPhones, and that quarter had an extra week in it. Apple's new iPad mini will also be a huge source of growth, and while it may take away some regular iPad sales, Apple is finding a way to get more tablets to consumers. What else does Apple have in waiting? Well, perhaps a TV, and maybe even a new iPhone in June.
The other growth item investors will be looking for is the growth in Apple's cash pile. At the end of its most recent fiscal year, Apple had $121.25 billion in its cash pile, made up of cash, short-term investments, and long-term investments. That number was up approximately $40 billion from the end of the prior year. Of that huge pile, about $38.65 billion was held inside the United States, and that is important, because Apple uses its domestic cash for the dividend and the stock buyback. Apple's cash pile should grow around the same amount this year, as cash flow will be helped by higher net income, but offset by the buyback and extra dividends (Apple only paid one dividend in the last fiscal year). In my 2013 predictions article, I stated that I thought Apple would raise that dividend to $3.00 a quarter during 2013. The increase in the cash pile should allow that, as well as some share buybacks. Apple goes into 2013 yielding 1.99%.
While Apple is well off its $705 plus high, the stock has done extremely well over the past four years. Apple was up 32.57% in 2012, after a 25.56% gain in 2011. In 2010, the stock soared 53.06%, and in 2009, the stock more than doubled, up 146.09%. Apple will be looking to continue those gains in 2013. If Apple were to return to that $705 high next year, it would represent another 32.5% rise. Analysts see a nice year, with the median price target at $750 currently.
SodaStream (NASDAQ:SODA)
SodaStream allows you to make your own soda at home. The company is very small compared with the likes of Coca-Cola (NYSE:KO) and Pepsico (NYSE:PEP), but SodaStream is growing fast. The company is expected to see revenue grow by 46.7% this year, highlighted by a move into Wal-Mart (NYSE:WMT) stores earlier in 2012. Analysts currently see 2013 revenue growth of 17.5% to $498 million, but one of my 2013 predictions was that SodaStream will do over $525 million in revenue next year.
The first reason why growth will be spectacular is an expected move into China and India, the two most populated countries on the planet. The second reason is that the company has embarked on a huge global ad campaign, which includes a Super Bowl commercial. The commercial will show what the company is all about, which should definitely help sales. Last year's Super Bowl drew over 111 million U.S. viewers, the most-watched program in U.S. television history. That's a very large audience and SodaStream's commercial will expand the brand image greatly. Those who don't know SodaStream will soon, and I think the U.S. growth numbers will be great in 2013. Add in the international growth, and you have the potential for a great year.
SodaStream shares rallied in the last month of 2012, which netted a 37.32% gain for the year. The stock is still well off its nearly $80 all-time high, but those levels were very unrealistic at the time. The company trades at 17.2 times expected 2013 earnings, which is a fair valuation given the growth potential. However, the stock is at the upper end of the $30 to $50 range. The short sellers love this name, with about 40% of the outstanding shares short as of mid-December. SodaStream is set up for a great 2013, but investors looking to jump in might want to wait for the next pullback.
Zillow (NASDAQ:Z)
The real estate marketplace site is poised for tremendous growth in 2013. The company's third-quarter report seemed a bit disappointing, and the stock has declined. Analyst expectations have come down, which makes it easier for the company to meet or beat in 2013. Zillow's fall presented an opportunity.
Zillow is expected to post huge growth in 2012, with revenue expected to rise by more than 72% and earnings by over 138%. While the growth is expected to come down in 2013, analysts are still looking for more than 40% revenue growth and 58% earnings growth.
Now you may say that Zillow is in that social media group, all of which are expected to show huge growth going forward. While that is true to a point, I think Zillow offers the best valuation as well. I've put together the following table to show Zillow versus another real estate site, Trulia (TRLA), and I've compared them against sector heavyweights Facebook (NASDAQ:FB) and LinkedIn (NYSE:LNKD). The table shows expected revenue and earnings growth, for both 2012 and 2013, as currently expected by analysts. Additionally, I've included the price-to-sales and price-to-earnings valuations based on those expectations for each given year.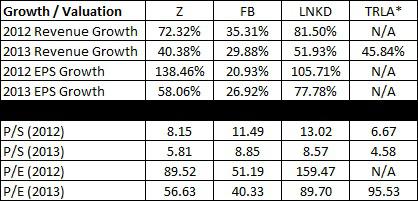 *Some Trulia estimates unavailable, and the company is expected to post a loss in 2012, which makes some numbers not meaningful.
While Zillow isn't expected to show the most growth in this space, I think it offers the best valuation of these names. It's not always about growth, but what you are paying for that growth as well. Zillow is also well off its 52-week high of nearly $47. Now trading for less than $28, analysts see a great deal of upside with the median price target at $39.50. Of the nine analysts that follow this name, two have strong buys, three have buys, and four have holds.
Dendreon (NASDAQ:DNDN)
Dendreon is one of the names on my list that will be looking for a rebound in 2013. After reaching $16 earlier this year, Dendreon closed out the year at just $5.29. The company's stock has fallen as sales of its prostate cancer treatment Provenge have disappointed, and expectations have come down tremendously. Back in June, analysts were expecting $507 million in 2013 revenue for Dendreon, but current estimates call for just under $370 million.
Why are the revenue numbers so critical? Well, Dendreon says it will be cash flow positive in the United States when revenue on a quarterly basis hit $100 million. Back when estimates were higher, that looked to be guaranteed in 2013, but now the future is a bit cloudy.
After Dendreon's latest disappointment, I stated that the company was not there yet. So why is it on my list? Well, the company has been working on a huge restructuring plan to reduce the cost of goods sold and other operating expenses. Dendreon expects some benefits to start in the first half of 2013, with full benefits in the third quarter of next year. By closing its New Jersey facility, the company is looking to reduce the cost of goods sold to below 50%. One of my concerns for investors was that Dendreon's cash position was dwindling, as it was losing tons of money and obviously not cash flow positive yet. Well, not only has it closed that one facility, but it just sold it for $43 million. I'm a bit more positive now that it has the extra cash, which should give it some more time to get to that $100 million revenue mark.
So the current revenue estimate for 2013 represents 14.5% growth based on the current estimate for 2012, which isn't final yet. Also, the company is expected to narrow its loss to $1.34 a share from an expected $2.77 loss in 2012. Now I'm not claiming that Dendreon will get back to the $40 plus levels we saw a few years ago in 2013. But the restructuring plan and lower cost of goods sold will help. Add in the extra cash, and investors don't have to worry as much about more possible dilution or extra debt. If all goes well, I think Dendreon shares could easily double in 2013, but they have disappointed a lot recently.
Potash (NYSE:POT)
The large agricultural name will be looking for a rebound in 2013 as well. Potash Chief Executive Bill Doyle stated recently that he believes potash shipments should rebound next year, which will help the company's revenue and earnings turn around. Doyle believes that 2013 global shipments should be roughly 57 to 58 million metric tons, compared with expectations for roughly 50 to 52 million this year.
2012 has been a disappointing year, and the company has missed earnings expectations for four straight quarters. Current expectations call for a 6% decline in revenue to $7.73 billion from 2011's $8.22 billion. For 2013, analysts are expecting a rebound to $8.54 billion. The earnings per share trend is similar. Analysts are expecting a decline in 2012 to $2.90 from last year's $3.51, with a rebound to $3.31 next year.
Potash shares were basically flat in 2011, so the company will be looking to rebound in 2013. Analysts see a fair amount of upside, with the average price target at $47.44, almost $7 above where we are now. Of the 27 analysts following the name, 13 have either buys or strong buys, with 13 holds and one underperform. Should potash shipments increase to those higher levels in 2013, look for this stock to have a good 2013.
Summary / Final Thoughts
The table below is a summary of where expectations are currently for each name. The growth numbers represent the currently expected growth for each, and for all names except Apple, we don't have the final 2012 numbers in yet. That is why I have the current expectations, so we can track where those estimates go over time. Again, this is part one of my growth stocks for 2013. I'm not recommending that investors buy every name on this list. These are just growth stocks to watch in 2013 that should do well if they can meet or beat these expectations. Some of these names are looking to continue prior growth, while a couple are looking for yearly rebounds.

*AAPL numbers for fiscal year, ending in September. AAPL growth numbers adjusted for 53rd week in previous fiscal year.
Disclosure: I have no positions in any stocks mentioned, and no plans to initiate any positions within the next 72 hours. I wrote this article myself, and it expresses my own opinions. I am not receiving compensation for it (other than from Seeking Alpha). I have no business relationship with any company whose stock is mentioned in this article.
Additional disclosure: Investors are always reminded that before making any investment, you should do your own proper due diligence on any name directly or indirectly mentioned in this article. Investors should also consider seeking advice from a broker or financial adviser before making any investment decisions. Any material in this article should be considered general information, and not relied on as a formal investment recommendation.