Magellan Midstream Partners (NYSE:MMP) is a MLP focused on providing pipeline and storage services to companies involved in the refined petroleum and crude oil space. It is one of the larger MLPs, with a market cap of nearly $10 billion. For 2012, Magellan increased its distribution by 18%. For 2013, it is expected to increase its distribution by 10%. This growth is being driven by investments in crude oil pipelines. Magellan currently trades for $43.19 and was up 26% for 2012. The current distribution is $0.49 per quarter for an annualized yield of 4.5%.
Magellan has over 9,600 miles of pipeline, with 50 pipeline terminals and over 39mm barrels of storage. These pipelines and terminals serve to transport gasoline, diesel fuel, jet fuel, LNG and crude oil. These pipelines provide profits by charging tariffs on the throughput volume of these products. Tariffs are increased directly related to PPI. Tariffs were increased by 8.6% in July, 2012.
Magellan does not have a general partner, so therefore does not pay incentive distribution rights. This current structure is an advantage for Magellan as it lowers the cost of capital. 74% of operation margins as of Q3 2012 came from its petroleum pipeline system.
Magellan is primarily a fee-based business, with 85% of future operating margin coming from low risk activities such as transportation, terminal and leased storage fees. Only about 15% of Magellan's operating margin is linked with commodity-related activities.
Magellan offers future growth opportunities, with crude oil only representing 10% of Q3 2012 operating margins. Magellan is growing crude oil assets, with 85% of its $1.3 billion current capital spending dedicated to crude oil assets.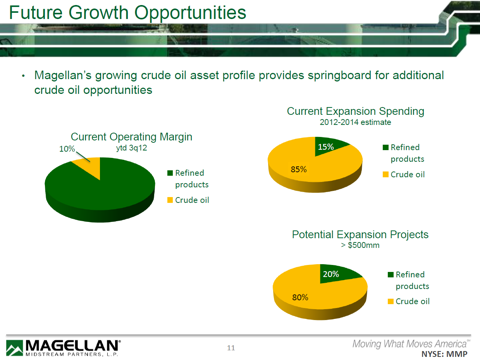 One particular area of growth for Magellan is in the Permian Basin. The Crane-to-Houston pipeline reversal is expected to offer a fully committed 225k bpd of capacity. The reversal is expected to be partially operational by early-2013, and fully operational by mid-2013.Capital spending for this project is estimated to be $375 million. This project will offer a 3X EBITDA multiple.
Another project is the BridgeTex JV with Occidental Petroleum (NYSE:OXY). This project will offer 200k bpd and expected to be operational by mid-2014. Capex for this project are expected to be $600 million for Magellan's share. An 8X EBITDA multiple is estimated for this project, with upside potential.
Since 2001, Magellan has increased its distribution at a CAGR of 12%. Magellan has an impressive record of distribution growth, with 42 quarterly increases since its IPO.
Conclusion
Magellan offers a rare combination: yield and growth. Magellan has been raising its distribution frequently since its IPO. Magellan is just starting to tap the Permian crude oil boom and is well placed to benefit from the expanding production in the basin. Distribution growth for 2013 is anticipated to be 10%. I would buy Magellan on any weakness.
Disclosure: I have no positions in any stocks mentioned, but may initiate a long position in MMP over the next 72 hours. I wrote this article myself, and it expresses my own opinions. I am not receiving compensation for it (other than from Seeking Alpha). I have no business relationship with any company whose stock is mentioned in this article.