Investment Thesis
Clean Energy Fuels Corp. (CLNE) is the best natural gas play available for investors. Although the performance of the stock is heavily dependent on the price of natural gas, I believe that in the long run, as the natural gas adoption rate increases, CLNE will become increasingly profitable. As vehicle manufacturers move from gasoline/diesel to natural gas, CLNE's role as a natural gas provider will become even more important. I have a BUY rating on CLNE for those particular reasons. As America moves from being dependent on foreign oil to domestic natural gas reserves, CLNE will prosper from the inevitable transition.
Company Report - Initiation of Coverage
Rating & Target
BUY
Target Price (18-24 mos.): $15.00
Current Price (01/01/13): $12.45
Total Return to Target: 20.48%
52-Week Range: $10.90-$24.75
Market Data
Beta: 2.06
Market Capitalization (Mil.): $1,165.29
Shares Outstanding (Mil.): 87.55
(Market data from Reuters)
Company Description
Clean Energy Fuels Corp. is a provider of natural gas as an alternative fuel for vehicles in the United States and Canada. The company designs, builds, operates and maintains fueling stations and supplies its customers with compressed natural gas (CNG) fuel for light-, medium- and heavy-duty vehicles and liquefied natural gas (LNG) fuel for medium- and heavy-duty vehicles.
1-Year Performance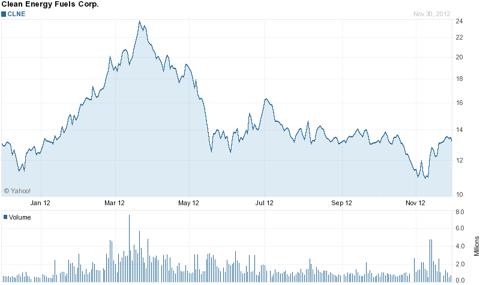 (Source: Chart from Yahoo Finance)
Investment Overview
Demand Will Soon Catch Up With Supply
America has been unlocking loads of natural gas, but it has yet to find the demand to keep up with production. Today, since the price of natural gas is so much lower than that of coal, several power utilities are converting their plants to run on natural gas. In order to accommodate consumers when they finally turn to natural gas to energy, Clean Energy Fuels has been pouring money into building out natural gas fueling stations across the country. With its growing use in electricity generation, an outlet into the transportation sector, and a rapidly increasing gas infrastructure, the demand for natural gas in the United States will probably increase very quickly in the upcoming years. This eventual increase in consumption of natural gas will help bring balance to an American natural gas market that has suffered from oversupply for over a year.
The Natural Gas Adoption Rate
Frito Lay has signed a 2-year fuel agreement under which Clean Energy Fuels will fuel the first 75 natural gas trucks that Frito will be running. Frito plans to expand its natural gas fleet to over 800 heavy-duty trucks. Staples (NASDAQ:SPLS), a retailer of office supplies, is using natural gas trucks for store deliveries in Southern California. United Natural Foods (NYSE:UNF), a distributor of natural foods, is using natural gas-driven tractors. Con-way Freight (NYSE:CNW), a trucking company, has purchased two natural gas trucks that will fuel at Clean Energy Fuels' stations in Chicago. Green White Logistics, Lily Transportation and Saddle Creek Logistics have all added natural gas vehicles to their fleets. 125 CNG taxis were added in New York and Chicago in the last three months.
FedEx (NYSE:FDX) is in a testing phase for natural gas-driven trucks. If FedEx switches to natural gas vehicles, that will be a big success for Clean Energy Fuels and the natural gas industry as many companies will be ready to switch to gas after they see that the idea has proven to be successful with FedEx. The American Trucking Association is hosting a natural gas summit in which truckers and shippers will get together to decide how to switch to natural gas.
Company Overview
Clean Energy Fuels Corp., incorporated in April 2001, is a provider of natural gas as an alternative fuel for vehicle fleets in the United States and Canada. The company designs, builds, operates and maintains fueling stations and supplies its customers with compressed natural gas fuel for light, medium and heavy-duty vehicles and liquefied natural gas for medium and heavy-duty vehicles. The company also sells non-lubricated natural gas compressors and related equipment used in CNG stations and LNG stations, converts light- and medium-duty vehicles to run on natural gas, and produces renewable natural gas (RNG), which can be used as vehicle fuel or sold for power generation. As of December 31, 2011, it owned, operated or supplied 273 fueling stations for its customers in 23 states, in British Columbia and Ontario within Canada, as well as Peru. The company owned 153 of the stations, and its customers owned the other 120 stations.
The company sells CNG and LNG and provides operating and maintenance services to its customers. It serves fleet vehicle operators in a variety of markets, including trucking, airports, taxis, refuse hauling and public transit. As of December 31, 2011, it served approximately 530 fleet customers operating approximately 25,000 natural gas vehicles, and it owned, operated or supplied 273 natural gas fueling stations. The company is building a nationwide network of LNG truck fueling stations, which it refers to as America's Natural Gas Highway, on the interstate highway system and in metropolitan areas.
The company designs and constructs CNG, LNG and LCNG fueling stations and sells or leases some of those stations to its customers. It also sells RNG produced by its subsidiary Dallas Clean Energy (DCE), sells natural gas vehicles produced by its subsidiary BAF Technologies, Inc. (BAF), and sells advanced natural gas fueling compressors and related equipment and maintenance services through its subsidiary Clean Energy Compression Corp, also known as I.M.W. Industries Ltd. (IMW). The company also helps its customers acquire and finance natural gas vehicles and obtain local, state and federal clean air rebates and incentives. During the year ended December 31, 2011, it produced 43% of its LNG from third-party producers, and the company produced the remainder of the LNG at the Pickens Plant and the California LNG Plant.
(Company information from Reuters)
Experienced Management Team
Clean Energy Fuels has an experienced management team at its helm. CEO Andrew J. Littlefair has over 20 years of experience in the energy sector. Prior to becoming the CEO, Littlefair served as President of Pickens Fuel Corp. from 1996 to 2001. From 1987 to 1996, he served in various management positions at Mesa, Inc., an energy company. From 1983-1987, he served in the Reagan Administration as a Staff Assistant to the President. Littlefair served as Chairman of NGV America, the U.S. advocacy group for natural gas vehicles, from March 1993 to March 2011. CFO Richard R. Wheeler has experience from his time as CFO of Blue Energy & Technologies LLC, a privately held natural gas vehicle fuels company, until 2003.
New Growth Initiatives
Clean Energy Fuels has been increasing its efforts to build natural gas fueling stations in the United States. It recently agreed to buy two GE-made MicroLNG plants to provide liquefied natural gas for a network of 70 natural gas fueling stations it is opening at truck stops along U.S. interstate highways this year. CEO Andrew Littlefair believes that "We currently have some LNG production facilities, but the country is going to need more. These two plants are critical in our next phase (of expansion) and we are going to need more plants over time." By the end of 2012, Clean Energy aims to have in place natural-gas filling stations at existing truck stops at major highways across the United States, at intervals of roughly 250 miles apart. Next year, it aims to boost its count to 150 filling stations. U.S. natural gas production has grown rapidly in recent years as advances in hydraulic fracturing technology have opened up new supplies of the fuel. Surging production has driven down prices, making it a more appealing fuel for everything from power plants to truck engines. Trucks using liquefied natural gas can save about 25 percent on their fuel costs, though the engines add to the cost of the truck. Having its own conversion plants, which can take natural gas from pipelines and chill it into the liquefied form used in trucks will be critical to meeting demand.
Source: NYTIMES
Industry Overview
Natural gas and diesel prices have historically been very unpredictable, and if enough companies build gas-to-liquids plants or find other uses for natural gas, demand will rise, putting upward pressure on prices. In the United States, various companies have plans to build natural gas export terminals and promote more use of compressed natural gas for vehicles, as is done in many countries like Pakistan, Iran and Argentina. The combination of horizontal drilling and hydraulic fracturing technologies has made it possible to produce shale gas economically and, in most cases, at costs that are below the cost of conventional wells. Not only that, but production costs are continuing to fall. Shale gas potential is huge and has drastically changed the natural gas industry. Never before has the U.S. had the ability to produce so much natural gas so quickly and at such attractive rates. However, it is important to recognize that shale gas sites dramatically differ from one to another as they have been exploited at different times, are at different depths, and contain different amounts of natural gas liquids. Even with anticipated increased demand from coal-to-natural gas fuel switching, anticipated seasonal weather-driven demand, growth in the industrial sector, and additional transit and public service vehicles switching to being powered by natural gas, there are no concerns over meeting increased demand into 2015.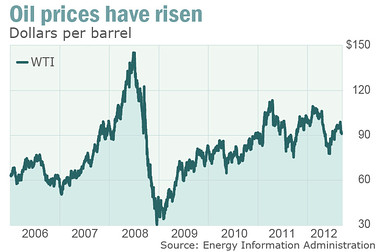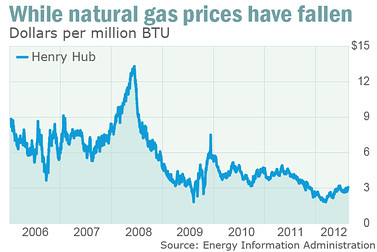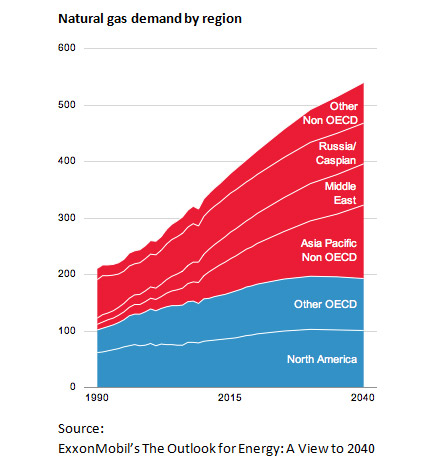 Competition
Clean Energy Fuels' major competitors are Atlas Copco AB (OTCPK:ATLKY) and Chesapeake Energy Corporation (NYSE:CHK). The natural gas economics are so compelling that the market keeps on talking about the natural gas adoption rate and is taking a deep interest in the natural gas stocks. However, Clean Energy Fuels is an exception in this case. The largest provider of natural gas fuel for transportation in the U.S. has been actively working to build a natural gas fueling infrastructure in the U.S. The goal of these stations, according to Clean Energy Fuels' CEO Andrew Littlefair, is to "support the growing number of long-haul truckers and shippers who are deploying factory-build, heavy-duty trucks powered by natural gas fuel. LNG-fueled trucks can now travel the country and reap the benefits of fuel cost savings, reduced dependency on foreign oil, and the lower emissions profile that characterizes this abundant American resource." Compared with its competitors, Clean Energy Fuels is more proactive and is taking initiative towards switch from diesel/gasoline to natural gas.
Financial Analysis & Outlook
F3Q12 Results Overview
Revenue 91.459 million; +26.9% yoy
EBITD Margin (TTM) -9.77%
EPS of $0.19
Gross margin : 24.59%
Developing natural gas fueling infrastructure throughout the U.S.
(Source: Financials from Reuters)
F4Q12 Preview
Overall, we believe that Clean Energy Fuels should report a strong Q4, benefiting from decreasing natural gas prices and from developing its natural gas fueling infrastructure. It will continue to operate at a loss for the short run because of the expenses involved in building its fueling stations across the U.S. Our recommendation is for the long term when natural gas has been better incorporated into consumer lifestyle. Once the mass population starts to switch from gasoline to natural gas, Clean Energy Fuels, the largest provider of natural gas fuel for transportation in the U.S., will certainly increase in profitability.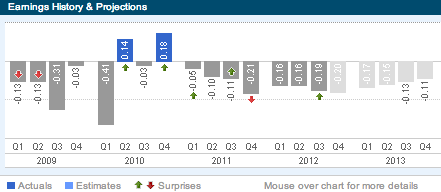 (Source: Earnings chart from CNBC)
Conclusion
Clean Energy Fuels is a pure play on the natural gas adoption rate. A higher natural gas adoption rate is expected to drive up the stock's price. Recently, the stock has been shorted because investors believe that the natural gas adoption rate will not improve in the near future. CLNE's recent announcement of successfully completing the first phase of the fueling infrastructure development gives investors reasons to buy the stock for the long-term.
Disclosure: I have no positions in any stocks mentioned, and no plans to initiate any positions within the next 72 hours. I wrote this article myself, and it expresses my own opinions. I am not receiving compensation for it. I have no business relationship with any company whose stock is mentioned in this article.