Shares of Starbucks (NASDAQ:SBUX) have broken out of a technical trading range following the Biennial Investor Conference which took place in early December. As management updated investors on the company's estimates for growth in the years ahead, the stock's move indicated bullish expectations. Prior to the event, shares were hovering around $52 and faced a strong level of resistance at that price level. As the chart below depicts, in March of 2012 SBUX gapped up to the $52 price level, moved swiftly higher and then fell back to the $52 level, testing it on seven different occasions. In late July of 2012 the stock gapped down below the $52 level and over the next four months used it as resistance on numerous occurrences. This is clearly a technical trading level that investors have been keeping a close eye on.
Source: Yahoo Finance
The company presented over 200 PowerPoint slides during the six hour conference and updated analysts on everything from geographic segment performance, acquisition history/expectations, marketing, and future fiscal year projections. The market was obviously pleased with the information Starbucks executives laid out. Shares of SBUX surged past the $52 price level, trading 4% higher on 25 million shares the following day (compared to a three month average of 9 million). Whether or not you believe fundamental or technical factors drove the stock through this price level is up for debate.
The focus of this article is on what I have identified as areas of major importance which were touched upon during the conference. My list is by no means exhaustive, so I recommend you dig deeper into these results/projections to determine if shares of Starbucks make sense for your portfolio.
Americas Segment
The Americas segment is comprised of 14 different countries throughout North and South America. With over 12,903 stores and 145,000 partners, this is the largest operating segment in the company. Starbucks measures new store performance using two basic measures, Sales-to-Investment Ratio and 1st year cash profit percentage. In the United States the average sales to investment ratio was 2.1 (average sales of $1,052,000 divided by average store investment of $494,000). First year cash profit came in at 14.1%. Canada, although not as robust, averaged 1.9 sales-to-investment and a 14.1% first year cash profit. Both results are very strong and provide guidance for what the future may hold. The company plans on opening 3,000+ new stores in the Americas region over the next five years with 1,500+ in the United States.
Focusing in on the United States, same store sales (stores open over one year) continue to be impressive (see image below). Starbucks credits the continued growth in average ticket size and transaction size to its unique marketing plan.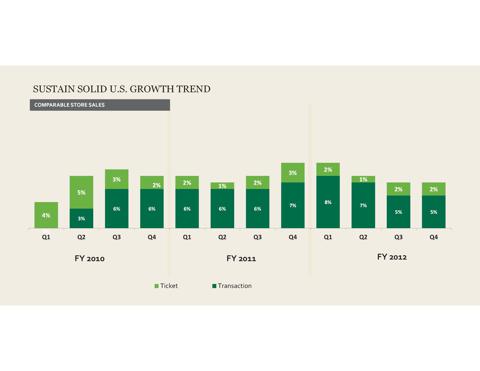 Source: Starbucks Biennial Investor Conference Presentation
Marketing
No other company markets itself in a comparable manner to Starbucks. Through digital advertising, social media, web and mobile and the loyalty card, Starbucks truly sets itself apart from the pack. The company is currently the #1 brand of beverage/food retail on Facebook (NASDAQ:FB), a top 10 brand on Twitter, a top brand on Instagram, and was ranked #4 on Google's (NASDAQ:GOOG) 2012 Zeitgeist for "Local Searches."
The Starbucks card is another impressive mark of customer loyalty. Last year over 25% of all store transactions were done through a pre-paid card and $3 billion was loaded onto cards. The company estimates that 1 in 10 adults will receive a Starbucks card during the holiday.
As mobile payments begin to shape the way we use our cell phones, Starbucks stands at the forefront of this movement. The recent deal with Square has been called a "game changer" by many analysts. With over 7 million active mobile Starbucks users and 2.1 million mobile payment transactions per week, the company is actively embracing this new wave of payment processing.
All these unique characteristics have one thing in common, lower marketing expenses than traditional advertising. Starbucks lets other people do the talking for them and the word of mouth has clearly been well received. Management's ability to stay on top of shifting consumer preferences has proven successful thus far and is one of the most important factors for future growth.
China
The China region is probably the most exciting opportunity Starbucks has over the next few years. Management estimates that by 2014, China will become the second largest market outside the United States. The company plans on having 1,500 stores in mainland China by 2015. Looking at the sales-to-investment ratio, you can see the return of 3.1 is substantially higher than anywhere else in the world. Same store sales are also very robust, growing at double digit comps for eleven consecutive quarters (this data is for the China/Asia Pacific region). The slide below shows fiscal year 2012 statistics for the China region, it is not difficult to see that these profitability numbers have the potential to add significant growth moving forward.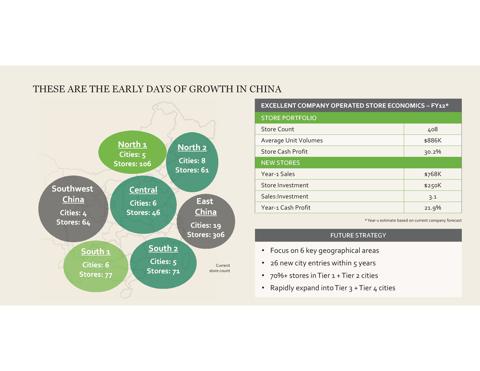 Source: Starbucks Biennial Investor Conference Presentation
Recent Acquisitions
Starbucks has made a handful of acquisitions and one major product launch over the past few quarters. Earnings guidance was provided for each over the next few years:
-Evolution Fresh acquisition:
End of FY13: Product will be in roughly 3,000 natural and premium grocery stores and just under 5,000 Starbucks stores. Slightly accretive to earnings per share.
End of FY14: All US company operating Starbucks stores will sell product. Accretive to earnings per share.
-LA Boulange acquisition:
End of FY13: 2,500 Starbucks stores will sell product. Slightly dilutive to earnings per share.
End of FY14: All US company operating Starbucks stores will sell product. Slightly accretive to earnings per share.
End of FY15: Accretive to earnings per share.
-Versimo product launch:
End of FY13: Product will be sold in 10 countries. Net income will be affected by -$30 million.
End of FY14: Product will be sold in 20 countries. Breakeven will be approaching.
End of FY15: Accretive to earnings per share.
FY13 and Future Guidance
Management also provided an outlook for fiscal year 2013. The table below highlights some of the main growth targets followed by Wall Street analysts. According to the company's targets, Q1 EPS growth is estimated to grow 15% followed by three quarters of 15-20% EPS growth.
| | |
| --- | --- |
| | FY13 Guidance |
| Revenue | 10%-13% Growth |
| Global Comp | Mid Single Digit Growth |
| Operating Margin | approx. 100 bps improvement |
| EPS | 15%-20% growth |
| Global Store Growth | 1,300 Net New |
| Capital Expenditures | $1.2 Billion |
Source: Starbucks Biennial Investor Conference Presentation
Management also gave further clarity to the longer-term future. Growth targets are very ambitious and show a high level of confidence in this company moving forward:
Revenue Growth: 10%+
Comp Growth: 3%-7%
EPS Growth: 15%-20%
Return on Invested Capital: 25%+
While these estimates are by no means guaranteed, they do provide guidance for updating models over the next few fiscal years. For those who felt this company has run out of real estate to place coffee shops, it appears that argument has been proven incorrect.
Conclusion
Whether you consider the breakout in SBUX to be from technical levels or fundamental levels (I believe the latter), I think both can argue we are likely headed higher.
Consider your investment goals and objectives before initiating a position in Starbucks and please remember that the value of investments in equity securities, like SBUX, will fluctuate in response to general economic conditions and to changes in the prospects of particular companies and/or sectors in the economy. If you see a fit in your portfolio, I think being a long-term shareholder has the potential to provide attractive returns. In my opinion, the breakout confirms the growth story of this company remains intact.
Note: All data reported and graphed is pulled directly from Starbucks' SEC Filings and Investor Presentations.
Disclosure: I have no positions in any stocks mentioned, and no plans to initiate any positions within the next 72 hours. I wrote this article myself, and it expresses my own opinions. I am not receiving compensation for it (other than from Seeking Alpha). I have no business relationship with any company whose stock is mentioned in this article.