2012 was a very good year for Starbucks (NASDAQ:SBUX) shareholders. The company returned about 16% on the year while also setting all-time highs at $62.00 a share. The high was put in place rather early in 2012 in mid-April. Since setting the new high, Starbucks' shares traded in a wide range to finish the year. Shares traded all the way down to $43 in early August but have since rallied to end the year at about $53.50 per share. I believe that further share appreciation will occur throughout 2013 and Starbucks will return to the all-time highs list.
Teavana Acquisition
During November, Starbucks announced it was planning on acquiring Teavana for $620 million in cash. Teavana (TEA), heaven of tea, is a store dedicated to offering customers broad selections of luxury teas and other tea related accessories. There are currently over 300 mall based locations spread across the U.S. and Mexico. Some have criticized the acquisition but I believe that Teavana will be a strong addition the Starbucks family. Like Starbucks, Teavana has a customer base with a cult like following to the brand. This cult like following allows companies to raise prices on its products without a strong push back from consumers. In the future Starbucks will shape Teavana's store to be more like its own by creating high profile neighborhood locations. In these new locations I believe we will see Teavana transition into a luxury Tea bar, a place where consumers will be able to sit down and enjoy their favorite blends of teas. Starbucks announced its is expecting the acquisition to be accretive to earnings by approximately $0.01 per share in fiscal year 2013. This estimate is based off Teavana's previously announced earnings targets. With this acquisition Starbucks is looking to assert its control over the $40 billion global tea market. Over 2013 and for years following I believe Teavana's contribution to the company's earnings will grow faster than expected due to the backing of Starbucks.
Costs are Falling as Margins are Rising
Currently, coffee futures have fallen to their lowest level since June of 2010 and have fallen dramatically from the multi-year highs set during 2011. Below is a chart of Arabica beans over the last 5 years. Arabica beans are also used by many competitors such as Dunkin' Donuts (NASDAQ:DNKN) and McDonald's (NYSE:MCD).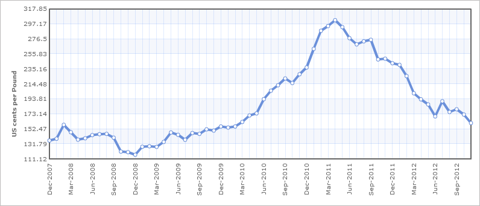 Source: indexmundi.com
Starbucks, as announced in its 10k filling, has decided to hedge its coffee costs via an agreement to purchase roughly $550 million in green coffee under fixed-contracts and approximately $300 million via price to be fixed contracts. Of the to be fixed contracts, a substantial portion will be fixed using coffee futures. As coffee costs continue to fall Starbucks is able to fix its coffee costs at low levels for the foreseeable future. Starbucks margins will continue to rise as consumers haven't pushed back due to price increases over the last few years and input prices have become cheaper.
Expansions in China and India
Starbucks recently announced that it will be expanding its business in China. Currently Starbucks operates about 500 stores in mainland china but this number is expected to jump to 1,500 stores by 2015. The company's stores in China experienced better than expected sales and growth which has given Starbucks the go ahead to add more stores. The new stores are expected to offer local products in addition to cappuccinos and lattes. The acquisition of Teavana positions Starbucks well to capture the increase in demand for tea products in China as well. With the addition of these new stores China is expected to be the 2nd largest market for the company by 2014. There are also plans to expand into the entire Asia Pacific market as well. The company announced by the end of 2013 it should have 4,000 stores in the Asia Pacific market. There are expected to be 1,000 stores in Japan, 500 in Korea, and its first store in Vietnam.
During 2012, the first and flagship store was launched in India. Starbucks started a joint venture with Tata Global Beverage to expand into the competitive cafe market. The companies decided on an initial figure of $80 million to finance the expansion. Tea has primarily dominated the market but coffee demand is rising quickly. The luxury cafe market is somewhat more competitive in India than in China but Starbucks expects to open about 50 more stores in India within the year. Dunkin' Donuts is also scheduled to enter this the market by opening 30 stores throughout the next three years. The expansion into the two most populated countries within the next year coupled with increasing coffee demand will surely continue to fuel earnings growth for years to come. I believe profit margins will remain stable throughout the expansion due to increasing worker wages and population growth in the regions.
Conclusion
In my opinion, this company is firing on all cylinders right now and its future growth prospects are very attractive. I believe Starbucks will set all-time highs during 2013 as the market begins to price in the factors mentioned above. The company's Board of Directors has authorized the repurchase of up to $25 million shares of common stock. Also, let's not forget Starbucks currently pays a 1.5% dividend yield which is a bonus while we wait. I have a current price target of $66 per share.
Disclosure: I am long SBUX. I wrote this article myself, and it expresses my own opinions. I am not receiving compensation for it (other than from Seeking Alpha). I have no business relationship with any company whose stock is mentioned in this article.