Gentex Corporation(NASDAQ:GNTX) is a manufacturer of auto-dimming internal and external car mirrors, including its Rear Camera Display mirrors (RCD) and SmartBeam technology. It also produces auto-dimming mirrors for aircraft, and a variety of smoke detectors that account for only 2% of revenue. Now you might be wondering, what makes a mirror company so special? Well, Gentex has a huge competitive advantage by owning about 88% of the market share auto-dimming mirrors, and has the potential for substantial growth through the imminent passage of the Kids Transportation and Safety Act (KTSA). This act would require all light vehicles (under 10,000 lbs) to have some kind of rear view camera installed. Gentex would substantially profit from the passage of this act through the sales of its RCD mirrors. The final implementation of the rules has been delayed four times, most recently this Monday. The delays of this Act have hammered its stock price, providing investors the perfect opportunity to invest in a company trading at one of its lowest P/E ratios. As Warren Buffett says, "Be greedy when others are fearful."
The Business
Gentex makes 98% of its profits from its automotive mirrors segment. These profits mainly come from its internal and external auto-dimming mirrors, RCD mirrors, and SmartBeam technology. Now let me explain the technology.
Auto-Dimming Mirrors: In 1982, the company introduced an auto-dimming interior electro-mechanical rear-view mirror that was the first commercially successful glare-control product offered as an alternative to the conventional, manual day/night mirror. It has patented this technology and has had huge success through the development of this product.
RCD Mirrors: After developing a huge market share with the auto-dimming mirrors, Gentex began to add different features into the mirrors including, a compass, OnStar, tire pressure, hands free communication, and the rear camera display. Gentex was able to install a screen in the rear-view cameras that gave drivers a display of the rear of the car. This technology competes with other potential rear-view camera locations, such as the dash or radio.

SmartBeam Technology: During 2001, the company announced a revolutionary new proprietary technology, called SmartBeam that uses a custom, active-pixel, CMOS (complementary metal oxide semiconductor) sensor, and maximizes a driver's forward vision by significantly improving utilization of the vehicle's high-beam headlamps during nighttime driving. A small sensor is simply installed on the back of the rear-view mirror, which detects oncoming headlights, and will automatically adjust a driver's headlights.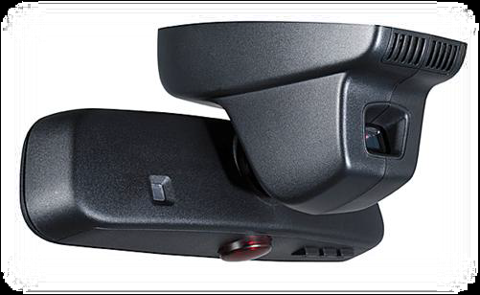 Gentex receives business from many different companies including, BMW (BAMXY.PK), Fiat (FIATY.PK), Fisker Automotive, Ford (NYSE:F), Geely Holding Group, GM, Honda (NYSE:HMC), Hyundia/Kia (OTC:HYMLF), Mazda (OTCPK:MZDAF), Mercedes (OTCPK:DDAIF), Mitisubishi (OTCPK:MMTOF), Nissan (OTCPK:NSANY), Porsche (OTCPK:POAHF), PSA, Renault Group, Ssangyong, Subaru (OTCPK:FUJHY), Tesla (NASDAQ:TSLA), Toyota (NYSE:TM), and Volkswagen/Audi (OTCPK:VLKAY). The company receives about 50% of its business from its top four customers: Volkswagon/Audi - 15%, GM - 12%, Hyundai/Kia - 11%, and Mercedes - 11%.
(Source: Gentex Q3 Investor Presentation)
The Potential
Gentex has many catalysts that will spur growth in the company.
Kids Transportation and Safety Act: After being postponed for a fourth time, it makes sense for investors to doubt the passage of this Act. I would have to disagree. After various adjustments and tweaks, I believe the Act is very close to being passed. With the automobile industry improving, many of those companies wont be as concerned with the costs associated with installing rear-view cameras. Gentex believes that about 60%-65% of the U.S. market is in non-compliance. This opens up excellent revenue prospects if the bill were to be passed. Another potential question is whether or not automobile makers will decide to install the rear-view camera in the dash, or through a RCD mirror. This is where Gentex has a big advantage. Rearranging a car's dashboard is much more complicated and costly when compared with just replacing the rear-view mirror. If companies are forced to follow the law, I believe many will take the easy route and just swap out the rear-view mirror to oblige. Studies conducted by the company showed that the in-mirror display was found to be utilized 20%-39% more often than the other locations, and reduced the reaction time for obstacle detection and avoidance by 50%. After coming this far in the process, the Act is almost certain to be passed. If investors are patient, they could hit a home-run with this company by holding on.
Long-Term Contract with Volkswagon/Audi: Gentex recently agreed to a long-term contract with Volkswagon/Audi to be the exclusive provider of internal and external mirrors through December 31, 2018. With Volkswagon/Audi accounting for the biggest portion of Gentex's revenue, this is huge deal for the company.
Excellent Financials: Gentex has outstanding financials. Over the past 25 years, Gentex has had annual compounded revenue growth of 19.7%. The company has had consistent free cash flow over the past 10 years, while averaging a return on invested capital of 15%. Gentex has practically no debt, and has an active share buyback program (most recently announcing it would be buying back 4,000,000 shares). This company will have no trouble surviving a recession, just like it did in 2008.
Excellent and Honest Management: The company is run by CEO/Chairman Fred Bauer who is listed on many of the patents the company owns. When an inventor comes up with an excellent invention, often (s)he does whatever he can to make it succeed. I believe that is what Mr. Bauer has done so far with Gentex. The company is also very honest when it comes to acknowledging potential problems. If you read its annual reports, Gentex notes how it may have trouble developing a good market share with its RCD mirrors, and actually lists what it believes the company can actually accomplish. The 10-k is very simple and straightforward, and I believe the company has nothing to hide from its shareholders.
Increase in Inventory: This may be more of an observation rather than a catalyst, but recently Gentex massively increased its inventory from $101 million in early 2011, to $177 million now. The only explanation I can think for this would be the company must be expecting an influx of orders.
(Source: Gentex 10-Q)
Ignoring the Crowds
Before I continue, I'd like to describe why Gentex shares have fallen so much over the past year, and why investors shouldn't be worried.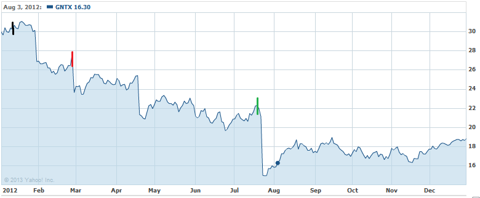 The black marker is January 10, 2012. On this day it was announced that the KTSA would be delayed until February 29, 2012. As expected, the stock fell shortly after.
The red marker is February 29, 2012. On this day it was announced that the KTSA would be delayed until December 31, 2012. Just like before, the stock fell.
The green marker is July 24, 2012. On this day Gentex announced it was losing market share to rear-view cameras placed in different areas. This baffles me. It seems fairly obvious to me that the company is obviously going to lose market share to rear-view cameras in the dash area, or radio. Gentex had expressed this concern months earlier in the annual report. Why the market decided to wait until July to hammer the stock 25% blows my mind. From the start, analysts should have realized Gentex's RCD mirror would face competition from different areas of the vehicle. It shouldn't have been a surprise. Oh, and on the same day the company announced revenue was up 15% and profits were up 6%. This is one of the many wonders of our maniac-depressed friend, Mr. Market.
What investors should notice here is that nothing substantial has changed from point A to point B. The company is still the same, and functioning just perfect. Speculation from the KTSA had driven up the stock price early on, and now it's just trading at a discount. Like I said before, be greedy when others are fearful.
The Risks
With every investment, there are always some potential risk factors. Here's a few that may or may not affect the company.
Competition: Gentex's only direct competitor is Magna Mirrors, which owns about 11% of the auto-dimming mirror market share. Compared with Gentex's 88%, I don't believe Magna will be able to effectively compete will Gentex's massive market share.
The KTSA does not pass: If the Kids Transportation and Safety Act does not pass, I believe Gentex will still be in great shape. About 70% of automobile makers are putting some sort of rear-view camera display on their new models, and I believe that number will increase to 100% in the future. Although some automobile companies may not use the company's RCD mirrors to achieve this, I believe Gentex will still be able to capture a substantial portion of that market share. The passage of this Act will only speed up the inevitable.
The Future
Gentex originally started out by developing fire-safety products, and gradually transitioned to auto-dimming mirrors through the invention of the product. The company owns 388 U.S. patents, 21 U.S. trademarks, 275 foreign patents and 58 foreign trademarks. The company thrives on innovation, and has succeeded by doing so. Gentex currently believes only 23% of light vehicles have internal dimming mirrors. It plans on increasing that penetration up to 45%, resulting in potential profits of $3 billion. To achieve this, Gentex recently announced it would be adding new facilities to expand internal mirror production up to 20-23 million, and external mirror production up to 10 million. Besides capitalizing the mirror's current features, the company plans on expanding the technology of the mirrors to contain features such as: forward lighting assist, lane departure warnings, traffic sign recognition, forward collision monitoring, and pedestrian detection. Gentex has done a fantastic job of capitalizing on its innovations, and I believe it will continue to do so in the future.
Conclusion
After the most recent delay of the KTSA, I believe Gentex's stock will soon begin to drop. If the market keeps hammering the stock price every time the KTSA gets delayed, Mr. Market will be practically selling the company for free. Bottom line is, KTSA passage or not, the company isn't changing. Gentex is posting excellent profits and continues to grow through various innovations. Either way, the company will be in great shape, and has the potential to go above and beyond when the Act is finally passed. I think if the company was trading in the range of $17-$18, it would be an excellent buying opportunity for investors who are patient enough to sit back and watch the company succeed.
Disclosure: I have no positions in any stocks mentioned, but may initiate a long position in GNTX over the next 72 hours. I wrote this article myself, and it expresses my own opinions. I am not receiving compensation for it (other than from Seeking Alpha). I have no business relationship with any company whose stock is mentioned in this article.