Seth A. Klarman in his iconic investment book "Margin of Safety" tells the story of how the phrase "trading sardine" entered the modern day investment vocabulary. "There is the old story about the market craze in sardine trading when the sardines disappeared from their traditional waters in Monterey, California. The commodity traders bid them up and the price of a can of sardines soared. One day a buyer decided to treat himself to an expensive meal and actually opened a can and started eating. He immediately became ill and told the seller the sardines were no good. The seller said, 'You don't understand. These are not eating sardines, they are trading sardines.'"
I believe that peculiar sounding phrase has now become the working phrase for natural gas. For most of 2012, natural gas was an eating sardine as the commodity began its upward trajectory in April of last year and nearly doubled over the balance of the year moving from a low of $1.92 to a year end close of $3.39. This is not to imply that it was a straight line increase; natural gas is infamous for its volatility. But the trend was clearly upward and investors in the commodity over that time frame made money.
Are we likely to see significant gains again in 2013? Will natural gas remain an eating sardine for long-term buy and hold investors? I think the landscape has changed and this calls for a shift in investment strategy for natural gas and its populat ETF The United States Natural Gas Fund (NYSEARCA:UNG).
What Happened In 2012
In the middle of 2012 I wrote a series of articles on natural gas espousing a bullish thesis. The major planks of that thesis were outlined in the SA article "Natural Gas: Movements Into Storage Suggest Glut Will Soon Disappear." The basic premise was that while the year began with a significant over-supply, the amount of gas being injected into storage was well below the 5 year average, and it was on a trajectory that showed the glut being removed. That thesis held for the most part right through the end of injection season. In fact by week 47, the traditional end of gas production exceeding consumption, the surplus of gas had declined to only 169 bcf, or just 4.4% above the 5 year average. This phenomenon is best depicted by the graph that the EPA publishes on their website: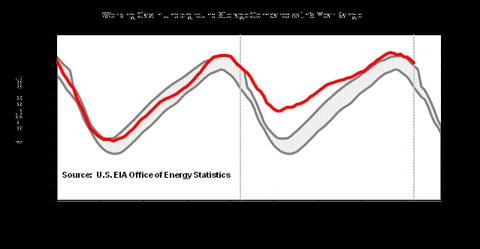 Will this trend continue in 2013? I think there are reasons to believe that it will not and that overall price gains in natural gas will be limited as a result. But natural gas will likely retain its traditional volatility and as such can make for a good trading sardine if you catch it at the right times.
The Differences In 2013
I believe there are 4 main factors in the natural gas marketplace that will manifest a difference between 2012 and 2013.
Price:

The low in natural gas prices of $1.92 was vastly below the full cycle cost of production as well as the marginal cost of production for all plays I know of. As Dennis Gartman

has said: "Th

e cure for low prices is low

prices." Produ

cers behave in a rational way and curtail production when it is below cost. Production costs differ at different plays. Marcellus may very well be the lowest cost play in North America, but even the sweet spots within that play don't support drilling at under $2.00. At over $3.00 a different story emerges. Some low cost plays are profitable at that level. Production shifts to those lower cost plays. Curtailments at prices greater than $3 are likely to occur at higher cost plays; lower cost plays will continue to produce.
Drilling

Costs:

The technological gains made in the last few years with horizontal drilling and with hydraulic fracturing have been game changing. This is reducing the break-even point for extracting gas.
Abundant Commercially Feasible

Supply:

These same technological gains have made shale formations now commercially feasible for hydrocarbons extraction. The gas was always there in the shale, and has been known about for over 50 years, but only recently was it possible to extract it profitably.
Drilling Rigs Are More

Productive:

During 2012 the number of active drilling rigs directed toward natural gas declined almost 50% going from 809 to 431, year over year. Yet natural gas production remained essentially flat throughout 2012. For a more detailed information on rig productivity Bentek and Robry have published excellent brief articles.
Consumption Not Exhibiting Any Significant Upward Trend: Na

tur

al gas consumption continues to display normal seasonality variation but is not rising on a year over year basis as the graph below shows: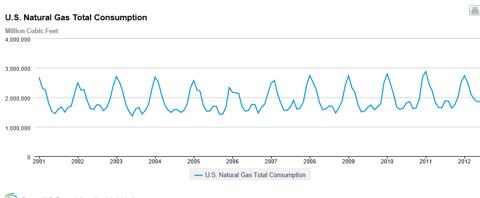 Withdrawal Season So Far is Behind 5 Year Average

Pace:

As earlier mentioned, a significant plank in the 2012 rising gas price thesis was the rate of injection in 2012 was markedly below the 5 year average. In the last five weeks of this year (the first five weeks of withdrawal season), a total of 221 bcf has been withdrawn from storage. The five year average during the same period is a cumulative withdrawal of 492 bcf, over twice the amount. Gas is being withdrawn from storage at a significantly slower rate.
Conclusion
The dynamics that set up the sustained price rise of natural gas in 2012, which is prices well below marginal costs of production as well as net movements to storage well below five year averages, are not in evidence at the present time. Technological advancements in extraction are lowering costs while increasing productivity, and may help contain any sustained price rises from current levels. Therefore, while 2012 was a market of generally increasing natural gas prices, 2013 is likely to be a range bound market. I certainly do not see a return to sub $2 prices this year, but nor do I see a continuation of the 76% rise from those lows as we progress through 2013. Volatility in prices will doubtless remain and playing the swings in the short term is advised, not holding for a larger uptrend. Natural gas is once again a trading sardine.
Additional Disclosure: I presently am long UNG in small quantity for a short term hold and intend to actively trade the ETF over the course of this year as conditions dictate.
Disclosure: I am long UNG. I wrote this article myself, and it expresses my own opinions. I am not receiving compensation for it (other than from Seeking Alpha). I have no business relationship with any company whose stock is mentioned in this article.