The following article by Cornell University School of Hotel Administration student Amanda Yip was originally submitted as a paper for a class entitled "Investment Analysis and Portfolio Management," in which students wrote a 'mock' analyst note about a publicly traded company. In no way should its contents be construed as conveying professional investment opinion or advice.
Company Overview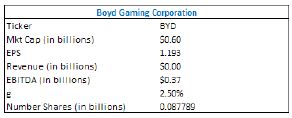 Boyd Gaming Corporation (NYSE:BYD) currently owns and operates 15 casinos throughout the United States. Since its creation in 1988, Boyd now employs more than 16,900 individuals. With a market cap of $600 million, Boyd owns two travel agencies and an insurance company, in addition to owning and operating casinos. Properties are located in six states, ranging from well known gambling cities, such as Las Vegas and Atlantic City, to cities in the South and Midwest.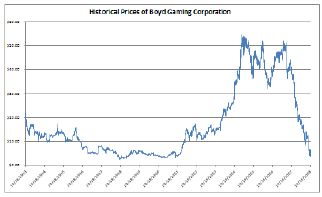 The casino operator is currently developing the much anticipated Echelon project in Las Vegas which is projected to open in 2010. Boyd is also known for operating the Borgata, which is a 50% joint venture with MGM Mirage. While the company announced layoffs of 5 percent of the Borgata workforce on Friday, November 7, Boyd is still strong in the current bear market. Therefore, Boyd Gaming Corporation is a buy because the company is currently undervalued by the market.
The valuation models all show BYD is currently undervalued and is a buy. With a target price of $15.17, the purchase price of BYD is $5.75 as of October 30, 2008. The models value the company at more than twice the settlement price.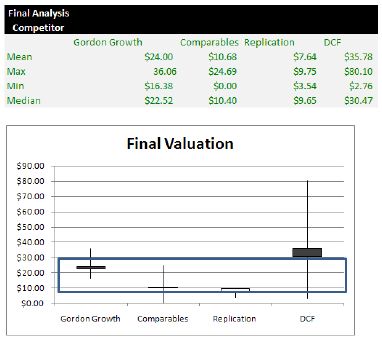 Various models were used to value Boyd. The Gordon Growth Model provides a value of $22.52, while the discounted cash flow model states a value of $19.85. An approximate value of $10.68 was found from the comparables valuation. Through replication, the value of Boyd was $7.64.
Technical analysis data from the past three years further supports our investment rationale to buy BYD stock.
Investment Rationale: Future Growth Potential
As a premiere company in the lodging and gaming industry, Boyd Gaming Corporation continues to evolve and expand with Echelon, its newest Las Vegas property. The casino operator is geographically well diversified with several casinos in Las Vegas and New Orleans. Boyd also has properties in Illinois, Mississippi, Indiana, and New Jersey. We feel Boyd Gaming has strong future growth potential for the next ten years. Boyd is a good company to buy and hold for the long-term as it will continue to grow in the future. Despite the current economic situation, Boyd's geographic diversification is very strategic as it will allow the company to weather through this crisis. The company's new loyalty program will help to attract future and current customers; in addition, this program will create more revenues for Boyd because it encourages customers to visit Boyd's other properties. While there is future growth potential, there are also certain risks to be mindful of. With holdings mainly in the United States, Boyd needs to consider the increased competition with new casino projects in Macau, in addition to increased challenges the Atlantic City market faces.
Valuation
Discounted Cash Flow Analysis
Discounted cash flow analysis was projected out ten years because compared to its competitors, Boyd is considered a fairly young company.

This is evidenced by looking at Boyd's market cap. The market cap places the company somewhat in the middle when compared to its competitors. Ten years is an appropriate projection because it will allow the current economic problems to settle. In addition, ten years will allow Boyd to accurately project the impact of Echelon on its revenues.
Many assumptions were made in the projection of our income statement, balance statement, and statement of cash flows. Revenues were projected to decrease in 2008 and in 2009 due to the current economic situation. We believe the economy will recover by 2010, and from then, revenues will increase to a terminal growth value of 3.50%. Gaming expenses are expected to decrease in 2009 and 2010 because of new technological changes that will lower gaming costs. According to S&P's 2008 Lodging and Gaming Industry report, there will be significant changes in 2009-10 server-based gaming. This will allow individual machines to be updated centrally, which will ultimately help casinos optimize the mix of slots on their floors and offer a more customized experience to guests.
Property, plant and equipment are projected to increase due to the opening of Echelon in 2010. As Boyd is continually growing and expanding, this is reflected in the constant increase of PPE. Increased property, plant, and equipment will also lead to increases in depreciation expenses. Depreciation expenses were not projected to increase significantly in 2008 through 2010 due to the turmoil in the economy. In addition, according to the 10-K, Boyd has already accounted for the closing of the Stardust property in 2006, which was the cause of the increased depreciation expense for the year. Also, the 10-K mentioned the completion of two major projects. The completion of the Blue Chip and the Delta Downs properties will impact future depreciation expense, in addition to depreciation incurred because of Echelon.
Free cash flow to equity was calculated from these projected assumptions. From free cash flow, the value of Boyd was calculated as $19.85; hence, the buy recommendation.
Gordon Growth Model
The Gordon Growth Model (GGM) finds the value of BYD based on the following: dividend, cost of equity, and dividend growth. Based on these inputs, the model valued Boyd at $22.52, which indicates a buy. Total dividends of $0.60 were based on dividend payouts for 2007. Cost of equity was calculated based on BYD's historical prices, which were used to calculate daily return and subsequently, average daily return. These returns were correlated with BYD's market index, the S&P500. With the Capital Asset Pricing Model (CAPM), beta was 0.215, which led to a yearly cost of equity equal to 5.16%. Dividend growth was calculated as 2.5%. This percentage was estimated based on decreasing growth trends in the last five years. We also selected this rate because of the current economic climate, and future expectations are the lodging and casino industry will not grow significantly. However, this model was the least reliable of the four valuation methods and is a bad way to value Boyd. While this model quickly can value Boyd, it is too simple and does not consider many necessary factors of valuation. GGM has many flaws, which limits us from finding an accurate value of BYD.
click to enlarge

Comparable Company Analysis
For comparable company analysis, five companies were selected to compare with Boyd. These companies were primarily selected because of the following two reasons: they are BYD's direct competitors and these companies have casinos in similar geographic locations as BYD. The companies selected were MGM Mirage (NYSE:MGM), Las Vegas Sands Corporation (NYSE:LVS), Penn National Gaming Inc. (NASDAQ:PENN), Ameristar Casinos Inc. (NASDAQ:ASCA), and Isle of Capri Casinos Inc. (NASDAQ:ISLE).
To find the price of Boyd, five metrics were used: Price to Earnings ratio, Price to Book ratio, Price to EBITDA, Price to Sales, and Price to Employees. These metrics were chosen because these are ratios normally used to determine the profitability of firms. From these ratios, the price of Boyd is in the range of $6 to $12, which is very similar to Boyd's current settlement price of $5.75 on October 30, 2008. Further analysis of the comparable analysis valuation reveals the Price to Book ratio was out of the relevant range.
click to enlarge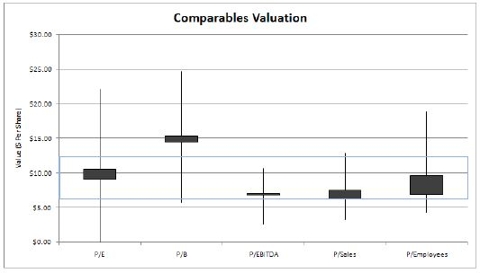 Replication Analysis
To find the price of Boyd using replication analysis, three scenarios were created. The average of the three replication analyses gave a value of $7.64 for Boyd. The same companies used in the comparables analysis were also used in this valuation method. The metrics used in replication were selected because they are the most commonly used metrics to value companies.
Recommendation
The four valuations all support our recommendation to buy Boyd. Technical analysis further supports these fundamental analyses and strengthens our buy recommendation.
Technical Analysis
Relative Performance: This technical analysis tool shows how Boyd has been performing compared to its market index, the S&P500. The graph has recently crossed over the 20. This means Boyd is oversold; its stock is inexpensive and is a buy.
Bollinger Band: Around October 31, 2008, the upper and the lower bands narrowed, indicating something significant is going to happen. This is a potential buy signal, but it should be noted that it is unclear whether the stock will move up or down. Approximately a year ago, closer inspection of the Bollinger Bands indicate a head and shoulders pattern, which is a popular trend-reversal pattern.
The Bollinger Bands further demonstrate the buy recommendation because the adjusted closing prices have passed the lower band and the 20-day moving average line on October 31, 2008. This is a bullish-signal and is a good time to invest in Boyd.
MACD: The MACD graph also indicates a buy. Towards the end of the graph, the MACD line has risen above and crossed the signal line (EMA9). This indicator gives a bullish signal, which suggests the price of the stock is likely to experience upward momentum.
click to enlarge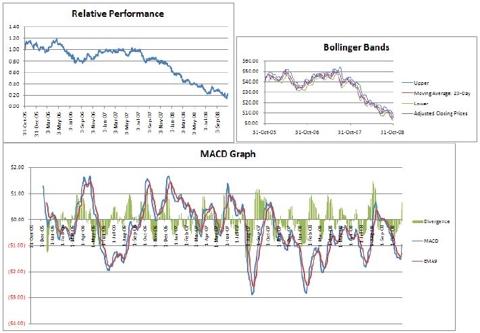 Disclosure: no positions