Last month, I put my nose to the grindstone and answered some of your most pressing questions.
One reader, J.N., asked, "Why are you only going to do the Dividend Stock Wars once per month? How about once per week?"
Like I said then, "conducting the research for each battle takes considerable time. But we'll see if we can hire some cheap interns to help us up the frequency."
Well, you're in luck, J.N.
It might be that D&I Daily landed a glut of eager, unemployed college students. Or maybe I just felt inspired when Manny Pacquiáo said, "There will be future fights."
Either way, we've cleared the arena for another round of Dividend Stock Wars.
But this time, we're not pulling any punches. Instead of just a single skirmish between two opponents, it's going to be an extended brawl, battle royale-style.
Six dividend payers, three head-to-head matches, and a final standoff to determine the ultimate dividend winner.
And if that's not burly enough, we've brought it all together under a single theme: Manly Stocks. Think big-game hunting, heavy machinery and excessive horsepower.
Here's the breakdown of contenders…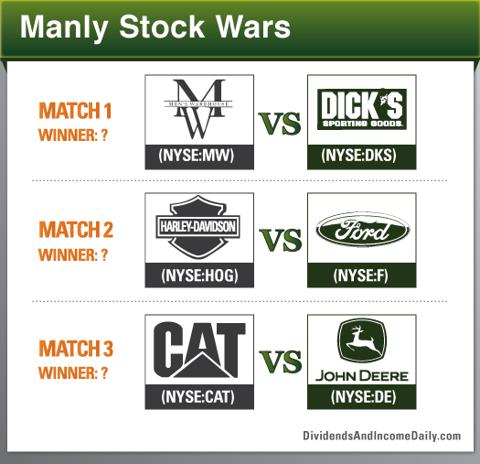 Click to enlarge
But before we let the games begin…
Rules Of Engagement
As many of you already know, the concept of a stock war couldn't be simpler. We pit two companies against one another and conduct a blow-by-blow fundamental comparison of each to determine the most investment-worthy one. Armed with the analysis, you can then consider buying the winner -- or both, if it's a close match-up.
But remember, we're in for the long haul on this one with six potential winners, so we recommend waiting until the final match-up is over before taking action.
So without further ado, let's start the first match, using our seven guiding principles of dividend investing -- plus one more critical fundamental (valuation) -- to determine whether The Men's Wearhouse (MW) or Dick's Sporting Goods (NYSE:DKS) is the more compelling income investment right now.
~ Round 1: Simple Business
We're with Warren Buffett on this one: If you can't understand it, don't invest in it. This holds especially true for income investing. The fewer moving parts, the fewer the risks and the more likely you'll be getting that dividend next quarter (and the next, and the next).
Luckily, we're treading on well-known territory here. Namely, retail. The Men's Wearhouse and Dick's Sporting Goods both sell products for known and established markets. Affordable men's attire on the one hand, and non-specialty, high-end sporting goods on the other. It doesn't get simpler than that.
Advantage: Draw
~ Round 2: Steady Demand
Once again, these two businesses are in the same boat. Retail is cyclical, and gets hit pretty hard when the economy slumps.
Case in point: when the market hit the dust in 2009, both stocks got clobbered to the same degree, each losing about 65%.
On the other hand, the action in the market didn't fully translate into net income getting equally slammed. While net income did drop for each in 2009, The Men's Wearhouse suffered only a 59.8% decline compared to Dick's Sporting Good's decline of 122.5%
Simply put, affordable menswear remains more necessary in economic downturns than sporting goods, which are largely a recreational luxury.
Advantage: The Men's Wearhouse
~ Round 3: Cash Flow Positive
In the last year, Dicks generated enough free cash flow to cover its dividend for 2.3 years. The Men's Wearhouse isn't far behind, generating enough free cash flow to fund its dividend for 1.97 years.
That's really just the difference of about one quarter. In the end, both retailers ring up the registers and rake in the cash with more than enough left over to share with shareholders.
Advantage: Draw
~ Round 4: High Cash Balance
Dividend payments don't grow on trees. And neither does money. So we want to make sure that there's enough cushion to sustain dividends through harder times. And the more cash-rich the company, the better. There's nothing to worry about here.
Normally, we want to insist on enough cash to cover two quarter's worth of dividends. But each company has enough to cover more than three years' worth of dividends. That is, before we take into account the $2 per share special dividend Dick's recently declared.
It was payable December 28 to shareholders of record December 17. Afterwards, Dick's will only have enough cash to cover about three quarters' worth of dividends, whereas Men's Wearhouse will have enough loot to cover 15 quarters.
Advantage: The Men's Wearhouse
Despite a slight advantage on the scorecard for The Men's Wearhouse, Dick's special dividend might tempt you to stop the fight early in its favor.
~ Round 5: Minimal Need For Credit
The more pressure there is to pay down debt and reduce payments on interest, the more likely management will give cash distributions the shaft.
For that reason, finding those companies with manageable amounts of debt on the books should be a priority when looking for long-term dividend investments.
Luckily, debt is a non-existent problem here.
The most recent financial statements show that both companies are entirely debt-free.
That means that creditors don't stand a chance of snapping up your next quarterly payment.
Advantage: Draw
~ Round 6: Earnings Buffer
Just like cash can provide a buffer, so can earnings. That is, as long as a company doesn't pay out 100% of earnings each quarter. We can track this buffer by calculating a company's dividend payout ratio (DPR). As a general rule, I recommend investing in companies with DPRs of less than 80%.
Dick's has a trailing 12-month DPR of 40.4%. But The Men's Wearhouse checks in as the better bet, with a DPR of almost half that at 21.74%.
Advantage: The Men's Wearhouse
~ Round 7: Dividend Yield and Growth
Not only do we want good returns of capital, we want increasingly good returns of capital. So it's hardly a surprise that -- everything else being equal -- good yield and strong dividend growth take the cake as the most decisive figures in dividend investing.
Let's see if it plays out as decisively here…
So far, each round has been close. But in this case, Men's Wearhouse runs laps around Dick's. The former clocks in at slightly above-average with a yield of 2.38%. But its aggressive five-year average dividend growth rate of 26.37% is tough to beat.
Dick's doesn't come close on either count. Its yield of 1.11% misses the mark by a country mile. What's more, since it only started payments this year and hasn't declared any increases (its special dividend of $2.00 notwithstanding), there's no growth rate to speak of.
Advantage: The Men's Wearhouse
~ Round 8: Valuation
Even if capital appreciation takes a backseat to income, that's no reason to disregard the relative importance of hunting for a bargain. Paying through the nose for limited upside is never a good idea.
And just like the last round, the winner here is clear as day…
Dick's Sporting Goods is trading at 20.9 times historical earnings. That's a 38% premium to the average stock in the S&P 500 Index. On a forward price-to-earnings (P/E) ratio basis, the stock isn't exactly a bargain, either. It's trading at almost a 10% premium to the S&P 500.
Compare that to Men's Wearhouse. Its P/E of 11.8 is 21% below the S&P's average. And its forward P/E ratio of 9.4 represents a 34% discount to the average stock in the S&P 500.
Advantage: The Men's Wearhouse
Let's go to the score card…
After eight rounds -- three of which were draws -- here's the final score:
Men's Wearhouse: 5
Dick's: 0
Ouch.
With steadier demand, a higher and faster-growing yield, a cheaper valuation, less debt, a lower DPR, and higher cash balance (whew!), The Men's Wearhouse wins our first match of Manly Stock Wars.
Disclosure: I have no positions in any stocks mentioned, and no plans to initiate any positions within the next 72 hours. I wrote this article myself, and it expresses my own opinions. I am not receiving compensation for it. I have no business relationship with any company whose stock is mentioned in this article.